Egyptian Hajj Road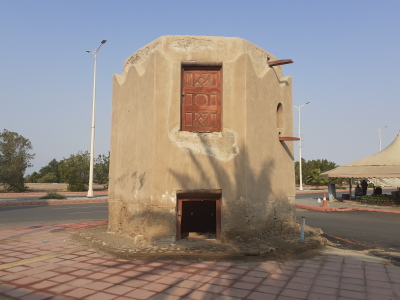 Egyptian Hajj Road is part of the Tentative list of Saudi Arabia in order to qualify for inclusion in the World Heritage List.
The Egyptian Hajj Road is one of the major pilgrimage routes to Makkah, linking Egypt and Sudan with the holy Islamic sites. It was used from the early Islamic to the Ottoman periods. Along the route there were tent camps, palaces and water wells.
Map of Egyptian Hajj Road
Load map
The coordinates shown for all tentative sites were produced as a community effort. They are not official and may change on inscription.
Community Reviews
---
Another of the serial nominations for three pilgrimage roads to Mecca, and this one actually ends in Mecca, not Medina as Dar Zubaydah and Syrian Hajj road do. Egyptian Hajj road allowed pilgrims not only from Egypt, but also other North and Central African countries and even Sicily, visit the two holy cities. The stops are on the Saudi Red Sea Coast, some a few tens of kilometres inland. They include traditional pilgrim infrastructure such as forts, castles, bridges, reservoirs, mosques, markets, etc. Nomination file says Islamic inscriptions and commemorative writings can be found there. What's interesting, there have been waves of using the road, then it fell into disuse when it was preferable to the pilgrims to sail the Red Sea instead.
We visited sights located about forty kilometres from Yanbu and Rabigh Tower. Al-Swaiq village and Yanbu Al-Nkhel site are both located in the city of Yanbu Al-Nkhel. Unfortunately, there isn't much of way of pointers, so have your map ready and know what to look for. The Al-Swaiq village is quite extensive and very interesting. It used to be a bustling centre and one of the stops of the Egyptian Hajj, there are many houses and the whole village seems to be fortified by an outside wall. It aparently also has a castle, called Suwaiq Castle, though we could not point out which of the sand-coloured ruins it was. The whole site is still being developed and reconstructed to be presentable for the tourists in the future, however, at least the road that winds through the historic village has been built so it's a tentative WHS safari! The maps doesn't show it, but don't be afraid to take it, there are some lovely views to be photographed.
Another site mentioned o is the Yanbu Al-Nkhel site, however we drove there and saw a clutter of inhabited houses and a road along a palm grove. Locals were walking around, but we were not sure what to see and where to go, so we just passed that one.
Finally, there's the Rabigh Tower which is conveniently located on the road between Yanbu and Jeddah and makes for an easy and hassle-free visit, even though a bit underwhelming. It's a ruin of what I presume used to be a minaret, sandwiched between a new mosque and local vegetable market. One can walk inside, but it's full of trash and obviously a squat of some homeless people of sorts.
Overall an interesting idea for a nomination, but it still needs to be prepared better, because if you don't know what you're looking for and where to find it, you'd miss it. I see loads of potential, especially for a site like the Al-Swaiq village, but loads of hard work before they will be presentable.
---
Community Likes
Site Info
Full Name

Egyptian Hajj Road

Country

Added

2015

Type

Cultural

Categories

Link
Site History
2015

Revision

Egyptian/Syrian Hajj Roads TWHS are both reduced versions of a combined nomination Al-Ma'diyah and Al-Shamiyah pilgrimage routes (1988).
2015

Added to Tentative List
Visitors
9 Community Members have visited.