Xinjiang Yardang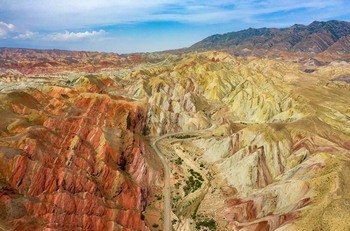 Xinjiang Yardang is part of the Tentative list of China in order to qualify for inclusion in the World Heritage List.
The most typical Yardangs are particularly concentrated in the basin in Xinjiang, in the arid and extremely arid desert regions in the temperate zone, including thousands groups of orderly arranged bluff cluster shaped Yardang landform, ridge-shaped Yardang landform like a large fleet of ships in a vast sea, castle-shaped Yardang landform with various positions and colors combinations and isolated hill relics Yardang landform with strange positions. The complete process from the surface weathering, embryonic states, full development to disappearance is represented. Furthermore, Xinjiang Yardang includes the four most representative shapes: castles, bluffs, ridges and isolated hill relics. Nomination property is an outstanding example of typical wind-erosion and wind and water complex erosion geomorphic processes in the arid and extremely arid desert regions in the temperate zone
Map of Xinjiang Yardang
Load map
The coordinates shown for all tentative sites were produced as a community effort. They are not official and may change on inscription.
Community Reviews
---
Chinese-Canadian - 23-Jul-21 -
The words "amazing" are easily spread around but a trip into the Xinjiang Yardang deserts is extremely satisfying and an adventure you shouldn't miss. I have only visited the Hami basin at Dahaidao, although I did take lots of pictures from the plane when flying to Kanas and the desert landscapes on the way have many yardangs too, I can't exactly count it as having visited.
Some preparations are required:
Have/rent a car. 4x4 is preferred or at least high clearance. I don't usually drive in China but this was an exception and actually it was very easy. I just hate driving in Chinese cities. If you need to rent a driver then you can find it in Hami but they won't come cheap. If you just stick to the road then any car will do.
Sunny day. The Yardangs look drab when you don't have sun shining on them. I would say stay 2 days in Hami in case the first day is cloudy. Hami has other things to do like the a Karez Wells (not the best example but it IS on the tentative list, but having seen it I would recommend checking out the Turpan ones instead) and the Hami snow melon park. If nothing to do you can always stuff yourself with snow melon, grapes, raisins, peaches etc because this is fruit heaven (yes, even though it's in the desert thanks to Tianshan water supplies via the wells). If you don't care about pictures then ignore this but you'll be disappointed with grey rocks.
A lot of time, as it takes 2h driving just to get there plus checkpoints, so prepare for a long day trip and don't have an evening train/flight on schedule.
Water, lots, nothing to buy in the park but the village before the park center has small shops with regular price drinks and iced water!
Ability to bear the desert heat
Permission to enter the southern desert if you want, they'll ensure you have proper vehicles and GPS (not your cell phone). Permission is given by the park authorities so it's not hard to arrange but you will not be let into the desert on your own as far as I understand. Also I think foreigners are not allowed past the park anyway at least that's what it said in the "rules".
Optionally: get unhooked from internet activities for the duration of visit because there is no data reception at all within the park
First off, you need to arrive in Hami (train, air both good). It's 3h from Urumqi by train. There are no good connections by air and my train got canceled (rare in China!) so I had to buy a last minute flight via Xi'an. It was not cheap but you do arrive early morning and still have a whole day in front of you. The rental companies can deliver your car to the airport so you can get right into driving to the desert. There is a gratis section of highway and the road doesn't get bad anywhere. Even in the park the road is excellent. There is no accommodation there so you will need to come early morning, past all police checkpoints of course (this is Xinjiang) where every driver gets registered regardless of nationality (you can even only enter gas stations with your National ID card and matching facial recognition).
The park fee isn't too much, and there is also a small fee for the vehicle. You get a crappy brochure but anyone going should really have checked into better info for preparations. Dahaidao has 2 areas 60km apart and not really anything in-between them worth stopping for. Officially the max speed is 40km/h but nobody in the car apart from the coppers patrolling really pay attention to that. I am not into breaking any laws but the road is so good and there is 0 animal life, it makes very little sense to go slow aside from the parking lot areas. If one has to go 40 the entire time to get to the western area that would drive me nuts.
Soon after entering the park you get to see your first yardangs. Turtles, horse heads, Potala palace etc. They have funny names. The "butt-cheeks" one wasn't labeled so I guess it's just me seeing a large cube rock split in two right in the center who thinks of that?!!? Anyway, no picture of that one for you guys to see ;)
The desert holds more than these rocks. One isn't "officially" allowed to go off-road but again, everyone does it. This one I'm not so cool on because people tend to drive all over the place at the rocks even if there is a parking lot area provided. If you are just too lazy to walk the 2 minutes then I'm against it. I know enough people super keen on off-roading on any terrain the world has to offer but please...don't. ANYHOW, I'm no stranger to 4x4 tours as long as there is an intended path and I went in a group with the car rental manager which was actually the whole point of showing up in Hami at all.
Don't get me wrong: yardangs are curious rock formations but they aren't that amazing on its own. What's a lot more exciting is a trip to the ancient desert kingdom of Luolan - something you may have never heard of. I honestly cannot say why it has been given up on. Perhaps because there were nuclear tests in the area and the gov wants to not feel responsible for neglecting the relics in the area. Usually there isn't really any neglect in China for these things though, it's just far in the desert and really, really helpless washed away by wind and sand already. When I was younger there was even a regular postage stamp of Luolan so there is obviously some awareness of the place. I'll stop right there because I think it will not be of any inscription as it's not mentioned at all and the tentative site is for natural components only.
Pro tip: this is drone flying dreamland. Also you want to get really close to the rocks for better pictures rather than landscapes because it looks boring. The carved out rock formations are photo enthusiast heavens. There is enough to get close without climbing/droning but I think it's much better to see the rocks from a higher angle.
Overall, you'll need to make the most of this to really enjoy it. If you just show up at the first few parking areas and snap some pictures you'll feel cheated about coming all this way for "some rocks", like you would at many cave systems were you just get to see some funnily named "two lovers" stalactites, you know what I mean.
p.s. while the park has technically 3 entrances you will come from Hami and not the western one, and the southern exit will take you into the desert so you need special permission
p.p.s. yardangs and mushroom rocks are not the same, and neither is the queen's head in Taiwan (a tent rock).
---
Site Info
Full Name

Xinjiang Yardang

Country

Added

2015

Type

Natural

Categories

Link
Site History
2015

Added to Tentative List
Visitors
4 Community Members have visited.