Tatacoa Desert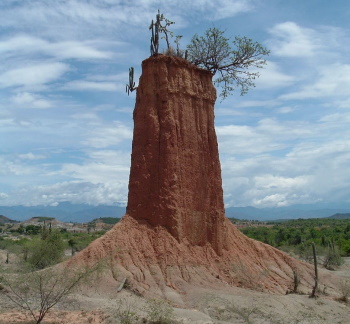 Tatacoa Desert has been part of the Tentative list of Colombia.
The Tatacoa Desert is a dry tropical forest ecosystem where vertrebate fossils and pre-hispanic archaeological remains have been discovered. Its animal and plant life is adapted to the arid conditions. La Venta is the major fossil site in the area with ancient species of animals still alive today, as well as some entirely extinct prehistoric lineages. These animals lived some 13.8 to 12 million years ago.
Map of Tatacoa Desert
Load map
The coordinates shown for all tentative sites were produced as a community effort. They are not official and may change on inscription.
Community Reviews
---
Chinese-Canadian - 25-Oct-19 -
Tourist visit the Tatacoa Desert for 3 reasons:
Landscape Formations
Hiking (+Swimming)
Stargazing
Only one of these even matches what it would be inscribed for because they want to inscribe it for
Pre-Colombian archaeological remains
Landscape Formations
Fossils
I can tell you now that the tourist reasons are better although the stargazing was very kid-oriented but for learning more Spanish (it was all in Spanish) it was kinda useful for me. I didn't go swimming because that lake is actually artificial and it takes a long hike to get there. I hiked several other spots that had free parking. The road from Neiva is good until you reach the park itself and becomes a decent gravel road instead. If you come from Bogota like me then I highly recommend not taking the "road" via La Victoria. It's pure hell, passes through several tunnels that may just lead you to said hell, and a bridge as rickety as the one in Temple of Doom. Even with my cuatro por cuatro this was no fun and in the end takes almost the same time as coming via Neiva - and to think if another car would come the opposite way!
So we are still with the Landscape Formation - they are beautiful and I took many, many photos. They are not unique as far as I see. The natural beauty criteria doesn't seem to match either. However, this still makes it worth coming for. As I said I didn't do the Los Hoyos hike but instead hiked plenty starting from the Mirador de Los Colorados.
For the pre-Colombian stuff I actually don't know where to see it so I have to skip it. For the last one, the fossils, you won't find any place in the park to spot them as far as I know but there is a small museum in Villavieja that covers fossils and astronomy. I didn't expect much and it didn't overwhelm in for that reason. You can see some dino fossils and some other creatures. As I said the two reasons aside of the interesting landscape would never be enough for me alone to come here.
---
Site Info
Full Name

Tatacoa Desert

Country

Added

Withdrawn

Type

Mixed

Categories

Link
Site History
2022

Removed from Tentative List
2012

Added to Tentative List