Canal del Dique - Dike Canal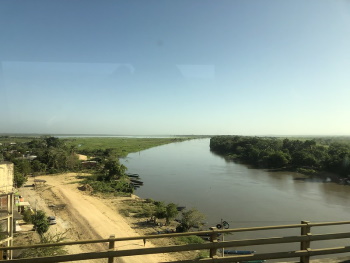 Canal del Dique - Dike Canal is part of the Tentative list of Colombia in order to qualify for inclusion in the World Heritage List.
The Canal del Dique was built in 1582 to facilitate the communication of Cartagena (at the Caribbean Sea) with the inland Magdalena River. The technical effort needed was one of the first in the New World of its kind. The 118km long canal had to be rebuilt and opened up several times in later centuries.
Map of Canal del Dique - Dike Canal
Load map
The coordinates shown for all tentative sites were produced as a community effort. They are not official and may change on inscription.
Community Reviews
---
If you travel by road between Cartagena and Mompox then, after around 40kms, you will cross the Canal del Dique on a modern bridge at Gambote. By all means stop and have a look at it but, based on our experience (photo), it won't yield much "value" other than another T List "tick"!! The Canal does however provide an entrée to some interesting aspects of Colombia's history. Even if a visit to it isn't really worthwhile, an understanding of why and how it came into being, together with its current and possible future state, will, IMO, add to one's understanding of the country. It is for that reason that I have done the following review – as well as to cover yet another T List site towards our objective of full coverage!
The Magdalena River is Colombia's major historic transport artery. Navigation was possible along it up to Honda, 1000kms from the Caribbean, and only 160kms from Bogota (which isn't situated on the river). Upstream of the rapids there, smaller vessels could travel a further 300 kms to Neiva.  This extract from the US Army Handbook of 1964 gives an idea of the importance of the river route in earlier years and also refers to the "Canal del Dique" as a part of it. From the earliest days of Spanish settlement it proved a problem that neither of the great historic Caribbean ports (Cartagena and Sta Marta) were situated where the Magdalena reached the sea. Action to overcome this difficulty went back as far as 1582 when a first canal was built across the swamp lands to connect Cartagena with the river. The whole area however is subject to floods, deposition of sediment and realignment of watercourses. As a result, the story of the canal across the subsequent centuries has been a cycle of -  build, fall into disrepair and attempt to reopen. Indeed it appears to have been out of action as often as it was operational! Particularly from the mid 19th C, the town of Barranquilla situated on the Magdalena delta itself, prospered and became the end point for the river steamer services at the expense of Cartagena – for whom maintenance/development of the Canal represented a chance to fight back.  This article (in Spanish) provides a potted history of the canal going back to the 16th C.
Both before travelling and since our return I have tried to discover if a visit anywhere else along the Canal is likely to provide any more worthwhile experience but suspect not. This map shows the route of the canal from the Magdalena at Calamar to the sea near Cartagena. Nowhere on the web is there any mention of any historic remains from the earlier versions of the canal situated along this route. The version on show today is clearly built for quite large vessels and is probably entirely the result of the last period of activity to improve it and keep it in operation which Wiki states to have been between 1923 and 1952.
Its current use for significant transportation is apparently virtually zero – and indeed there was no sign of any ships on the section we saw. Indeed in its current form it represents a liability since it provides a means for the escape of vast amounts of sediment from the Magdalena basin which arises from upriver deforestation. The deposition of this sediment is causing problems with flooding, destruction of coral in the seas beyond Cartagena and increasing difficulties for port facilities on the coast. 
Colombia's economic development strategy requires massive improvements to the transport routes from the North to the main cities of the centre. Road and rail figure significantly but a revitalisation of the Magdalena river route is also envisaged. See this article for the background and status as of 2013.  It shows that various studies have been carried out and various schemes have been started and lost amid corruption and civil war. More recent articles indicate that plans are still being developed but it isn't clear to what extent the Canal del Dique would form an important part of such improvements – it is, after all, a "side shoot" of the main route. There is, however, an official "Canal del Dique Project" and a Dutch company has made a proposal for developments which would involve the building of locks. The objective seems as much to better control the waters and sedimentation as to provide canal transportation.
So - there is no obvious case for Colombia placing the Canal on its T List and even less for it to believe that a nomination could succeed! Perhaps it merely looked at those other inscribed and T List canals (Rideau, Midi, Grand etc) and said "We have one of those as well!!". At face value, the canal's CV sounds interesting, with a history going back over 400 years, and perhaps it occupies a place in Colombia's national consciousness which makes it seem more valuable than it is - but, unless I have missed something, its tangible remains are far too thin.
---
Community Likes
Site Info
Full Name

Canal del Dique - Dike Canal

Country

Added

2012

Type

Cultural

Categories

Link
Site History
2012

Added to Tentative List
Visitors
5 Community Members have visited.