El-Bariyah: wilderness with monasteries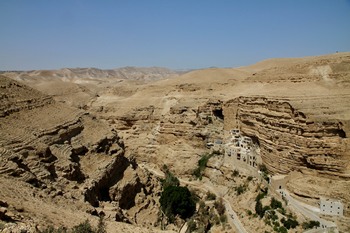 El-Bariyah: wilderness with monasteries is part of the Tentative list of Palestine in order to qualify for inclusion in the World Heritage List.
El-Bariyah is a treeless, eroded limestone plateau with a semi-arid climate located between Jerusalem, Hebron and the Dead Sea. In the Byzantine period, hermits began to inhabit the caves of El-Bariyah and more than seventy monastic settlements were founded. Most notable is Mar Saba in the Kirdron Valley, which is considered one of the oldest inhabited monasteries in the world.
Map of El-Bariyah: wilderness with monasteries
Load map
The coordinates shown for all tentative sites were produced as a community effort. They are not official and may change on inscription.
Community Reviews
---
This project covers a widespread area south and east of Jerusalem. It is a montaneous desert habitat in a treeless thin-soiled and arid, eroded limestone plateau drained by wadi toward the dead see. It is dotted with ancient monasteries and holy places. I got a chance to visit that area in june 2013. I covered the southern area with a taxi from Bethlehem, and the eastern area with my rental car (you cannot take a rental car in Area A under full Palestinian control).
In the south:
- Herodion: ruins of a fortified palace erected by Herod, on top a a big hill, offerig magnificiant view on the desert below, and Bethlehem and jerusalem hills above. Can be reached by rental car from Jerusalem or by taxi from Bethlehem.
Looking south, you see the Wadi Khareitun (in Hebrew and on most maps:Nahal Tekoa), and guess the location of the three prehistoric caves).
- Mar Saba monastery, some 20 minutes drive from Bethlehem with a taxi. Cannot be reached with rental car. A Magnificent old fortified monastery clinched on the cliff overlooking the desert. The atmosphere is magical. Women cannot enter the monastery, and I was told that some days, the monk would not let non Orthodox in. I would recommend a visit anyway, even if you cannot enter the monatery itself. A very nice walk goes around the monasery and climb on the hill opposite, offering magical view on the complex.
- Deir Thodosios monastery, on the road between Bethlehem and Mar Saba; I was denied entrance because non Orthodox. The outside is unremakable.
In the east:
- Saint-George monastery: situated at the bottom of Wadi Qelt, this monastery is impressive, but not as magical as Mar Saba. It is 20 km from Jerusalem. To get there, take a side road leaving from Mitzpe Yeriho settlement and follow signs all the way to the end. There is an overlook point 5 minutes from the parking area, but walking down to the monastery is much more interesting. It takes 20 minutes down and half and hour up (you can rent a donkey if too tired).
- Nabi Musa: on a side road, well signposted from the road. The place was deserted when I visited. The doors were open so I could go aroung easily. It is a small islamic shrine in the middle of the desert, surrounded by tombs. Small but quite magical.
- Khan el-Ahmar: it seems to refer to the Good Samaritan Inn, a 16 century Ottoman building, now a museum of ceramic, of little interest to my opinion.
---
Community Likes
Site Info
Full Name

El-Bariyah: wilderness with monasteries

Country

Added

2012

Type

Cultural

Categories

Link
Site History
2012

Added to Tentative List
Visitors
9 Community Members have visited.