Tamzhing Monastery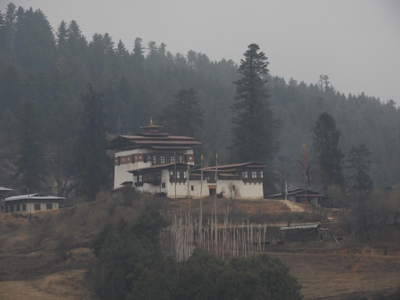 Tamzhing Monastery is part of the Tentative list of Bhutan in order to qualify for inclusion in the World Heritage List.
Tamzhing Monastery was the principle seat of Pema Lingpa, the prime Bhutanese disciple of the school of Tantric Buddhism. It was built in 1501 and holds unique mural paintings. The still active monastery is also known for its religious sacred dancing tradition.
Map of Tamzhing Monastery
Load map
The coordinates shown for all tentative sites were produced as a community effort. They are not official and may change on inscription.
Community Reviews
---
Tamzhing monastery is a rather small temple in the Bumthang region of central Bhutan - a region that contains a lot of other temples, monasteries and holy places. Its claim to fame are the association with the buddhist saint Pema Lingpa, and the wall paintings, which seem to be the original ones from the building period of the temple (around 1500 CE).
The visiting experience is rather unremarkable. The temple is quite small. It is neither the biggest temple, nor the most beautiful or important one of the area, not to mention of the whole country of Bhutan. It is also not a particular old temple, as the much older Jambay Lhakhang temple is just a few kilometers away. Like most of the temples of Bhutan, the monastery is quite nice to look at and has a lot of athmosphere - it's certainly not a bad visiting experience. However, the average visitor coming to this place will already have seen a lot of other temples and sacred sites in Bhutan and will wonder what is so special about this one. The religious connection to the saint seems to me to be a rather weak argument - many of the sacred sites in Bhutan can claim a connection to an important religious figure of the past. There is almost always a great master who inspired, created or even wished the site into existence. Who can say that one saint is more important than any other saint ? The second argument for an UOV seems to be the wall paintings, although the official description doesn't pay a lot of attention to them. These wall paintings were never restored, and so present their original state to the viewer. However, they are in a pretty bad shape, just because they were never restored. The casual viewer will see some dark and dirty pictures which do not seem to be a lot different than other temple paintings, which are all still done in the traditional style. The paintings are in no way protected from touch, smoke, dirt and weather effects. If nothing is done, they will fade away soon. A good, faithful restoration will be difficult and take a lot of effort. So far, there is no sign of any attempt to do it.
Visiting the monastery is relatively easy if you make it to central Bhutan - the monastery is on the usual tourist itineraries of the region. You will usually only need to stay a half hour to see the temple, and can reach it quickly from the nearest town. Currently, it is not possible to make photographs of the wall paintings, as they are all in the inner area of the temple, where photography is strictly forbidden.
All in all, I do not see a place for the monastery on the WHS list. It is a nice, beautiful temple with a lot of spiritual background - however, Bhutan is full of places like that, and Tamzhing monastery can't really stand out in any way.
Visited in November 2019.
Importance 4/5 Beauty 3/5 Uniqueness 3/5 Environment 3/5 Experience 3/5
---
Community Likes
Site Info
Full Name

Tamzhing Monastery

Country

Added

Type

Cultural

Categories

Link
Site History
2012

Added to Tentative List
Visitors
5 Community Members have visited.