Meanders of the Upper Daugava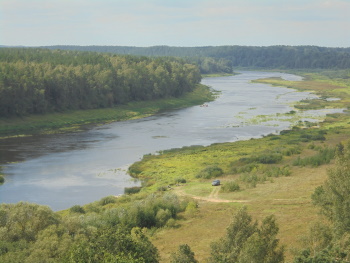 Meanders of the Upper Daugava is part of the Tentative list of Latvia in order to qualify for inclusion in the World Heritage List.
The Meanders of the Upper Daugava comprises a national park and cultural landscape. At this location the Daugava river starts to flow via nine meanders, creating a beautiful landscape. The area has historically been inhabited by ancient Balts, Vikings and crusaders, which can be seen at burial grounds.
Map of Meanders of the Upper Daugava
Load map
The coordinates shown for all tentative sites were produced as a community effort. They are not official and may change on inscription.
Community Reviews
---
The Meanders of the Upper Daugava is a fine excuse to visit the remote east of Latvia. Jarek's review drew me there – as well as the opportunity to see a whole different part of Latvia, away from the mostly Baltic Sea-oriented and western-facing parts. Driving eastward from Jekabpils, orthodox churches started appearing by the roadside and the wide Daugava River is often in sight.
I covered exactly the same route as Jarek. The places of interest are also supported by the local tourism board and signposted from the minor road that follows the river (a detour from the A6).
The Dinaburg castle ruins probably take up the most time – you get there by walking a trail through a somewhat spooky forest, where woodpeckers were having a good time. The tiny model version of the castle is just cute and placed like the original on a strategic overlook over the river. On the way back I met two local grandparents with grandchildren in tow whom I would encounter at some of the other locations along the Daugava as well (the only other tourists).
The best spot I found was Vasargelišķu Skatu Tornis, which is a high sightseeing tower on a bend of the river from where you can have interesting views on both sides. At these upper reaches of the river, the river itself mostly stays out of sight from ground level because of the dense forests on the riverbanks.
After Kuldiga, this probably is the most promising entry on Latvia's Tentative List. It is now registered as a mixed nomination, but it wouldn't surprise me if they would go forward with it as a cultural landscape. There are superficial similarities with the Upper Middle Rhine Valley and the Wachau Valley; there are few (if any) monuments left along the Upper Daugava that so much characterize the other two, but the natural setting is more unspoiled and I did not notice any vessel traffic on the river.
Read more from Els Slots here.
---
Meanders of the Upper Daugava -site (or to be more precise, area) visited in August, 2021.
The area contains nine meanders of Daugava river (natural site) with all historical monuments located in the countryside. In fact, while natural part of the place is pretty nice, cultural elements mostly consist of traditional villages. Official nomination equals the area to Upper Middle Rhine valley or Wachau but it is completely different. There are no outstanding castles in Upper Daugava, traces of early human activities are not abundant and the villages are mostly built of wood instead of stone architecture in both compared landscapes.
I stayed in Daugavpils (where you can see former TWHS – Daugavpils fortress). Few kilometers from Daugavpils towards Kraslava there is a road sigh towards Butiški (at Naujene village). Using this road you already encounter Daugavas Loki Park (area of protected landscape – a kind of National Park designed for preserving Upper Daugava area). From Naujene there are around 4 km to the first point of interest in the area – ruins of former Livonian's castle of Daugavpils (Dinaburg) - Dinaburgas pilsdrupas (55°54'40.6"N 26°43'36.2"E). Frankly speaking not much is left from the castle but there is a nice marked one-way circle path in the place. It starts from the official car parking and is called Dinaburgas Taka – brown signs, embracing local river valley, castle ruins - Vecpils pilkalns or Vecpils Mound - and good view of Daugava river. There is also a picknick / camping place there.
Following the side road towards Kraslava there is another interesting point - well equipped recreation place, Labiekartota atputas vieta (55.886066908781544, 26.764459656697312) – again place designed for picknick / camping tourism with all the necessary facilities (and access to Daugava river) but this time it is just a lovely natural place. Forested area with high bank of Daugava river is currently used as a resting place for local community.
Another interesting place is located further up the river. It is Vasargelišķu Skatu Tornis – 6-storey wooden viewing platform (55.91544828375084, 26.815293732230035). Looks as relatively new sight, it is the only viewing platform on the northern side of Daugava Valley – especially rewarding is a view towards west (towards Daugavpils, Rozalishku bend) – it was depicted on 10 Lats note (former Latvian currency). Access to the platform is on foot only, small parking place is located near the road (Vecpils – Markova side road).
Afterwords I managed to see places around Slutiški (area between 4th and 5th bend of Daugava river, unmarked paths, unpaved roads through dense forest). Places looks similarly to previously visited, no established picknick / camping sites but at leased the area looks as occasionally used for resting / fishing purposes.
Further on towards Kraslava there are small villages (mostly wooden traditional houses, Markova). As the area looks similar to previously visited I skipped the rest and went directly to Kraslava. Just before the city there is a small hiking path (Adamovas dabas taka, beginning at 55.89417191655074, 27.134758832283016). It is around 500 meters long and goes directly from parking place to Daugava river through dense forest.
Practicalities: the only possibility to see places around is to use its own / rented car. Otherwise – main road Daugavpils – Kraslava looks as serviced by local bus transport (there are bus stops at every crossroads at the main road A6) but I have no idea about its frequency. Bring your own food – all the visited places were just picknick / camping areas with no shops, the only shops / restaurants were available in biggers town (Daugavpils, Kraslava). Stayed overnight in Daugavpils (Olimpija Hotel & SPA, hotel that looked much better inside than outside).
And additional remark, Personally I vote in favour of inscribing the site. It is just because of natural (unspoiled) beauty of the river bends. But frankly speaking I am not sure it will ever be a part of World Heritage. Nice area to stay, even camping overnight but is it sufficient to be on the UNESCO list. I am not sure. Anyway nice addition if you visit Latvia.
Places on the photo, bottom left, than clockwise: Adamovas dabas taka, panorama from Vasargelišķu Skatu Tornis, traditional houses around Markova vilage, Daugava around labiekartota atputas vieta
---
Community Likes
Site Info
Full Name

Meanders of the Upper Daugava

Country

Added

2011

Type

Mixed

Categories

Link
Site History
2011

Added to Tentative List
Visitors
8 Community Members have visited.