The Historical Texture of Damghan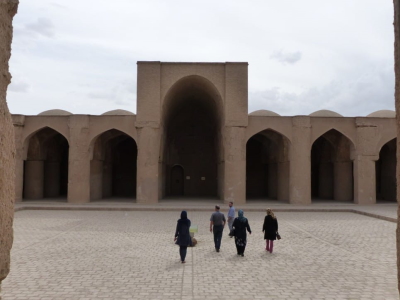 The Historical Texture of Damghan is part of the Tentative list of Iran in order to qualify for inclusion in the World Heritage List.
The Historical Texture of Damghan comprises a hill with prehistoric remains (Tepe Hissar) and monuments from later periods. The latter include Tarikhaneh Mosque (the oldest mosque in Iran), the city walls and Seljuk architecture.
Map of The Historical Texture of Damghan
Load map
The coordinates shown for all tentative sites were produced as a community effort. They are not official and may change on inscription.
Community Reviews
---
Damghan is one of those places you might find yourself passing round on its by-pass without realising that it contains a relatively minor TWHS which justifies a quick diversion off the highway - No 44 in this case (A part of AH1 from Tokyo to Istanbul!), which you are going to use between Mashad and Tehran (and also possibly as a faster route back from Gonbad-e Qabus than the Caspian route?). In 2016, on the last day of our Iranian tour, we had a 580km/7 ¼ hour drive back from Gonbad to Tehran Airport but were still able to pick up this TWHS (together with 2 others at Abr forest and Bustami) on the way with, in this case, an addition of under an hour. We may not have fully covered the site, but, in our minds at least, got enough out of it to justify the time spent!
The UNESCO description lists 5 items as comprising Damghan's "Historical Texture"
Hesar Tepe. This is a prehistoric site just south of the town. We were pretty "teped out" and, having already visited Sialk Tepe, with which the UNESCO description compares this site (without a conclusion!) we gave it a miss! It could have been worth doing with more time?
The Mosque (Tarikhaneh) of Damghan, This is said to have been a Zoroastrian Temple going back 2300 years (though I can't say that we were able to discern any remains from that past!) and, following conversion to a Mosque in the later 8th C, is said to be either "The" (or "one of the") oldest mosques in Iran. It is very plain with huge "Sassanian style" barrel vaults (photo). Its attached minaret (photo) was added in 11th C and has fine Seljuk geometric decorations. Unfortunately we had to waste some of what little time we had in order to get the Mosque guardian to come with his keys and let us in!
The Tower of Alamdar. This is a part of the Tomb of Pir-i Alamdar from c1026 situated around 750m from the mosque. Alamdar was a Sufi spiritual guide/instructor (= "Pir"). We didn't go inside (the key for it apparently has to be obtained at the Mosque!) but, for the non-faithful, the "glory" of the tower is its external decoration and Kufic script (photos).
The Complex of Imamzadeh Ja'far. Another Mausoleum which I am afraid we missed out on!
The City Wall. You would pass a small section on the way out to Hasar Tepe but we didn't. These photos don't indicate anything "special"

There are other sites in/around Damghan not mentioned by UNESCO which seem worth visiting and would probably be a part of its "texture" - e.g the Chehel Dokhtar and Toqrol Towers. Together with the Tower of Almadar, these raise a common "thread of interest" regarding this T list site and others nearby ie. Their "Tomb Towers". There is one inscribed at Gonbad and there is another T list example at Bastami to add the ones here in Damghan!
Given the "distinctiveness" of this type of construction in the "Persian world" one wonders why, instead of just going for Gonbad-e Qabus, Iran didn't attempt a serial nomination along the lines of "Tomb Towers of Iran" as it has done for e.g Qanats and is intending to do for its Caravanserai, Windmills and several other categories. The Gonbad-e Qabus nomination file has 79 PAGES of comparisons with other Tomb Towers of the period across Iran, Azerbaijan and Turkey – it is THE source if you wish to know more about "Tomb Towers" (and contains good descriptions of those in/around Damghan)! Its objective is to demonstrate that Gonbad-e Qabus "batters" all the other towers into submission in terms of height, girth, etc etc and thus justifies paramountcy for inscription. ICOMOS included a long section on this comparative evaluation (and refers to the Pir Alamdar whilst so doing) but nowhere suggests that the "tomb tower" is a valuable architectural "typology" which could benefit from greater representation to cover different periods and architectural/artistic aspects rather then just a single example resting significantly on its size. Rather, since Iran was playing "my tower is bigger than yours", ICOMOS pointed out that, among others, the Qutb Minar is a lot taller and sent a letter to Iran asking that the "comparative analysis" be "deepened" to consider such matters! Iran responded by pointing out that "Tomb towers" are quite different from mere Minarets –"The State Party states that the only common point between the minarets and tomb towers is their occasional application as a guiding landmark for travelers" – and declined to do so!!! ICOMOS gave in and accepted the limited comparisons with the throwaway line that Iran "could also have considered others".
---
Community Likes
Site Info
Full Name

The Historical Texture of Damghan

Country

Added

2007

Type

Cultural

Categories

Link
Site History
2007

Added to Tentative List
Visitors
6 Community Members have visited.