Yapese Disk Money Regional Sites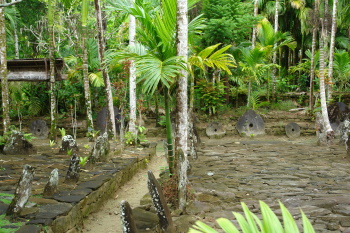 Yapese Disk Money Regional Sites is part of the Tentative list of Micronesia (Federated) in order to qualify for inclusion in the World Heritage List.
Yapese Disk Money Regional Sites is a transnational proposal consisting of two mines in Palau where a megalithic currency—the world's largest—was quarried, and two sites on the island of Yap in Micronesia associated with the use of the currency. The O'Keefe Island site in Yap State consists of structures associated with Irish-American David Dean O'Keefe, who established a trade center focused on copra and sea cucumber, and provided sea transportation of Yapese to Palau so they could quarry and manufacture stone disks to bring back to Yap as currency. The Mangyol Stone Money Bank or Dancing Ground on Yap includes two sites containing over 70 pieces of stone money, as well as traditional stone platforms that predate the arrival of foreigners to the island.
Map of Yapese Disk Money Regional Sites
Load map
The coordinates shown for all tentative sites were produced as a community effort. They are not official and may change on inscription.
Community Reviews
---
Yes I really enjoyed the stone money on Yap. The difficult part is to get there. Today (Jan. 2020) just 2 flights a week go from Guam. The flight from Palau isn't scheduled anymore. I visited already 2 years ago but finally have time to edit some photos and write my review.

This money is everywhere on Yap. You'll see it at all the Faluw (Men's Houses or meeting houses). Even if you walk through the bush you can come across it. Some roads have it lined up on the side as well. It's protected each single stone how small it can be from 3 centimeters up to 4 to 8 meters wide. Most came from Palau where you can see the quarries. The bigger the stone, the nicer the stone and the more you have/had the wealthier you were. Interesting to see this legal tender.
Yap is a small island and all places of interest can be seen in a day. As flights are twice a week you're always stuck there for 3 or 4 days. Snorkeling and diving is highly recommended.

Worth a WHS? For sure yes and I hope with the quarries on Palau together.
(photo is copyright by CTB Global, can be used on Worldheritagesite.org but not on other sites)
Read more from Christravelblog here.
---
Community Likes
Site Info
Full Name

Yapese Disk Money Regional Sites

Country

Added

Type

Cultural

Categories

Link
Site History
2010

Incomplete - not examined
2004

Added to Tentative List
Visitors
4 Community Members have visited.