Huichol Route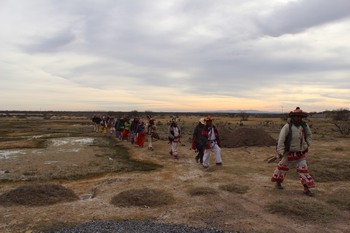 Huichol Route through the sacred sites to Huiricuta (Tatehuari Huajuye) is part of the Tentative list of Mexico in order to qualify for inclusion in the World Heritage List.
Huichol Route is a network of roads and sanctuaries illustrating the traditional beliefs of the Huichol people. Their pilgrimages are at the centre of their identity and traditions and have strong links with the ecosystems they pass through and the species that inhabit them. These landscapes include regions of great biodiversity and varied environments.
Map of Huichol Route
Load map
The coordinates shown for all tentative sites were produced as a community effort. They are not official and may change on inscription.
Community Reviews
---
I visited this tWHS in January 2022 as a half day trip from Guadalajara, Jalisco. While hovering on Mexico's country map I noticed the rather close location of Isla de los Alacranes del Lago Chapala and decided to give it a try.
From the little research I did on the web, I wasn't expecting much from this site. First of all because it is very small and very much a tourist trap with all sorts of caged animals (iguanas, tropical birds, and even a baby monkey) near makeshift restaurants, and mostly because the Wixaricas (or Huichol in Spanish) of Jalisco, Zacatecas, Durango and Nayarit mostly visit this sacred site on the Huichol Route in October.
Lago Chapala is a pleasant place to wind down and not bad for some birdwatching either (many American white pelicans, kingfishers and waders). There are plenty of parking spaces by the lake itself and since the parkometers were out of order (apparently for quite some time), there was a sign that parking was free. From the middle jetty, several boats take you to and from Scorpion Island or Isla de los Alacranes for 500-700 pesos (depending on the waiting time) which can be shared among a maximum of 6-8 persons during COVID times and as much as 15 persons during normal times. The island was born from a volcanic outbreak at the bottom of Lake Chapala and through millions of years it emerged with a strange shape of a scorpion when seen from above and also depending on the lake's depth level. There are different makeshift wooden jetties around the island, and your boat will stop at one of them depending on the commission agreement between the captain and one of the 4 restaurants on the island. Most restaurants prepare the same fish dishes and a selection of alcoholic or non-alcoholic drinks. When I visited there was a very old man, considered by locals as a shaman, who apparently is the only person remaining who can speak one of the many different tribal languages. Unfortunately, I don't know which one but it was at least interesting to watch locals all queing up to touch his hands and ask for his blessing, while listening to him utter and sometimes chant an almost extinct Wixarica language!
I was stopped by my captain at the jetty closest to the small lighthouse. I climbed up just next to it where there is a sacred Bombax ceiba cotton tree and the remains of a hut-like structure (which was without the dried palm leaves used as a roof covering in October when I visited) with all kinds of offerings, ranging from fruits, sweets, drinks, dolls, candles, knitwork and huichol with boy or girl shapes probably praying for offspring of either gender, etc. When I visited Nayarit, I bought a couple of Huichol art handicrafts with glass, plastic or metal beads pressed onto a wooden form covered in beeswax so I immediately spotted the tiny beaded offerings on Scorpion Island. Other offerings I noticed were the Ojos de Dios or God's eyes, which are spiritual and votive objects made by weaving a design out of yarn upon a wooden cross using several colors. Wixarica believers believe that the spiritual eye of the Ojos de Dios has the power to see and understand things unknown to the physical eye.
The Wixaricas believe that within the origin of mankind, Xapawiyemeta or Scorpion Island represents of the three mythical cycles from which mankind emerged. The first mythical cycle involved the creation of the sun and the hunting of deer that becomes hikururi or peyote. The second mythical cycle, whose origin lies on Scorpion Island, involves the great flood, the creation of corn and the origin of mankind. According to legend, Watakame knocked down the zalate tree to build a canoe that saved him along with a black female dog from the great flood. The dog later transformed into a woman, the mother of mankind. The third mythical cycle refers to Christ, money and elements of the mestizo influence.
The Wixarica ethnic group is one of the native cultures that has tried to conserve their ancestral traditions and customs. Their view of the world concieves the universe as supported by five sacred places which correspond to the four cardinal points and the centre. These five points are the places where the Wixaricas believe that they come into contact with their ancestors as their divinities. They visit the sacred sites along the Huichol Route or Pilgrimage with their offerings to give thanks for the benefits received and to request favours.
On the island there are two Catholic churches or rather chapels. The yellow one is the older of the two (although they are both quite modern) and has visible elements of syncretism, namely the Virgin of Guadalupe over a scorpion with the island on its back, and Catholic symbols next to scenes from the Wixarica second mythical cycle on the outside of the church walls. However, at least in this location, there was far too little, and mostly intangible heritage, to warrant OUV and inscription.
---
The Huichol Route is Mexico's most likely next nomination. Being a cultural route and cultural landscape belonging to a surviving native tradition, it will tick all the boxes quickly. It's not an easy site to grasp though. And most of the 5 locations are far off the beaten track in the mountains and deserts of central Mexico and need permission to visit from the community. But there is a relatively easy one near the city of Guadalajara: Xapawleyeta is located on Isla de los Alacranes in Lake Chapala. The lake area itself is a weekend destination for the city people and a popular spot for American retirees due to its sunny and warm micro-climate. (Side note: I wandered into a nice looking place for lunch in the town of Ajijic, noticed that there were many elderly Americans already seated when the restaurant manager said to me: "You're not here for the bingo, are you?" I was out really quick!)
Direct buses to Chapala leave every half hour from Guadalajara's old bus station. At the pier of Chapala, there's a kiosk where you normally should be able to buy a boat transfer, but it was closed when I arrived at 9 am and stayed that way all morning. At 10, a boatsman started privately selling tours in front of the kiosk, he had a list with destinations and prices. The cost for Isla de los Alacranes (Scorpion's Island) is 520 pesos (23 EUR) for a return, including a visit to the island of half an hour. You charter a whole boat, not a seat.
Lake Chapala is the biggest lake in Mexico, but it is not that large. Within 10 minutes, we arrived at the Isla de los Alacranes. I had read terrible things about it beforehand: that it is overrun by tourists, has a lot of trash and too many restaurants. But due to being early, I was the only one around. To me, the presence of a variety of birds and flowery trees was a pleasant surprise. The island is tiny, it takes less than 5 minutes to walk from one end to the other.
It wasn't hard finding the sacred place of the Wixárika (Huichol) Indians: it lies right in front of the boat landing and has a bilingual information panel. What you'll see is a rocky outcrop, with the remains of a stone hut on it. Inside the hut, offerings (candles, coconuts, ribbons) have been left. There's also a sacred tree. What it means to them is a representation of one of the three mythological circles from which humanity emerged. According to the legend, Watakame ("the first cultivator") was saved from a great flood here, he cut down a zalate tree to build a canoe and rescued himself together with a female black dog, who later transformed into the first woman and the mother of humanity. As a sacred place, it is where the Wixárika come on their yearly pilgrimages to bring offerings to their ancestors and the divinities.
The 5 locations are a coherent whole, consisting of 5 sacred places covering the 4 cardinal points and the center. So despite it being a small place, I am pretty sure Xapawleyeta on the Isla de los Alacranes will be included in a future nomination. I am very curious about what the other locations look like.
Read more from Els Slots here.
---
Site Info
Full Name

Huichol Route through the sacred sites to Huiricuta (Tatehuari Huajuye)

Country

Added

2004

Type

Mixed

Categories

Link
Site History
2024

Incomplete - not examined
2004

Added to Tentative List
Site Links
Visitors
4 Community Members have visited.