Worship wooden architecture (17th -18th centuries) in Polesye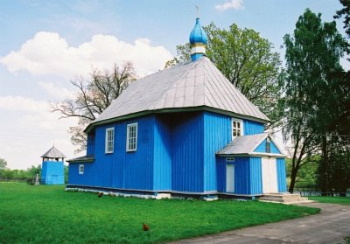 Worship wooden architecture (17th -18th centuries) in Polesye is part of the Tentative list of Belarus in order to qualify for inclusion in the World Heritage List.
The worship wooden architecture in Polesye comprises examples of the Western Polesye and the Eastern Polesye architectural schools. A notable example of the western variant is the St. Nikita Church in Zditovo. They date from the 17th -18th centuries.
Map of Worship wooden architecture (17th -18th centuries) in Polesye
Load map
The coordinates shown for all tentative sites were produced as a community effort. They are not official and may change on inscription.
Community Reviews
---
Our 6 days roundtrip of Belarus October 2019 we visited the St. Nikita Church of Zditovo. With a rental car and our GPS, it was no hassle finding it.
This little wooden church with its clear blue color looks very nice. While approaching the church on a Sunday just before noon we could hear the priest and the congregation inside, thus telling us not to go inside. So, we settled for viewing also this church from the outside, as all other churches we've visited in Belarus.
After taking photos all around we headed back for the gate. Then suddenly the church door opened, and people started coming out. Some of the them approached us, as we stopped to find out what happened. They smiled and spoke to us and although we don't understand Belarusian, we understood they urged us to get into the church. We turned back to the church thinking that after the ceremony it might be appropriate a little peak inside. We found the church door still closed so we hesitated. A priest (dressed up all orthodox) came out and spoke to us. Again through the language barrier, we could present ourselves as tourists from a protestant country just curious of his church. He hesitated for a moment and then decided to invite us in if we behaved (properly dressed, no hand in our pockets or on our backs). We could enter and take as many pictures we wanted while he was doing his work, so we went in with him. Little did we know that it we stepped in for a new ceremony! He told us to take as many photos as we wanted, and we did. After 10 minutes and dozens of photos we felt kind of like trespassers and sneaked (almost) silently out.
The inside of the church wasn't anything else than we'd expect from any orthodox church, but we didn't expect it from this little wooden one. I guess though it's a regular orthodox church with all the belongings, pulpit, chandeliers and all the gold-plated symbols, but it was a surprise an a really nice glimpse inside and we felt like participating into something almost sacred. It certainly added "more value" to the visit.
We're looking forward to see this one inscribed!
---
Chinese-Canadian - 16-Nov-18 -
Arriving at Zditovo you don't see any of the "Street light posts, benches, and refuse bins were designed and manufactured following the ensemble concept of the avenue." Is there another Zditovo or did they hide this place? Okay maybe I just missed that but I was certainly at the St. Nikita Church unless they built two churches in 1502. Quick good check ensures me the striking blue church is the right one. It looks in good condition but I don't see the design uniqueness either. Naturally the church was closed for visitors so I just took a walk around. Definitely not seeking out the other churches on the proposed list: St. Paraskeva Church in Zbirogi, the St. Michael Church in Chersk, the St. Michael Church in Stepanki, and the St. Paraskeva Church in the village of Divin.
---
Community Likes
Site Info
Full Name

Worship wooden architecture (17th -18th centuries) in Polesye

Country

Added

2004

Type

Cultural

Categories

Link
Site History
2004

Added to Tentative List
Visitors
7 Community Members have visited.