Monte Verde Archaeological Site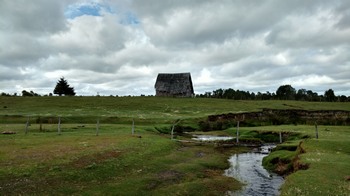 Monte Verde Archaeological Site is part of the Tentative list of Chile in order to qualify for inclusion in the World Heritage List.
Monte Verde Archaeological Site comprises the remains of a settlement that was inhabited 18,500 years ago. It has been preserved under a layer of turf coating and was only rediscovered in 1975. At the site stone tools and animal bones were found, as well as housing made out of timber. It is considered the oldest-known site of human habitation in the Americas.
Map of Monte Verde Archaeological Site
Load map
The coordinates shown for all tentative sites were produced as a community effort. They are not official and may change on inscription.
Community Reviews
---
How and when the Americas were settled is still clouded in mystery. For a long time research believed the clovis culture around 11.000 BCE to be the first evidence of a human settlement on the continents. It was also assumed that the migration was purely land based via the Bering Strait. The Bering Strait at the time connected Asia to the Americas by land due to lower sea levels.
Findings at Monte Verde (and additional sites) proved that the Americas were settled earlier (at least 12.000 BCE). Monte Verde also cast a shadow of doubt on the land based migration. It's really far south and the locals seem to have used algae as resource, so a current research hypothesis is that the migration was coast based, possibly with boats.
Additional questions and controversies with Monte Verde are if the settlement took place even earlier (30.000 BCE) and if the settlers crossed the Pacific by boat instead via the Bering Strait. This is Monte Verde's claim to fame in a nutshell. Respectively the little I learnt while visiting and researching for this post.
A fun piece of trivia is how the site was discovered. A university student in Valdivia who originated from the Monte Verde area brought bones found to class. He believed them to be cow bones. Instead these were the remains of a mastodon.
OUV
As is the case with most prehistoric sites, there isn't all that much to see. It's a pretty green meadow with a creek running through and plenty of cows and some lamas grazing. The creek bed moved and swallowed the human remains, sealing and preserving them.
You need a guide to make some sense of it. The importance of the site arises from the time of settlement and the location.
So will it be inscribed? I feel ambiguous about it. The tangible assets justifying inscription are missing. But how much tangible asset to expect from a site this old? The tourist value could be improved by better sign posts explaining each finding.
Getting There
Monte Verde is near Puerto Montt and can be an easy side trip on your way to Chiloe. If you have a car and don't mind rough roads, you will find a sign on the Pan Americana. Be advised that the roads as soon as you turn off the Pan Americana are miserable.
If you don't have your own transport, you need to find a tour. There is no public transport available to take you there that I am aware of. I contacted the Puerto Montt Tourist Office and they arranged a tour for me. Originally, I was going to join a public tour. But I ended up doing a private tour due to the ongoing strike in Chile costing me plenty (70.000$). I assume after inscription (if) this would be easier.
---
Community Likes
Site Info
Full Name

Monte Verde Archaeological Site

Country

Added

Type

Cultural

Categories

Link
Site History
2004

Added to Tentative List
Visitors
5 Community Members have visited.