Ciudad Bolivar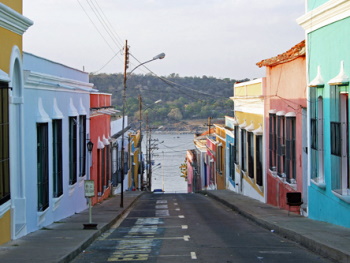 Ciudad Bolivar in the narrowness of the Orinoco River is part of the Tentative list of Venezuela in order to qualify for inclusion in the World Heritage List.
Ciudad Bolivar in the narrowness of the Orinoco River is a mixed site highlighting the cultural landscape that developed along a narrow stretch of the second largest river in South America by volume. The cultural landscape is defined by the granite outcrops of the narrows, which led to settlement by indigenous peoples and the establishment of the colonial river port city now known as Ciudad Bolivar in the 18th century. This site also recognizes the geologic rock formations that created this river channel, and the flora and fauna residing in this landscape, including the endangered West Indian manatee and the tucuxi, also known as the river dolphin.
Map of Ciudad Bolivar
Load map
The coordinates shown for all tentative sites were produced as a community effort. They are not official and may change on inscription.
Community Reviews
---
Site visited in March, 2011. Ciudad Bolivar is a perfect place to start exploration of Canaima National Park (at least the western part around Canaima village and Auyan-Tepui). From Ciudad Bolivar local airport there are flight to Canaima (small planes with 6 seats). But the town has also its own attraction – old town (Casco Historico), pretty nice set of colonial houses, old churches, cobblestone streets, everything located on a hill overlooking Orinoco river.
It is not as spectacular as Cartagena or equally charming as Mompox but it is quite similar to Coro (in terms of architecture style) and much bigger. The layout of old town had to be adjusted to natural conditions (hills) while Coro was located on a flat place.
Notable monuments are: Cathedral Santo Tomas Apolstol, Town Hall (Alcaldía del Municipio Heres) with its passage over the street, old colonial houses (Casa Parroquial, Casa de los Gobernadores, Casa de las Doce Ventanas), El Zamuro Castle (Fortin El Zamuro)

Ciudad Bolivar was built at the end of XVI century as Saint Thomas of Guyana, later constantly demolished by local tribes or pirates and rebuilt in different places. Actual and final location was chosen in late XVIII century as San Tomas de la Nueva Guayana or San Tome de Angostura to memorize its diocese and for its position at the first narrows of the Orinoco River. Later on, Angosura played important role as a parliament seat during South America independence movements, it was also a place where Gran Colombia (that included current Venezuela, Colombia, Equator, Panama and several parts of surrounding countries) was established. In honor of Simon Bolivar it received its name in 1864.
I have visited the place during carnival. The streets were full of dancers, most of them wearing dresses known from Rio Carnival (those multicolored plumes). During the day the town was full of joy and life but it all changed after 18.00. Ciudad Bolivar like any other big cities in Venezuela that time faced unofficial curfew. After 18 the streets within five minutes began empty, shops and restaurant were immediately closed and the city started to look as uninhabited. Only stray dogs were searching for food. No tourists, no locals, nobody. I did not notice any dangerous situation but security was a great concern that time.

I am not sure if it ever will be on the list but since Coro is there, Ciudad Bolivar deserve its place there as well. There might be an organizational problem as Venezuela is facing currently many other problems than just putting the places on UNESCO, but who knows, maybe one day.
---
Site Info
Full Name

Ciudad Bolivar in the narrowness of the Orinoco River

Country

Added

Type

Mixed

Categories

Link
Site History
2003

Added to Tentative List
Visitors
6 Community Members have visited.