Jibla and its surroundings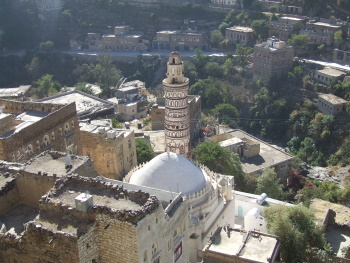 Jibla and its surroundings is part of the Tentative list of Yemen in order to qualify for inclusion in the World Heritage List.
Jibla and its surroundings is a cultural landscape in southwestern Yemen that served as the ancient capital of the highlands during the 11th and 12th centuries. The city is most known for Queen Arwa, daughter-in-law of the founder of the Sulayhid dynasty, who transferred the capital from Sana'a to Jibla, and who constructed the Great Mosque, one of the oldest and most beautiful in Yemen; a large palace that can now be seen in ruins; and an aqueduct that still brings water to the city from the mountains. Jibla was built on the side of a mountain and overlooks a terraced landscape populated with traditional hamlets.
Map of Jibla and its surroundings
Load map
The coordinates shown for all tentative sites were produced as a community effort. They are not official and may change on inscription.
Community Reviews
---
Site visited in December 2009.
Jiblah is small, pretty small. And everywhere in Jiblah you'll be asked if you've ever heard about queen Arwa (full name: Sayida Arwa bint Ahmed) who ruled most of today Yemen in the 11th century. What's missing in the town? Any commemorative monument (I am not thinking about any sculpture, it is a very Muslim country) or even a board informing of her past glory… (No, I am wrong! There's some official information and boards in the museum, Queen Arwa Museum, multi-story building dedicated to her with some displays dedicated to Jiblah Baptiste Hospital and… president Ali Abdullah Saleh (!)).
The town of Jiblah is located few kilometres south from Ibb (the biggest city in the area) where I stayed for three nights and visited Jibla twice. You can get there from Ibb by local minibuses and will be left at the entrance to the town – the small and steep alleys make the town not convenient for any kind of car traffic. On the first day I visited the Queen Arwa Mosque which remembers the times of the biggest glory of the city and its northern entrance door still has the original wooden door with some Koranic inscriptions carved on it. Before entering the mosque, ask politely somebody sitting at its door, and being non-Muslim you'll be let in with a company of somebody appointed especially for you; it is possible to walk in the pillared courtyard and enter the main praying hall, but photographs were not permitted. The tomb of Queen Arwa is located in this mosque. The mosque is seen from everywhere because of its tall minarets. The Queen's Palace (Bayt al-Izz) or rather its ruins was not open for any visit. Some historians say it is not the original structure. But what can be seen even from afar that it urgently needs a thorough restauration. And the museum, of course, where an English speaking guide 'locked me' for almost three hours showing and explaining with details every single display… Well, they do not have hordes of tourists, so he enjoyed his services more than I did (he was chewing khat) – it was too detailed and I did not want to interrupt him. After leaving the museum I got into a small local restaurant and had very tasty fasoolia. Then walk through the vibrant suq where I met some local who… invited me for the lunch for the next day. It means I had to come back, and I did the next morning. First they took me out of the town to show two old cemeteries where you can even spot old Jewish graves. Then we went a little further, we climbed one of the surrounding mountains to have nice views of the city and the area. Back to the town for the lunch and a kind of… traditional performance where friends of my new Yemeni friends showed me how they spend free time dancing, telling stories and chewing khat – that was for men only.
That was. That was a long time ago… I wish the situation there get more stabilized and the war finally get to and end. I wish I come back one day there, feel safe as I did 10 years ago…
---
Community Likes
Site Info
Full Name

Jibla and its surroundings

Country

Added

Type

Cultural

Categories

Link
Site History
2002

Added to Tentative List
Visitors
4 Community Members have visited.