Heaven Pit and Ground Seam Scenic Spot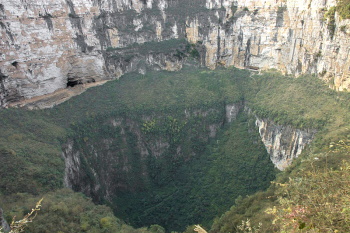 Heaven Pit and Ground Seam Scenic Spot is part of the Tentative list of China in order to qualify for inclusion in the World Heritage List.
The Heaven Pit is a 500-600m deep sinkhole in the eastern Chongqing province. Owing to the particular geography and land form, here live many unique wild animals, including the Yang fish and glass fish in the underground river, the white tadpoles in the hidden river of the ground seam, the white crickets in deep caverns and the rare flying squirrels in the caverns, etc.
Map of Heaven Pit and Ground Seam Scenic Spot
Load map
The coordinates shown for all tentative sites were produced as a community effort. They are not official and may change on inscription.
Community Reviews
---
Chinese-Canadian - 28-Apr-21 -
While I try to cover all tentative sites in China excluding autonomous regions (i.e. Tibet, Xinjiang, Inner Mongolia plus a couple more) you still come across something that is hard to reach. But in the end Tiankeng, or Heavenly Pit, isn't that far off the beaten track as you might think. The main issue with that is the outdated maps available. Google map has absolutely no towns nearby, Baidu map isn't very good in that area of China, and forget even trying to use an alternative. Your base of operations would be Enshi in the far west of Hunan. Whereas Heavenly Pit is located in the Chongqing province, the area around there is so mountainous that getting there from Chongqing is going to take forever. The place is nestled right in-between two larger road systems and there is no train to get you near enough. So, Enshi it is, easy enough to get there by high-speed train or plane, and a huge hub for many things to do like the Grand Canyon, Stoneforest, a Tusi Imperial City unrelated to the WHS. The northern area of the high-speed train station has developed a lot lately it seems, because new buildings are popping up here and there, many hotels unlisted on the map and places to eat all over, one doesn't even have to visit the "old" part of town much further south past the airport unless you want to see the Tusi place within. So I approached a tourist place and they don't have a trip to Tiankeng, ever, or maybe in summer if there are enough people but generally that place isn't popular. Most people see the canyon or stone forest. But I had already planned to take the bus and the bus station is right there next to the train station anyway, with hotels nearby what else would you want, right?
If you have a car yourself it's super easy to get to the site but with the bus you have to stop in a town called Sanjiaoba (三角坝) which is the closest you can go with a bus. Sanjiaoba isn't going to be on your map but there is a triangle (it is called "trigonometry" because maybe the three roads converge here?) and that is actually where a large town is located now. So once I saw it I thought maybe you could stay here but there isn't much to look at here, there weren't even proper hotels more like Inns and I suppose if you are foreign traveler that's already a no-go zone then. It would be more convenient because the bus from Enshi takes up to 3 hours (36 kuai if I remember correctly), with a pitstop, but the drivers tend to race to the finish line in 2 and a half tops not caring about the windy mountain roads. I took the earliest bus available at 8am, could be 7:30 in summer or maybe that was an old schedule I did not inquire, 8am is still fine. You get to Sanjiaoba before 11am just to switch over to another bus that goes to Fengjie (奉节), which is a frequent bus apparently. You must tell the driver that you are going to "Tiankeng" and they will only charge you 5 kuai and drop you right at the parking lot. A quick walk down (the parking lot is huuuuuuge) to the gate and then of course another electric shuttle to the actual entrance that you can avoid but trust me, you don't, you will know soon enough.
Wow 2 paragraphs and only arriving at the place now. You can see the sinkhole from the entrance already but the better views are from the opposite site of the hole in my opinion, and a wide-angle camera lens is definitely recommend to capture it well. And of course I knew already what it says on the massive book that introduces the place: it's famous for geology. zZzZzZ wut? Ok, not interesting and actually you get to see NOTHING about that while you go through the park. There are no signposts, the big book is a horrible translation but even the Chinese is just a bunch of big words trying to make it sound like there is more to the place than there really is, no more info about the place further down, just a hole you can descend to kill your leg muscles. So, naturally, with the sinkhole rapidly making way for large walls that one can see the previous layers of earth it makes it kind of special, but that's - normal, and not special? The place says it is "witness of geomorphic evolution" but I feel many places are. So, definitely thumbs down for that, and I think it's mainly saying it is the largest sinkhole in the world so I want to be included as a superlative and that's just a no-no for WHS and rather some Guinness World Record rubbish (incidentally I should be included as "cutest Zoe in the world" but I haven't found a second person to vouch for it...).
Instead I will get to the rest of the trip report for those interested. It takes maybe 1h15 minutes to get to the bottom of the hole where the stream is located. Descending is, as usual, the easy part, but hey, those steps are rapidly getting steeper and you have to go all the way up again! You meet people on the way huffing and puffing and you don't realized how brutal it is going up again until you do it yourself. Luckily I caught a less-hot day because it took me almost 2 hours with a lot of stopping to get back out and that is why I have to repeat: do not be stingy on the shuttle bus! It's another 2km up the hill which you do not want to add on top of the steps you just had to return from. I also had to ensure I could catch a bus back to Sanjiaoba in time for the last on at 4pm. After that you would need to take a car to another town closed to Enshi and get a ride from there if you are lucky, so don't miss that bus if you plan on a daytrip like me. Final note on logistics: there are many carpools going back to Sanjiaoba, and not many buses. I waited for 30 minutes and then a smaller car picked me up instead which is marked as a carpool so try to look out for that. It's only 10 kuai and the buses here are maybe every hour max.
Overall, I did enjoy the trip, I saw many sinkholes before so it wasn't special but I had never descended one and I think that was the last one I will do, but as a WHS there is absolutely nothing to add as uniqueness in my opinion.
---
Site Info
Full Name

Heaven Pit and Ground Seam Scenic Spot

Country

Added

2001

Type

Natural

Categories

Link
Site History
2001

Added to Tentative List