Pre-Hispanic City of Cantona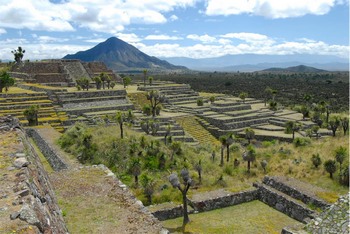 Pre-Hispanic City of Cantona is part of the Tentative list of Mexico in order to qualify for inclusion in the World Heritage List.
Cantona is an archaeological site of a major fortified town that flourished between 550 and 950. It stands out from other pre-Columbian cities by the absence of mortar or cement in its buildings and the construction of its roads excavated from the volcanic rock. It houses military, public, religious and residential infrastructures, as well as a record 24 ball courts.
Map of Pre-Hispanic City of Cantona
Load map
The coordinates shown for all tentative sites were produced as a community effort. They are not official and may change on inscription.
Community Reviews
---
Cantona is one of the most unique ancient cities you could find in Mesoamerica. At first glance, all the usual elements are there: Pyramids, palaces, ball courts and plazas. However, there are some key aspects in which it deviates from any other settlement in the region. The first one is its urban plan. While Mesoamericans cities usually follow a symmetrical distribution, Cantona is configured as a complex and intact network of irregular streets and alleys that communicate dozens of residential and administrative units, clearly differentiated by class and rank.
The reason for this unusual urban model is the unique geographical context of the city, as it was entirely built on top of a lava field. The inhabitants of Cantona also adapted their city to this surreal landcape of palms and cacti by developing an architecture based on exposed volcanic rock; without the use of any cementing, pigment or stucco. This city has also been described as one of the most complex urban models of the Americas, as its degree of space specialization is extremely high. The only inscribed Prehispanic city that could be compared to Cantona in regard to its urban complexity is Teotihuacan. However, while Teotihuacan is the ultimate planned city of the region and it is completely organized around a common city center; Cantona is polycentric and assymetrical.
The site is huge and has ceremonial and religious centres, residential zones, internal and external roads, fortifications, multifamily domestic compounds, productive areas and the highest concentration of ball courts in the whole region (archeologists have discovered 27 so far). Due to its location in such a hostile environment, the economy of Cantona was based primarly on the extraction, manufacture and trade of obsidian. The importance of this material for the Mesoamerican world is reflected in the magnitude of the city.
Despite its size and significance, Cantona is mostly unknown (even in Mexico) and doesn't recieve many visitors. It's very likely that you'll be almost by yourself while you wander through the city. Its irregular plan and the unusual lava landscape make for a lot of interesting perspectives, there are also a lot of pyramids that can be climbed (though these are not as tall as others in the region, they do offer great visuals of the city). To go over all the excaveted areas you'd need at least four to five hours but, depending on your pace, you'll likely spend 2-3 hours walking through the most interesting zones of the city and another half hour in the small but very well equiped site museum. There is also a bookstore on site that sells guides, books and magazines that could be useful for the city's interpretation (most are in Spanish but there are some in English and French).
Keep in mind that Cantona is not close to any major city. Even though there is cheap and safe transport from Puebla (departing from CAPU station), the best way to get there is by car. Specially if you are not fluent in Spanish. All the roads are in perfect condition and the site offers free parking. The admission is also reasonably cheap, at four dollars per person. This part of Puebla State is also famous for its Pulque and Toro de lidia (bullfighting) haciendas, dating from the 1500s to the 1800s. If you are interested in that aspects of rural Mexico, you'll have a lot of options to complement your trip.
I do think that Cantona deserves its inscription as it offers very distinct urbanistic and architectural features, its state of conservation and integrity are very good and would represent the Olmeca-Xicalanca culture, which is still not on the list. It's hard to tell if this place is ever going to be a tourist attraction, but it remains one of the most interesting visits I've made to any Prehispanic sites in Mexico and Central America.
---
Community Likes
Site Info
Full Name

Pre-Hispanic City of Cantona

Country

Added

Type

Cultural

Categories

Link
Site History
2001

Added to Tentative List
Visitors
7 Community Members have visited.