The basilica and archaeological site of Yererouk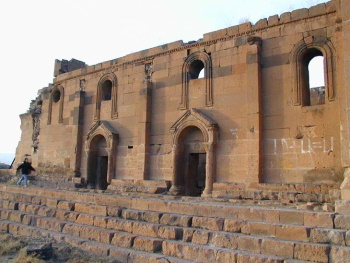 The basilica and archaeological site of Yererouk is part of the Tentative list of Armenia in order to qualify for inclusion in the World Heritage List.
The basilica and archaeological site of Yererouk is one of the earliest Christian monuments in Armenia, dating from the 4th or 5th century. Yererouk Basilica is similar to Syrian basilicas in its architecture and in the sculptural decoration. It is located near the Turkish border, 5km from the city of Ani.
Map of The basilica and archaeological site of Yererouk
Load map
The coordinates shown for all tentative sites were produced as a community effort. They are not official and may change on inscription.
Community Reviews
---
This very nice site is an about 2 hours drive from Erevan. The roads are in good condition, contrary to what some travel guides suggest. Only the 2 last km are on a (very passable) dirt road. As far as I know, there is no public transport or guided tour from Erevan.
It is at 5 km as the crow fly from Ani WHS. There is no way to cross the border to visit both sites, and it is really frustrating. You can get a very very distant view to Ani from an official viewpoint in the village of Haykadzor, north of Yererouk, but it makes it even more frustrating. It seems there is a closer viewpoint near Kharkov military post, but it is not signposted, and in a military area. The only other way to see Ani is to drive 8 hours to Georgia and back.
Yererouk predates Ani by a few centuries. So political consideration apart, Yererouk should probably get inscribed on its own, and not as part as an extention of Ani.
Yererouk consists of the well preserved ruins of a fourth-fifth century basilica, which is built on a rocky knoll pierced by caves. It is one of the earliest Christian monuments in Armenia, and its architecture is considered to be paleo-christian. The basilica walls are very thick, which explain their resistance to an earthquakes in 1679 and again in 1988. The basilica stands on a 6 stepped platform. There is no roof. Inside the basilica, some inscription and crosses are carved in the walls. Around the basilica are archaeological remains of monastic and secular buildings and graveyards.
I visited the site in June 2017. Being remote from touristic path, I had the place all to myself. There is a small plaque explaining the site, but otherwise I could feel like being an archeologist discovering a new site. I was left to guess what was the numerous stones and walls around the basilica, or what the inscriptions on the wall meant. The view from the basicila to the south, across wide plains and far-away snow-covered mountains, is fantastic.
I really enjoyed this site, even if small, and I would recommend driving the 2 hours road to get to it.
---
Site Info
Site History
1995

Added to Tentative List
Visitors
6 Community Members have visited.