L'observatoire du pic du Midi de Bigorre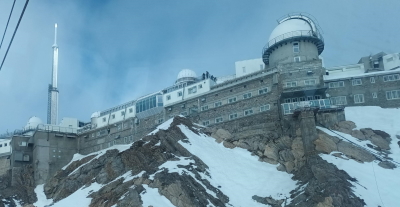 L'observatoire du pic du Midi de Bigorre, pionnier en haute montagne is part of the Tentative list of France in order to qualify for inclusion in the World Heritage List.
The Observatory at the Pic du Midi de Bigorre is an astronomical observatory in one of the oldest and most important dark sky reserves in Europe. It dates from 1878. It is located at the summit at 2876 m altitude.
Map of L'observatoire du pic du Midi de Bigorre
Load map
The coordinates shown for all tentative sites were produced as a community effort. They are not official and may change on inscription.
Community Reviews
---
Japan / USA / Europe - 30-Dec-22 -
For my annual ski trip for the winter 2022-23 season, because my original ski resort destination in the Pyrenees, Gavarnie-Gedre ski resort, had not opened as scheduled due to little snow, and eventually I decided that I didn't have to go to this particular ski resort, I was wondering what to do, while stuck in Toulouse and Lourdes.
When I originally planned this trip, even though I was aware of L'observatoire du Pic du Midi de Bigorre (2,877 m), it had not been nominated for a WHS, and it was for me just another tourist attraction / observation deck in the vein of Aiguille du Midi (3,778 m) in French Alps. But while in Lourdes, I suddenly discovered that Pic du Midi had been nominated for a WHS only a few months before. Pic du Midi lies within the Grand Tourmalet, the largest ski resort in the French Pyrenees, which was partially open. In order to go to Pic du Midi from Lourdes and come back within a day, however, the only way was to ski from the Barèges lift station to La Mongie lift station within the Grand Tourmalet and take 2 successive rope ways from La Mongie to Pic du Midi. (Col du Tourmalet, the road between Barèges and La Mongie famed for Tour de France, was closed due to snow.)
But then I was surprised that the two rope ways cost whopping 47 Euros. Upon finding out, however, that the lift ticket for the Grand Tourmalet ski resort for one full day was 49 Euros and the combined ticket to Pic du Midi was only 10 Euros more, I decided to go at it: skiing at the Grand Tourmalet and visiting Pic du Midi around lunch time.
Traveling from Lourdes through Luz-Saint-Sauveur by 2 buses and a ski shuttle, I found myself at the Barèges lift station at 11:00 am, which is quite late to start a day of skiing. Because the operators stop the rope ways between 12:30 and 14:00 for lunch break (so I was told), I had 90 min. to take 4 ski lifts up and to ski down in between to La Mongie. Luckily (or not), the ski resort was not very crowded due to the lack of snow, so I didn't have to wait long for ski lifts and was able to get on the last rope way before the lunch break.
The fact that Pic du Midi has now attained the status of TWHS doesn't necessarily change what it is for normal tourists: when you get off the 2nd rope way, you can go to a little science museum, enter a planetarium (for additional 10 Euros), go outside to take in the view the surrounding mountains (which is fantastic), take a selfie at a specially constructed glass-bottom platform, and most importantly, admire the existence of the observatory domes. You can also have lunch at a restaurant and/or sip a hot chocolate at a café, which is what I do while taking a break from skiing.
"The peak and its surroundings constitute one of the oldest and most important dark sky reserves in Europe," but throughout the year the last rope way is scheduled to depart Pic du Midi just before it gets dark. In winter it leaves at 16:00.
I left Pic du Midi as soon as the rope way resumed operation at 14:00 in order to get back to Barèges by 15:30 to allow 90 min. either to hitch a car or to walk for 7 km to Luz where the last bus to Lourdes was to leave at 17:00. (For some reason not even a tourist info officer did not understand, the last bus from Bareges to Luz was in the early afternoon during weekdays.) I successfully hitched a car, so I was at the charming mountain valley town of Luz by 16:00 to enjoy après-ski for 60 min.. Luz has its own ski resort, but that was also closed.
I was initially envisioning a full day of skiing plus the visit to Pic de Midi, but it felt like my day was geared towards just visiting Pic de Midi.
If Col du Tourmalet is open, you can drive to La Mongie from either west or east (unless Tour de France is going on in summer), pay 47 Euros and take the rope ways up to visit Pic du Midi. Or you can hike up 1000 m for some 3 hours from La Mongie and pay 23 Euros to enter the facilities. In winter you have an option of paying 59 Euros for a full day of skiing plus the visit to Pic du Midi if you have your own transport or stay at the ski resort of Grand Tourmalet.
There is a new option for staying overnight at Pic du Midi. For mere 469 Euros (single room) or 519 Euros (double room) you can stay up there overnight in a program called "Magical Night at the Summit" that includes everything a WHS enthusiast desires! They are now taking reservations for 2024. These new programs seem to be evolving, so I would consult their website at picdumidi.com.
Yet another option would be just to look at Pic du Midi from wherever you can. It is visible from quite far away. I saw it from Tarbes, which is 40 km north.
Pic du Midi TWHS does not lie within the Pyrenees - Mont Perdu WHS.
Read more from Tsunami here.
---
Site Info
Full Name

L'observatoire du pic du Midi de Bigorre, pionnier en haute montagne

Country

Added

2022

Type

Cultural

Categories

Link
Site History
2022

Added to Tentative List
Site Links
Visitors
3 Community Members have visited.