Hisham's Palace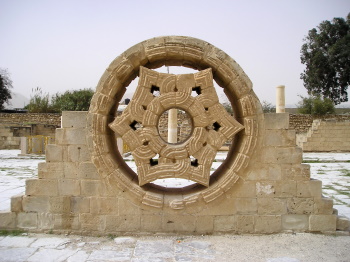 Hisham's Palace/ Khirbet al- Mafjar is part of the Tentative list of Palestine in order to qualify for inclusion in the World Heritage List.
Hisham's Palace comprises the remains of an Umayyad desert castle. The complex held a palace, a thermal bath, mosque and monumental fountain. It has mosaic floors, notably at the bath house and the floor of the audience hall.
Map of Hisham's Palace
Load map
The coordinates shown for all tentative sites were produced as a community effort. They are not official and may change on inscription.
Community Reviews
---
The Umayyad dynasty was the 2nd Islamic dynasty, ruling from 661 to 750 AD. The dynasty was centred in Damascus, Syria, rather than Arabia. The Umayyad caliphs expanded their power throughout the Middle East, North Africa, and parts of Europe and Asia, becoming one of the most significant empires of their time. Hisham (724 to 743 AD) was one of the last Umayyad caliphs, and his reign saw the commissioning of some of the most impressive examples of Umayyad art and engineering, including Hisham's Palace in Jericho.
Hisham's Palace in Jericho is believed to have been a winter residence and features intricate mosaics, sophisticated hydraulic systems, and decorative frescoes. The palace was rediscovered by archaeologists in the early 20th century and has since undergone restoration, providing valuable insights into Umayyad culture. Today, the palace is open to visitors who can explore the ruins and appreciate the grandeur of Umayyad art and architecture.
One of the most remarkable features of Hisham's Palace is the "Tree of Life" mosaic, which is a symbol of spiritual growth and a testament to the cultural legacy of the Umayyad empire. The mosaic depicts a large tree with blooming flowers and birds perched on its branches, creating a stunning display of color and pattern. The other notable structure is a large stone rosette with a circular carving and intricate geometric and floral motifs. It is believed to be an authentic Umayyad-era element and is considered a significant example of Islamic art and architecture, symbolizing unity and interconnectedness through its repeating patterns and interlocking shapes.
The frescoes at Hisham's Palace are below a tent and on a rather grand scale, creating a sense of awe and wonder. There is a walkway that passes above them, allowing visitors to get a good look at the magnificent works.
I visited the palace as a day trip from Jerusalem that also included Ancient Jericho. My visit being on Friday and having learnt the hard way what Shabbat means in Israel (all grinds to a halt), I started early, to be back in Jerusalem before Shabbat. Me and my driver arrived before opening and spent 30min for the site to open. When it did, I was the first and only visitor.
OUV
The Umayyad floor mosaics are simply stunning, probably the best of the period (8th century) I have seen. If the palace was complete, this would be a shoe in. As a ruin, a comparative study becomes more important.
Clyde noted that in Jordan, there were similar Umayyad palaces, e.g., in Amman and in Qasr Mshatta with some parts moved to the Pergamon Museum. Israel has the desolate Horvat Minnim on its tentative list, another Umayyad palace ruin, but not on the same level as Hisham's Palace.
Personally, I would prefer either a serial nomination (Umayyad Palaces of the Jordan Valley) or simply a larger Jericho inscription. In any case, this would be a nice addition to the list.
Getting There
Visitors can take a bus to al-Eizariya ((31°45'50.1"N 35°16'52.9"E) ) from Sultan Suleiman Central Station and then catch a shared cab or arrange a taxi to the palace. A taxi should cost around 200 NIS. Visitors should also remember to bring their passport, as they will need it to return to Israel.
If you are taking an Israeli rental car, things get a bit more complicated. You are not allowed to take it to the West Bank, albeit the West Bank according to Israeli logic is way smaller than what we would think. Effectively, most of the West Bank is Israel UNLESS you spot a red sign stating entry prohibited to Israeli citizens. These are hard to miss.
Jericho proper, though, is really in Palestine. So, you either ignore the rule or you park the car outside Jericho and get a cab. I would not encourage ignoring the rule like Paul did, because nowadays you are being watched (cameras) and taking an uninsured car with Israeli number plates into a hostile area is not a smart move. There have been instances where tourists were attacked. And since my visit (December 2022) the situation has severely escalated.
While You Are There
Visitors to Hisham's Palace can also explore the surrounding areas, including Ancient Jericho, which is one of the oldest continuously inhabited cities in the world. The city is steeped in history and offers a unique perspective on the evolution of human civilization. Additionally, visitors can take a cable car trip to the Greek Monastery or explore the Qumran caves, where the Dead Sea Scrolls were discovered.
---
Community Likes
Site Info
Full Name

Hisham's Palace/ Khirbet al- Mafjar

Country

Added

2021

Type

Cultural

Categories

Link
Site History
2021

Revision

Partly successor to "Jericho Millenary City, Archaeological and Historical Urban Development (2020)", where this was one of the locations.
2021

Added to Tentative List
Visitors
8 Community Members have visited.