Bhedaghat-Lametaghat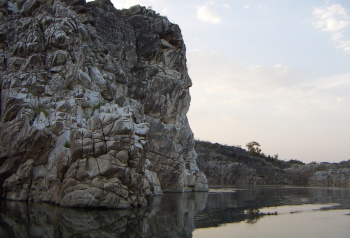 Bhedaghat-Lametaghat in Narmada Valley is part of the Tentative list of India in order to qualify for inclusion in the World Heritage List.
Bhedaghat-Lametaghat is a 8km long gorge created by the Narmada River. Its marble rocks have shades in different colours. The marble is soft in structure and is used in carvings.
Map of Bhedaghat-Lametaghat
Load map
The coordinates shown for all tentative sites were produced as a community effort. They are not official and may change on inscription.
Community Reviews
---
Bhedaghat-Lametaghat - more widely known, certainly outside India (and I suspect inside too), as "Marble Rocks" is one of those places which have rather more "resonance" nationally than to non-nationals. It is a "famed" Indian beauty spot, a significant Hindu religious pilgrimage site and a regular "Bollywood" location!! From an Indian viewpoint it must look like a "shoo in" which will easily justify its addition to the T List in April 2021 - others might wonder what all the fuss is about!
Anyone staying for a few hours in the central Indian town of Jabalpur (The "official "central point" of India is only around 70km NE of the city) – possibly whilst on their way (as we were) to Kanha and/or Bandhavgarh Tiger Reserves – is likely to have been persuaded to make the c40km trip SW from the city to experience this "Natural wonder" on the Narmada river. Now it is on the T List, even more might do so!! We did in Dec 1996 partly for the gorges and partly to add another river to our list of "Rivers of the World traveled on"!! (The Narmada is 115th on the World list by length). It turned out to be a pleasant enough little afternoon "fill in" trip to kill a few hours but, to us, was a bit underwhelming compared with the obvious pride and expectation with which it was suggested.
It would be nominated as a Natural site first on Crit vii ("superlative natural phenomena or areas of exceptional natural beauty and aesthetic importance"). I have just read the T List description – it deserves quoting at length for its rhetoric. It is a hyperbolic tour de force! - "the aesthetic charm of lush green nature, inhibiting a beautiful valley. No such example exists where a river flows freely splitting an enormous mountain of marble. Bhedaghat is exceptionally blessed where the colourful & divine Narmada river flows in her own strange styles. Somewhere its flow is turbulent and in other places as calm as Yogi (Saint). It seems as Mother Narmada is on an epic from its source at Amarkantak mountain where it meets the Arab Sagar (Arabian Sea). The Narmada chattering over stony ways and weaving like a snake, reverberates with her surroundings in tremulous cadence. The chirping birds, drunk on the nectar of blissful music of the rippling river bring to mind the memories of melodious Gandharav raga of the music maestro, Tansen. It is at such moments that one feels the strong urge to move away from worldly crowds and cares and sojourns into the musical realms of nature, to dwell in its magical tranquillity. The azure water of Narmada, flowing swiftly among the silent and somber stones, around Bhadaghat area, sparkling in the golden sunlight and under the silvery moon, fill the human heart with gay abandon." How can you NOT want to go there??!!!
It would also be nominated under Crit viii for its geological aspects. These include metamorphism in relation to the "Marble rocks" created from limestone ("Bhedaghat is the best example of regional metamorphism in the world" – UNESCO T List description). "Tectonic river capture" and palaeontology are also highlighted (It is said to be "important" for studies into the latter but only "Fossilised Crocodile nests" are specifically mentioned. There is actually a dinosaur named after the river - "Rajasaurus narmadensis" - but its discovery was many kms downstream in Gujarat!). In Jan 22 Indian newspapers were full of the fact that "The Geological Survey of India (GSI) has approved the setting up of the country's first geo park at Lamheta village on the banks of the Narmada river in Jabalpur district". It took careful reading to establish that this had nothing to do with the UNESCO World Geo-park scheme – but seems to be part of the "fattening up" process getting the site ready for possible future nomination? In fact a search I did for geological/academic papers on the Gorges came up with very little - so it isn't clear how "special" geologically the area really is beyond the hype of the T List entry. It would seem that any nomination might have to rely on Crit vii more than Crit viii?
Our visit included a small private boat trip (there are bigger "public" boats and the trip is apparently only available Nov to April) through a part of the gorges (photo) and (separately – the boat turns back long before the falls!) a view of the c30m high waterfall at the end. It looks as if the site has undergone much development since 1996 – with entrance fees and a cable car over the falls. I suspect it could now get very, very busy - but we were almost alone. The rocks and cliffs were interesting and worthwhile to see but not, IMO, "World class" – and neither were the falls. It is perhaps worth mentioning the "cultural footprint" of the river Narmada in general and the Marble falls area in particular. The Narmada is one of the 7 Hindu holy rivers, it is a Goddess and its banks are holy. The Marble Rocks area is a major pilgrimage site – monthly at full moon and particularly at certain "holy" full moons. Even the UNESCO description of the T List site keeps straying into Cultural aspects ("There is no such site in India that witness such major and magnificent marble rock formations and such physiographic features along the riverside with all the holy and sacred faiths and beliefs attached to it").
There is no doubt that we didn't see the site "at its best" - that would seem to be on a clear night at the time of a holy full moon (the rocks and their reflections apparently look better under moonlight!). Maybe we would have been more impressed with the "aesthetic" natural aspects if we had chosen such a time. Appreciation of the site's cultural values (even if these are irrelevant to any future nomination) would have benefited too. But, if you are in Jabalpur, then you should certainly go to see it - even if the conditions aren't "optimal". I wouldn't give it a "worth a journey" though!
And what of its chances? Only 8 sites (4 in China) have managed to gain inscription solely on Crit vii but Marble Rocks also has some geological "claims" to bolster its primary "aesthetic" ones. I have come to the view across recent years that almost ANY reasonably interesting site can gain inscription with good documentation and the right "friends" on the WHC - if France can get its Puys inscribed, despite IUCN, why should India have any worries with this??
---
Community Likes
Site Info
Full Name

Bhedaghat-Lametaghat in Narmada Valley

Country

Added

2021

Type

Natural

Categories

Link
Site History
2021

Added to Tentative List
Visitors
2 Community Members have visited.