Naletale Cluster of Dzimbabwes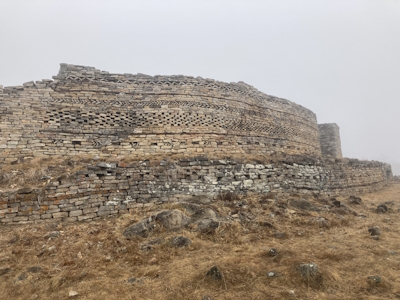 Naletale Cluster of Dzimbabwes is part of the Tentative list of Zimbabwe in order to qualify for inclusion in the World Heritage List.
The Naletale Cluster of Dzimbabwes consists of the greatest concentration of dry stone walled sites in southern Zambezia, exhibiting high levels of craftsmanship and rich wall decorations in herringbone, checker, chevron, and other patterns. These sites were constructed of granite blocks without any binder, and were used as settlement centers between the 16th and 18th centuries. The Naletale cluster also includes evidence of mining and processing of gold, copper, and iron.
Map of Naletale Cluster of Dzimbabwes
Load map
The coordinates shown for all tentative sites were produced as a community effort. They are not official and may change on inscription.
Community Reviews
---
So there I was, updating my T List count on this Web site and, at the end, just above the "Send" button, were 2 T List sites under Z for "Zimbabwe" – including "Naletale Cluster of Dzimbabwes". But I never knew that it was on Zimbabwe's T List? Indeed - it was added less than a month ago on 27 Nov 2018 …….. AND we had visited way back in 1997. So impressed were we with the site, that we have since then, if discussing aspects of travelling in Zimbabwe with someone, always recommended taking it in (as well, of course, as Gt Zimbabwe itself)!
And I do so again – The T List entry states "one of the most beautiful and well decorated drystone walled sites in southern Africa. There are six decorations that have been recorded on the walls of Naletale……. Some of the decorations on this wall include chevron, herringbone, cord, checkers and the use of alternating coloured stone inserts. Naletale architecture displays high levels of craftsmanship, creativity and imagination in the drystone walling of southern Africa."
Across 21 years I still remember them – and have managed to ferret out a digital copy of an old diapositive photo as demonstration. Note the different styles of decoration as per the above para. At the time I considered it a more impressive site than inscribed Khami. I remember too a site empty of people with no entry fees/fences etc – though, no doubt the latter will have changed! There were no "interpretation" or notice boards and there was probably more to see and take in – and Naletale is only 1 of the locations included. But our 1993 Rough guide had merely stated "Some of Zimbabwe's best stone ruins stand within striking distance of Bulawayo. All of them are dwarfed in size by Gt Zimbabwe but, built later in the Torwa period they are in many ways more sophisticated and reflect a development of the state's masonry traditions…..tiny Naletale perhaps the finest expression of the style."
The, already inscribed, Khami was included in the list of recommended sites close to Bulawayo but the guidebook went on to state "The most interesting of all the Zimbabwes, Naletale, stands at the top of a natural granite dome….it's difficult to imagine a better prospect… the site is small in size - you could do a circuit of the whole place in 15 minutes, but it is easy to while away half a day wandering about". The guide book also mentioned another nearby walled location titled Danangombe (Dhlodhlo) – but none of the other 5 mentioned as making up the "cluster" in the UNESCO T List description - Nsalansala, Shangangwe, Bhila, Gwenaguru and Arupanga. No doubt some future WHS traveller will report on them – but I wouldn't miss Naletale to do so. There is just one potential issue – I remember no problems in reaching and seeing the ruins during a 1 day c480km drive from Bulawayo to Harare in our saloon rent-a-car – but they do lie c25kms off the main road along a dirt track and at least one Tripadvisor review suggests that a hi clearance vehicle could be needed at some times of year.
And what are the chances of Zimbabwe being able to bring this T List site forward to nomination? It isn't always the case that placement on the T List indicates "action"! I have found this article from a Zimbabwe newspaper dated Nov 2013 (5 years ago) about a grant of $64,000 from USA to "restore the collapsed walls of Naletale". I remember the walls being in pretty good condition (as per the photo - though I note in recent photos that the tree has disappeared and was perhaps damaging them). Note how the article states (incorrectly!) "The Naletale National Monument was placed on UNESCO's 2012 World Monument's Watch List". In fact, of course, the WMF which operates the "Watch List" is a US based "private, international, non-profit organization dedicated to the preservation of historic architecture and cultural heritage sites around the world" which cooperates with, but is totally separate from UNESCO. Here is its Web page for Its (earlier and separate from the US Ambassador's fund) Naletale project In May 2015, less than 2 years later, the US reported completion of the restoration. It has then taken another 3 years to get them onto the T List – I wonder how "functional" the relevant Zimbabwe governmental institutions are now after the removal of Mugabe……?
---
Community Likes
Site Info
Full Name

Naletale Cluster of Dzimbabwes

Country

Added

2018

Type

Cultural

Categories

Link
Site History
2018

Added to Tentative List
Visitors
1 Community Members have visited.