Centre historique de la ville de Gorokhovets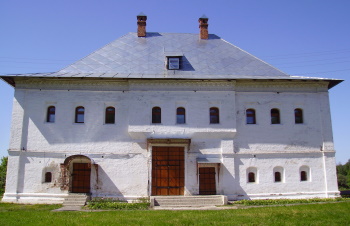 Centre historique de la ville de Gorokhovets is part of the Tentative list of Russia in order to qualify for inclusion in the World Heritage List.
The historic city center of Gorokhovets comprises of the old and new town, centered not around a kremlin but with all roads leading up to the central public square. Gorokhovets was one of the richest cities in Russia in the 17th century and a number of churches, monasteries, and chambers were commissioned by the local merchants at that time.
Map of Centre historique de la ville de Gorokhovets
Load map
The coordinates shown for all tentative sites were produced as a community effort. They are not official and may change on inscription.
Community Reviews
---
Japan / USA / Europe - 19-Jun-19 -
In late April 2019 I stopped at Gorokhovets by train on my way from Nizhny Novgorod to Moscow.
Gorokhovets is located on the eastern edge of the Vladimir Oblast but is only 50 km west from Nizhny Novgorod, the 5th largest city in Russia.
The train station is about 8 km away from the center of Gorokhovets, and not surprisingly a mini bus was waiting at the station. The last stop of this bus was the central square of the Historic Center with a tourist office a short distance away.
I had about 6 hours in this town, and the tourist office with a map in English was nice enough to store my luggage while I walked around the town.
The Historic Center of Gorokhovets appears at first to be any center of a small city in Russia. But this TWHS is supposed to be "hidden under mountain" and therefore has played an important role in defending the Vladimir region.
The photo was taken from the top of the "mountain" where Kremlin used to stand and St. Nicholas Monastery stands today (behind the photographer) and shows the most area of the Historic Center with the other two monasteries on each side of the river and one large church in the middle.
While there is this tourist office, this town is by no means ready for tourism. After all I think there were only 3 restaurants / eateries in the center, all of which appeared to be for local workers' lunch.
There were two large churches (both of them were under renovation, but the one in the photo was open) and 3 monasteries, one of which is across the river, meaning inaccessible. That's a lot of monasteries in one area.
The History and Architecture Museum was rather a nice break from churches and monasteries.
Many of the buildings in this nomination are still under renovation, but I suppose they will be ready by the time WH Committee discusses its inclusion some day. They'd better assemble back what appeared to be a pontoon bridge over the river soon so ICOMOS officers can easily assess the monastery across the river.
I believe there are only two trains per day that go directly from Gorokhovets to Moscow, and I took the one that left in the late afternoon.
Now that I have visited Gorokhovets, I keep my fingers crossed for it to be inscribed soon. :)
Read more from Tsunami here.
---
Keep your fingers crossed this one actually won't make it on the list, as it's in the middle of nowhere. Remember your torturous car ride in jam-filled main road from Moscow to Vladimir? Well, this is some 150 kms further to the east, in an extremely rural part of Russia, where, as we in Slovakia say, foxes bid you goodnight.
Ivan and I took our two Russian friends, Lena and Sveta and we finally arrived after 9 hours of riding (though, admittedly, we had some stops along the way, one of them being the Intermission Church on Nerl river, part of Vladimir WHS). Unfortunately, the whole town was a work in progress - churches were being reconstructed and the floating bridge leading to one of the monasteries on the other side of the river still wasn't assembled after the winter. It was the end of May. Still, we did what we could to make the most of this visit. We visited two out of three monasteries, the merchant houses, one of which has become a wedding ceremonies hall, another a museum. There's a tourist centre cum gift shop with lovely souvenirs and we had to drag away our friend Lena from a lecture on the properties of different puppets-talismans.
As for the reason for inscription, they state it's a "high standard of historical 17th century urban landscape". I would agree, there's a lovely mix of historical stone mansions, flamboyantly decorated wooden houses and nice townhouses. And, most importantly, no Russian "pyatietazhky", sore-looking five-story blocks of flats that sprouted during Khruschev's era and they mar any city landscape they find themselves in. So for that, yes, Gorokhovets is cute and charming, even though in a slight state of disrepair and not much of a tourist infrastructure to speak of. We looked for hotels, there's one motel off the main road on the way towards gorokhovets and that's it. There are some eating establishments in town, but that's it. If you really want to have a look, make it a detour off Vladimir. Ideally with someone who speaks Russian.
---
Community Likes
Site Info
Full Name

Centre historique de la ville de Gorokhovets

Country

Added

2017

Type

Cultural

Categories

Link
Site History
2023

Deferred

Rethink criteria etc
2021

Incomplete - not examined
2017

Added to Tentative List
Visitors
6 Community Members have visited.