Silk Road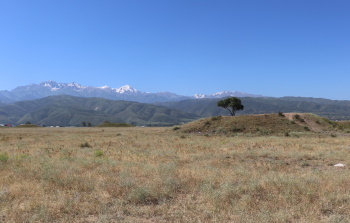 Silk Road is part of the Tentative list of Kazakhstan in order to qualify for inclusion in the World Heritage List.
Silk Road is a serial nomination including 23 locations (if we exclude the 8 elements already inscribed in the "Silk Road: the Routes Network of Chang'an-Tianshan Corridor"). It is divided into five sections, four of main geographical sections of the Silk Roads (in use from the 2nd century BC until the end of the 16th century): - the Chang'an-TianShan segment, of which almost all sites are already inscribed - the Syrdarya corridor with well-preserved rests of cultural landscapes of oasises and towns saved in conditions of present steppe, desert a semi-desert area and adjusted to big water rivers. - the Syryaka corridor, with only one element in the great steppe of Kazakhstan. - the Mangyshlak (Ural-Caspian) corridor, on the eastern part of the Caspian Sea, with natural landscape of deserts and semi-deserts. The fifth section represents pre-historic necropolis with many kurgan (tumulus over graves), dating to the 5th to 3th century BC, therefore pre-dating the actual creation of the Silk Road (represented on the picture).
Map of Silk Road
Load map
The coordinates shown for all tentative sites were produced as a community effort. They are not official and may change on inscription.
Community Reviews
---
Visited in July, 2017. Due to some unexpected turbulences I managed to see only one component of Kazachstan Silk Road sites – Ancient settlement of Turkestan (Yassy). Easy to combine with visiting Mausoleum of Khoja Ahmed Yasawi. While entering the complex of the Mausoleum you will find a big plate with a map of the site and surrounding area. It shows all the attractions including the main complex, other mausoleums, mosques, baths. Number 14 on a map are ruins of former city – Kultobe, from III – XIV centuries AD. There are no others signs of the place, so try to locate the ruins by searching for a hangar-style construction. They are placed around 500 meters from the mausoleum (after the underground mosque).
The site looks like busy archeological place, partly covered by roofing structure (unfortunately that needs to be replaced as it is almost completely destroyed). It is not fenced or protected by any other means. You can visits the excavation site at your own risk.
The city of Kultobe (Yassy, Yasy, Kazak Күлтөбе – Ясы) was an important location during Kushan Empire (II century AD), later connected with Sarmatian tribes with its heydays in Timurid period (1389 – 1405) when famous mausoleum was built. The excavations revealed the part of former citadel together with dwelling houses, streets, town walls. The basic material was like everywhere else mainly adobe but comparing to other silk road sites it looks as more layers were preserved – the unearthed parts are up to 3 meters high.
More about excavations (in English):
https://e-history.kz/en/publications/view/3369
Correct Google coordinates of the site 43.293383, 68.270623. On the google map it is called Түркістанның көне қала қорғаны
Kazakhstan has already put some their Silk Road heritage on UNESCO list (together with China and Kyrgyzstan). It is interesting if these places (23) scattered all over the country will be added as extension to already inscribed or as a separate inclusion.
---
Community Likes
Site Info
Full Name

Silk Road

Country

Added

Type

Cultural

Link
Site History
2012

Added to Tentative List
Visitors
10 Community Members have visited.