Ciudad Vieja / La Bermuda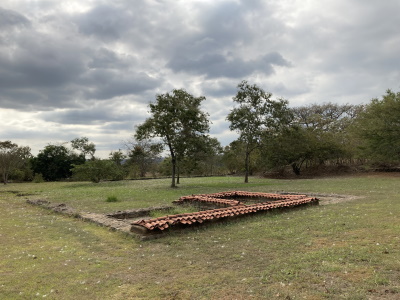 Ciudad Vieja / La Bermuda is part of the Tentative list of El Salvador in order to qualify for inclusion in the World Heritage List.
Ciudad Vieja and La Bermuda are two historic sites northwest of the capital of San Salvador. Ciudad Vieja was established here in 1528 by the Spaniards as 'Villa of San Salvador' and abandoned already 17 years later. La Bermuda was a 17th century colonial hacienda of which now ruins remain.
Map of Ciudad Vieja / La Bermuda
Load map
The coordinates shown for all tentative sites were produced as a community effort. They are not official and may change on inscription.
Community Reviews
---
I risked my life to write this first-hand report so you'll don't have to go there.
I was staying overnight in Suchitoto and could not let this nearby TWHS be unvisited. However, I couldn't find a description online of a previous visit by anyone. Was the site staffed? Was it open at all? I had already noticed from the bus into Suchitoto that the hacienda of La Bermuda was fenced off. On the map, the other location, Ciudad Vieja, looked to be located somewhere in the fields 1.5km from the main road. When deliberating about going there to visit on my own, I actually was more scared of being raped than being robbed out there (hardly brought any money and left my credit card at the hotel).
The next morning I was on the bus towards it. Ciudad Vieja is accessible from the main road between Suchitoto and San Miguel/San Salvador, some 9km outside of Suchitoto. It is signposted and there is a bus stop. From the main road, there is an unpaved road that leads up to the ruins. I decided to just walk as far as I felt comfortable. There are a few farms along the way, but nowhere I saw people.
About halfway I encountered a guy on a motorcycle. When I verified whether the road was leading towards Ciudad Vieja, he said "Yes. But there are only some stones there." I needed to push on though, as visiting stones is what we do.
Around the corner, a black dog had taken control of the center of the road. Again, I couldn't turn back without a photo of the ruins. So I grabbed a sizeable stone, which was enough to let him cower behind the fence of his home. He had a tiny mate as well, a snappy chihuahua or something similar. It went for my ankles, but I could have killed it with one kick. The threat was enough.
This was the last hurdle before a reassuring information panel came into sight. At the entrance, there is a staff building as well, with a whiteboard describing their duties of the day. I called, but no one seemed to be there.
So I just wandered on to the site. Ciudad Vieja (1528) was the first settlement of the Spanish in El Salvador. The story is similar to that of Leon Viejo (1524) in Nicaragua or La Isabela (1493) in the Dominican Republic. They're all archaeological sites from the early colonial period. An extensive description of Ciudad Vieja by its excavating archaeologist William Fowler can be found online. On the ground, the site is mostly overgrown though. Most notable are the stone foundations of the church (pictured) and the town hall.
The two dogs did their little show again on the way back. I calmly returned to the bus stop, where near the end of the path I found a rather fresh black face mask on the ground. Uhm, it was mine, it had fallen out of my pocket on the way up. I assumed no one had passed since and the dogs hadn't peed on it, so I picked it up and reused it on the bus back to Suchitoto.
Read more from Els Slots here.
---
Site Info
Full Name

Ciudad Vieja / La Bermuda

Country

Added

Type

Cultural

Categories

Link
Site History
1992

Added to Tentative List
1983

Deferred

Deferred as conditions under which recommendation made not yet fulfilled
Visitors
5 Community Members have visited.