Les cases à impluvium du royaume Bandial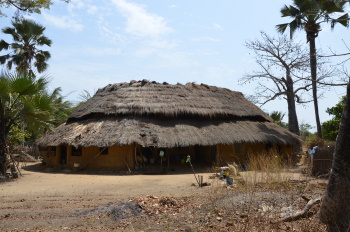 Architecture rurale de Basse-Casamance : Les cases à impluvium du royaume Bandial is part of the Tentative list of Senegal in order to qualify for inclusion in the World Heritage List.
The rural architecture of Basse-Casamance is characterized by large mud houses around a central impluvium. Rain is caught and funneled outside. This architecture is a distinctive feature of local Jola architecture.
Map of Les cases à impluvium du royaume Bandial
Load map
The coordinates shown for all tentative sites were produced as a community effort. They are not official and may change on inscription.
Community Reviews
---
Visited February 2017.
On the way back from Cap Skirring (if you like beaches, good food and tranquillity, the area around this town can be a perfect destination for your holiday; but if you prefer more active way of life, the area has also a lot to offer: from pirogue trips into the bolong to quad expeditions to fishing) to Ziguinchor I decided to stop in Brin which is the best place to start a journey into the Bandial country (old Kingdome of Bandial, Mof Awi) where old tradition of houses with impluvium is still pretty popular. The road from Brin to Séléki and Enampore is not marked on Google Map, but tell the driver of your sept-places where you want to go and he'll drop you at a small junction leading into the forest. If you're lucky, you can catch local transport going that way, if not, ask people in Brin to give you a lift – that's what I did after 30 minutes of waiting.
I was dropped in Enampore's tourist campsite and hostel looking like the old impluvium house, but this one is pretty young and made of modern materials; there were no tourists at all and the owner was sleeping in a kind of home-made hammock. I left my backpack with him and promised to have a lunch there after visiting local communities.
He showed me the way to the nearest house with impluvium – just few hundreds meter from the main road to the west. And this is probably the oldest one, that's what I was told by the family man of this compound ("Very old, it was already here when I was born" – and that means it can be around 100-year old). After paying some money to the oldest man sitting with his whole family outside of the house, I was let in – alone, just a kid was following me. This is a pretty big round house made of clay and partly covered by two layers of thatch – partly, because the central part of the roof is open to let the rain water in straight into a kind of basin, water tank, thirty-forty centimetres deep (on the picture). The construction holding the double thatch is very well elaborated, they call it a 'crown'. There are two entrances. And inside – at least 6 small rooms and one being used as a granary. On the internal wall there are traces of simple bas-reliefs and avant-corps columns by the internal doors. The house is owned by one big family. Nobody could tell me when Diola people started building such house, but the truth is they are really unique to this area. (When in Dakar, I went to IFAN Museum and asked about these houses of Bandial; the curator showed me some black and white pictures from thirties, the house on these pictures looked old, and he told me that this tradition probably started in the 18th century but now is being abandoned.) And it used to be much more of them even in Enampore – you can still see some building foundations if you know where to look. I was also taken by the young boy from this house to the neighbouring village, 5 km away (I do not remember the name of that village, but it is not hard to find it – just follow the path just behind the house I've just seen) where there are at least 5 house with impluvium. I was not visited their interiors, but I was very welcome to take pictures from outside without paying extra money. If you do not want to walk (although the walk was pretty nice) so far, go to Séléki, located behind the new bridge over the bolong, one kilometre from Enampore. I could identify three houses with impluvium, but of them looks new.
If you want to see something more extra, exotic and unusual, come back to Enampore from Séléki through the old wooden bridge. After traversing the bolong, go straight to the forest (do not take a road following the bolong) and after few hundred metres you'll reach a sacred serpent forest: two small hats full of snakes. Oh… they scared me a lot!
But the lunch at the campsite was tasty (poulet yassa and oysters!) And after the lunch the owner/manager of the camp took me Brin and helped to catch a vehicle to Ziguinchor.
---
Community Likes
Site Info
Full Name

Architecture rurale de Basse-Casamance : Les cases à impluvium du royaume Bandial

Country

Added

2005

Type

Cultural

Categories

Link
Site History
2005

Added to Tentative List
Site Links
Visitors
6 Community Members have visited.