Cara Sucia / El Imposible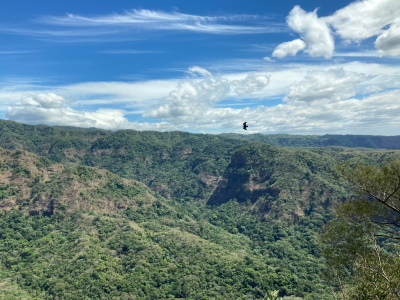 Cara Sucia / El Imposible is part of the Tentative list of El Salvador in order to qualify for inclusion in the World Heritage List.
Cara Sucia / El Imposible comprises a mixed proposal of a pre-Columbian archaeological site and the largest extant forest in the highlands of El Salvador. It used to be a regional center of the Cotzumalhuapa culture. The site holds an acropolis, two enclosed ballcourts, and a 14-meter-high pyramid, as well as several minor pyramids and platforms. They were made of large river cobble stones. The site is now mostly overgrown and has been subject to looting.
Map of Cara Sucia / El Imposible
Load map
The coordinates shown for all tentative sites were produced as a community effort. They are not official and may change on inscription.
Community Reviews
---
At first sight, there isn't much potential in El Salvador's Tentative List. I did visit a couple of the sites though, just to get a feel for different parts of this small country. I choose El Imposible because of its intriguing name. It lies in the "far" northwest of the country. This national park shares its entry with the Cara Sucia archaeological site in the nearby larger town, which I did not visit. The name "El Imposible" comes from the time when this was a cacao farming area. The mules had a hard time crossing a difficult mountain pass that would bring the product to the ports at the Pacific Ocean.
I went there with a car+driver from San Salvador. It's only a 115 km drive, but El Salvador has a serious traffic problem (probably related to its high population density) and the final 13km to the park are on a very bad unpaved road. So it took us about 3 hours. There's even a local bus that struggles up the road! This last stretch also introduces you to what El Salvador once was. I really enjoyed watching the people here, the older men proudly wearing their machetes, and the women carrying a small bag of flour fresh from the mill to prepare lunch. The traditional wooden houses now are often replaced by stone ones, funded by money sent home from the US ("to show off").
The park protects the largest extant forest in El Salvador. It has a visitor center and park guides. They are all geared up to receive a steady flow of visitors, but the terrible access road does not help, as is the hot and dry climate (my driver said that local tourists prefer to go somewhere cooler as it is always hot in the cities as well).
With my guide Rosa I set out for a short walk. We went up to the first Mirador and then the same way back. It was a fairly flat and easy forest walk. The forest is so dense, you see little else than trees. It was a very windy day and the birds did not show, except for a few raptors that could be seen from the Mirador. The king vulture is the park's flagship species. There were a few pretty and large butterflies around, especially one with green/beige camouflage.
The Mirador also is the point where you can see the sheer size of the forest. If there is any OUV, it should come from its plant species. A few trees are showcased on an interpretative trail, such as the chaparrón and ojushte (breadnut), both with medicinal qualities. And the non-native bambu from cacao times.
Read more from Els Slots here.
---
Site Info
Full Name

Cara Sucia / El Imposible

Country

Added

Type

Mixed

Categories

Link
Site History
1992

Added to Tentative List
Visitors
2 Community Members have visited.