Les ruines d'Ouara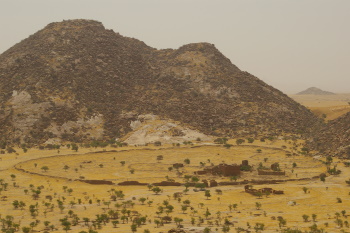 Les ruines d'Ouara is part of the Tentative list of Chad in order to qualify for inclusion in the World Heritage List.
Ouara was the former capital of the kingdom of Ouaddai. Only the ruins of the palace of Sultan Abdel-Kerim Ibn Djamé remain. This brick palace was built in the 16th century by an Egyptian architect. It is within a walled compound with several buildings such as the Sultan's residence, a high watchtower, and housing for his princely wives and concubines. Just outside the walls lie the remains of a mosque.
Map of Les ruines d'Ouara
Load map
The coordinates shown for all tentative sites were produced as a community effort. They are not official and may change on inscription.
Community Reviews
---
My visit to Ouara is more of a story about the journey and not much the destination itself. In Jan 2012, a friend and I convinced the relevant authorities (through some very loose associations with NGO's in the country) that we should be given permits to travel to Abeche, ostensibly to research some future work there.
I don't remember now how we heard about Ouara but it was along the lines of vague rumours of ruins somewhere nearby. Asking around town we were given all sorts of directions and replies until we found an old bedouin mototaxi driver that claimed to have been there once years ago. He recruited another driver nearby to assist as well and in one of the most foolish travel decisions of our lives, at 1pm in 30+C and without any additional preparations we jumped on and headed out of town thinking it would be a quick trip. I can only say with confidence the site is somewhere ~40km north of town somewhere nestled behind a small mountain well off the main dirt road heading north from Abeche. We finally arrived there about 20 minutes before sunset after stopping for directions at every little village we found, a couple flat tires, nap time under a tree and an aborted mutiny by the 2nd driver and finally an off road "short cut" that only ended in success when we found a lone camel herder to get us around the last corner so to speak.
Ouara was the capital of the local sultanate of Wadai, established in 1635 and finally abandoned just prior to 1900 when their wells ran dry. The sultanate was overrun by the French shortly after though local authority still plays and important role in life in the region today. There were no signs to the site or at the site and no development or restoration noticeable either. The climate probably has been the biggest help in preserving what is still left to see and there is surprisingly still a fair bit. Some sections of the palace and walls still stand and I have certainly seen ruins in a much worse state of decay. I can't say anything about OUV though it felt like more of a minor regional interest but I honestly had no idea what I was seeing at the time and only had 20 minutes or so to quickly run around before dark and turning back. I was so poorly prepared that I don't even have a photo to share, though my friend eventually posted the first youtube video of Ouara about the journey with some great scenery. There is no way things have changed or really gotten any easier out there since then though finding a vehicle and directions would definitely simplify things haha.
The ride home in the dark continued to be an ordeal of flat tires and stress until finally a few hours later returning to Abeche with a total journey time of nearly 9 hours. Not my most efficient or proudest day but certainly a memorable adventure and a reminder that even a seemingly short and simple trip may not be so, especially in that part of the world.
---
Community Likes
Site Info
Full Name

Les ruines d'Ouara

Country

Added

2005

Type

Cultural

Categories

Link
Site History
2005

Added to Tentative List
Visitors
1 Community Members have visited.