Uch Sharif monuments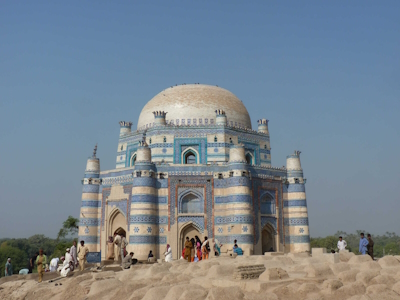 Tomb of Bibi Jawindi, Baha'al-Halim and Ustead and the Tomb and Mosque of Jalaluddin Bukhari is part of the Tentative list of Pakistan in order to qualify for inclusion in the World Heritage List.
The proposal consists of five monuments, four mausoleums and a mosque, located in the historic town of Uch Sharif in Punjab province. The shrines are dedicated to Muslim mystics (Sufis) from the 12th to 15th centuries. The monuments are domed tombs with an octagonal base and are decorated with blue and white mosaic tiles.
Map of Uch Sharif monuments
Load map
The coordinates shown for all tentative sites were produced as a community effort. They are not official and may change on inscription.
Community Reviews
---
A trip to Pakistan will lead you to conclude that it is a country of Mausolea – the burial places of the leaders of various Islamic Empires and dynasties, religious leaders, "Pirs" ("saint"/"elder" or "guide") and political leaders of pre and post independence Pakistan are scattered throughout – all, to various degrees, objects of pilgrimage and veneration! Uch is a manifestation of this aspect of Pakistani Culture – and there are several more such sites on Pakistan's T and inscribed lists! It is a small town in the Indus valley 70kms south of Bahawalpur containing around 10 tombs which constitute a major pilgrimage destination for both Sunni and Shia from Pakistan. Of these, 4 plus a mosque from the 14th and 15th centuries, are included within the T List definition for their architectural value – though there are other older ones in town.
Among the objectives for our Pakistan trip was a desire to learn more about Sufism and Qawwali music. The latter unfortunately was limited by the fact that such music is "haram" (= sinful) during the Muharram period. And, despite many long discussions with our guide, and visits to numerous Sufi shrines I must admit that a firm grasp of what Sufism is about still evades me! Uch was one of the locations where I had hoped to increase my understanding as well as tick off a T List site. But it was not to be.
Why should Pakistan be so "Mausoleum oriented". It certainly isn't in tune with the traditions currently spreading out across the Islamic world from Saudi Arabia as a result of that country's wealth and role in religious education via madrassas etc. These regard even the hint of "worship" of such objects/persons as un-Islamic – a view adhered to by the Taliban but also, more significantly, by many mainstream Pakistani Sunnis. However such activities are a widespread aspect of Islamic traditions as have developed in S Asia. I am still clarifying my understanding of such matters - if anyone is interested I would suggest that they look at the Barelvi/Deobandi movements. The Suhrawardiyya and Qadiriyya schools are also both relevant to Uch. As a result of such religious tensions, Sufi shrines/gatherings in Pakistan have been targeted both by Taliban but also by Sunnis with alternative religious approaches. Pakistan is a VERY complex society!!
The full UNESCO T List name of the site itself creates an immediate barrier of understanding - "Tomb of Bibi Jawindi, Baha'al-Halim and Ustead and the Tomb and Mosque of Jalaluddin Bukhari" - Not well known (or memorable) names! The World Monument fund, which has been working there on conservation since 1998, just calls it "The Uch Monuments complex" – but this doesn't totally overcome the problem since it describes the complex as consisting of 16 Sufi Mausolea and sacred buildings but then only names 3 (see http://www.wmf.org/project/uch-monument-complex ) . Never mind – these 3 are certainly the first 3 cited in the UNESCO title above and very fine they are too (Note - the UNESCO "Ustead" tomb is more normally called "Nuria" or "Ustead Nuria"). These 3 buildings are very close together and, although ruined (the original damage dates back to flooding in the very early 19C), retain a significant amount of their fine blue tile decorations. The Bibi Jawindi tomb is probably the most impressive (photo 1).
The adjacent Tomb of Jalaluddin Bukhari is not ruined and still functions as a Sufi shrine together with the mosque. As his name suggests Jalaluddin came from Bukhara and spent his life travelling as an Islamic missionary. He was "one of the founding figures of Sufism in South Asia, proved remarkably successful in helping spread Islam through much of present-day Punjab and Sindh provinces" Among legends about him is that he met and tried to convert Ghenghis Khan who ordered him to be burnt alive – luckily the fire turned into a rose bush!!! The tomb itself dates rather later to the 15th century in a pre-Mughal style. In 2007 the US Embassy in Pakistan gave $50k through the "US Ambassador's Fund for Cultural preservation" for restoration of the shrine (The same fund has helped at Lahore Fort, Rohtas and at Taxila). This building, which contained the main tomb plus dozens of those of followers was quite unlike any other we saw in Pakistan – the main area had a low roof with wooden beams colourfully painted with flowers and geometric patterns (photo 2)
It would appear that these tombs are the only ones in Uch which would be nominated – they are set conveniently together on the outskirts of town – the main trio are on a rise which overlooks green fields leading to the Sutlej river. Whilst we were there however we took in a few more – in particular that of Saifuddin Ghazrooni, which is claimed to be the oldest Muslim tomb on the sub-continent (He came from Baghdad in 980). To find these you really need a local guide (even our knowledgeable guide couldn't navigate the maze of back streets to it). We followed a little lad who wanted some English coins for his collection but in doing so we caused considerable consternation among the Police who came across us among the preparations for yet another parade by some religious grouping or another as the loudspeakers aggressively blared out their particular interpretation of Islam. I couldn't help thinking of N Ireland!
We quite enjoyed Uch and felt that it does indeed possess a case for inscription – S Asian Sufism isn't yet represented as far as I am aware. The restoration work by the WMF and US Embassy should soon have stabilised the structures but whether the politics of religion in Pakistan would create any barriers I don't know.
---
Community Likes
Site Info
Site History
2004

Added to Tentative List
Site Links
Visitors
7 Community Members have visited.