Mana Pools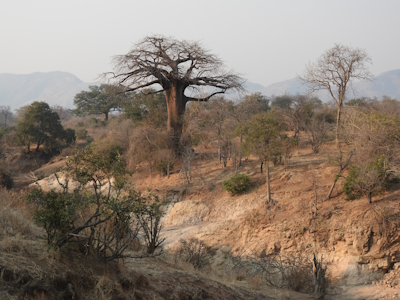 Mana Pools National Park, Sapi and Chewore Safari Areas are renowned for their wildlife gatherings during the dry season.
The three conservation areas are situated in the Zambezi Valley, along the Middle and Lower Zambezi river. Mana Pools is centered around four large permanent pools. The river and the sandbanks that are formed by erosion and deposition form a refuge for species such as elephants, buffalo, lions, wild dogs, Nile crocodiles and hippos.
Community Perspective: uncrowded (although that is rapidly changing), "an utterly wild place, sleeping outside with the sound of roaring lions, whooping hyenas and grunting hippos". Els has provided practical info on how to visit this remote park.
Community Reviews
---
4.00 The Netherlands - 12-Sep-23 -
Mana Pools National Park was the main goal of my 2023 Zimbabwe trip – rarely visited by our community, lacking a full review, but ranked among the best parks in Africa by safari nuts due to its large gatherings of wildlife in a 'wild' setting. Lately, Mana Pools is considered to have become 'busy' due to the ever-increasing number of camps and the accompanying vehicular traffic and what the IUCN Outlook 2020 describes as "crowding of iconic elephants and predator kills". The connoisseurs now prefer the even wilder Gonarezhou in the east of the country. As far as I have seen, the park shows no indication whatsoever of being a World Heritage Site (no plaque, no logos).
I spent 6 nights camping in the park as part of a 13-day safari tour: 3 nights at Chitake Springs and 3 nights at Mana Riverside. I will remember it mostly for its scenic landscapes. The rough area around Chitake Springs is covered with picturesque baobabs and even has its own 'Baobab Avenue'. It also best shows the eroded 'sand-bank' environment – created by a large seasonal river - that is part of the site's OUV. There are only a handful of (often sold-out) wild camping spots here and there are no roads.
The more developed Mana Riverside has a fine setting along the Zambezi River (a bit similar to Botswana's Chobe NP), plus the 'blue forests' that it is famous for among serious photographers. The blue haze is created by smoke from fires some distance away. There are also some savannah areas, even with palm trees. The four pools that give the park its name are in this area too, but are nothing to get excited about. Mana Riverside indeed feels a bit crowded (but far from East African or Asian levels!); we encountered 10+ vehicles daily (at Hwange there were 3 at most). All seemed to be chasing after the "iconic elephant" Boswell who can stand on its hind legs.
There's a good variety of wildlife: best at Mana Riverside, but we saw an impressive pride of 15 lions moving around at Chitake. At Chitake, the roaring lions will keep you awake, and the munching hippos do so at Riverside. All mammal species common to Southern Africa live here except the rhino. Among the slightly less common species, side-striped jackal and eland can be seen easily. Unfortunately, we did not encounter any Painted dogs (we had seen one earlier in Hwange though). The black rhinos that were once even part of the OUV had to be relocated due to heavy poaching pressure. You can still see their pens at Chitake where they were kept before their transfer. Birdlife is good as well (I've seen 380-450 species mentioned), notably Lilian's lovebird, carmine bee-eater, and red-billed quelea who land and take off in large flocks.
Before it became a national park in 1963, Mana Pools was inhabited by a fairly large number of people. Some had seasonal camps there, and potsherds can still be found in a number of places. They were all relocated to an even more inhospitable place and have lived there since.
Practicalities
As this is not an easy site to access, here is some practical info:
The park is nominally open all year round, but seasonal flooding limits access from about mid-December til the end of March.
Getting in requires either a charter flight or a 4x4 drive on the unpaved road network. Be aware that it takes almost 2 hours to get from the first park gate to the actual reception area, with a long straight access road in between of no interest.
Many areas of the park are inaccessible to the general public due to having been leased as private concessions to the luxury lodges.
After having been there now and having studied ways of access for years, I still haven't found an affordable way to do a 'good' visit. Your options are:
The 'cheapest' way is to self-drive (4WD necessary) and camp, bringing everything with you. Note the daily conservation fees you have to pay (20 USD per person) and the campsites aren't exactly free either. Don't consider bringing one of these small, flimsy dome tents, as the baboons will rip it apart (we heard of a guy wanting to get a lift out of the park as soon as possible after that happened to him). There's a circuit of loop roads you can drive around Mana Riverside, but you have to stay inside your car. There are no hides or picnic areas like they have in Hwange, it's bare bones.
A full-inclusive camping tour, accompanied by a licensed guide. This has the advantage of being catered to and being able to do walks (only armed, licensed guides may offer those). You can find operators and indications of costs here.
Staying in one of the permanent 'camps' or lodges – all are luxurious and cost between 500-1500 USD per person per night. They usually do game drives in their own concessions and may send scouts out ahead to find the more interesting animals.
If you desperately need this 'tick' and don't have the money for any of the above, you could consider doing a day visit and staying at the basic Makuti Travel Lodge which is the closest hotel to the park gate. Arrive at the gate opening hour at 6 with a 4WD and spend a full day in the park. Due to the timings, you will probably miss the blue haze in the forest and most of the animals who avoid the midday heat.
Read more from Els Slots here.
---
ryan erasmus
I am a zimbabwean living overseas now, we as a family used to go to mana alot, it is the most amazing place i have ever been and i have travelled the world extensively,There is such a spirit about mana ancient in time i feel so primal when i am there i recomend mana pools to anyone who loves nature, wildlife and fishing . i hope mana stays free of poaching and it is managed honestly. i would love to organise events here in newzealand to raise money for the preservation of the park
---
Matt Adams
I went to Mana Pools in December with my brother, who lives in Zimbabwe. It was one of the most beautiful places I have ever been, and the experience was enhanced by seeing the rare & elusive painted hunting dogs, and also lions, elephants, hippos, crocodiles, hyenas and other species of animals and birds too numerous to mention. The experience of living for five days in such an utterly wild place, sleeping outside with the sound of roaring lions, whooping hyenas and grunting hippos to lull me to sleep, and spending the days surrounded by such stunning scenery, is one I will never forget.
Difficult to get a place in a lodge unless you know a Zimbabwe resident (& even then not easy), but there are campsites open in the dry season, and it's well worth visiting if you can find a way.
---
Site Info
Site Links
Unesco Website
Official Website
In the News
Visitors
26 Community Members have visited.