The Holy place of worship of Ukonsaari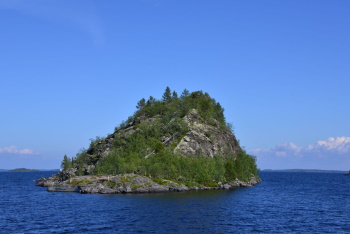 The Holy place of worship of Ukonsaari by the Sami people at Inari has been part of the Tentative list of Finland.
Map of The Holy place of worship of Ukonsaari
Load map
The coordinates shown for all tentative sites were produced as a community effort. They are not official and may change on inscription.
Community Reviews
---
As part of our 2020 summer trip to the north of Norway, we did a short cut through northern Finland. We stayed overnight at the shore of Lake Inari.
In order to visit the Island of Ukonsaari, you will have to join a boat-trip. During summer there are daily tours leaving at 13:00 by Visit Inari. So what to do while waiting for the boat to leave? Two options: you can visit the Sami museum, Siida, or take a hike to Pielpajärvi Wilderness Church. The wooden church was built in 1760 after the Christianization of the local people on the site of an old Sami winter village. The easiest way to reach the church is to hike from Inari village, starting point of the trail is the Sarviniementie parking area. The hike is 5km one way through the woods.
We opted for the museum, figured we didn't have enough time to do the hike. The museum includes an indoor exhibition and an open-air museum. We got a good introduction to the Sami people, the religion and their way of living. It was a nice and informative museum, and you can easily spend the morning there.
It was a nice sunny summer day north of the arctic circle and we really enjoyed the boat ride on the lake. Lake Inari is the third largest in Finland and there are about 3000 islands in the lake. The main goal was of course the holy island of Ukonsaari. Up until 2019 it was possible to enter the island, but nowadays you can only view it from the deck of the boat. The announcement to stop entering the island came the same week as Australia imposes a climbing ban on Uluru.
For the Sámi around Lake Inari, the island of Ukonsaari (Äijih) is considered to be an extremely important sacred natural formation and was used as a sacrificial site, perhaps as recently as in the 19th century.
Ukonsaari stands out from the other islands, it is steeper, higher and has a distinct shape.
The boat also stopped by the two nearby burial islands. They have been used as a burial site up until modern times. The trip lasted 1,5 hours.
What about the OUV? I'm not really sure. I guess it is comparable to Uluru, but it's less impressive. The natural setting is nice, but not outstanding.
---
Community Likes
Site Info
Site History
2021

Removed from Tentative List
1990

Added to Tentative List
Site Links
Visitors
4 Community Members have visited.