Gammelstad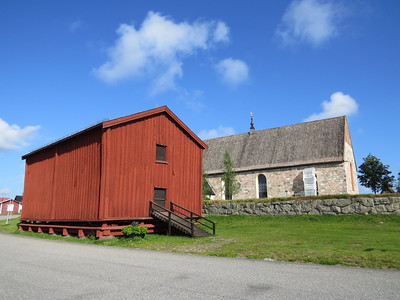 The Church Town of Gammelstad, Lulea, is the best preserved example of a type of town that was once widespread throughout northern Scandinavia. The cottages served as overnight stop for parishioners who lived too far away to make the journey to the church and back in one day.
At the centre of town lies the early 15th century stone Nederlulea church, surrounded by more than 400 wooden houses. These are still privately owned, keeping the custom of a church town alive.
The area was colonized by Sweden in the 14th century, it was located in a not well-defined border area with Russia. Priests and taxmen were sent to bring it under Swedish sovereignity.
Visit August 2015
The Church Town of Gammelstad is a village in the woods some 10 km outside of Lulea in North Sweden. It's hard to imagine nowadays that people used to arrive here by boat. The sea level in the 15th and 16th century, when the town developed, was 10 metres higher than today. By 1649 though, the harbour had become too shallow. Movement of the tectonic plates had caused land elevation. On site you can still see the spot where the old harbour was located: it now is a parking lot for the neighbouring open air museum.
When I arrived in Gammelstad on a Sunday morning at 9 a.m. its streets were empty. Only a fat Garfield-like cat welcomed me, and accompanied me on my walk around town. The trademark Falun red wooden houses give the town center a coherent architectural feel, though there are more modern houses on the outskirts of town too. I found the town lay-out remarkable: it seems completely haphazard. The cottages were added gradually and as needed. Once all the streets were lined with houses, the land between the roads was filled by more buildings. They now all lie very close next to or behind each other.
At first sight the wooden houses are tiny – of course people did not need much space for just a day in a week here. But not all houses were small: there's also a more luxurious quarter in town. Here for example lies the mayor's house. It is also made out of wood and red in colour, but it's a fairly sizeable farm house decorated to impress.
The town got busier from 10 a.m. on. Mass in church on Sunday starts at 11 a.m., so the locals were slowly waking up and opening their doors. Also several other tourists showed up, Germans and Chinese among them. A big touring car from Germany even arrived when I left. The town gets 100,000 visitors a year, which isn't bad for a village.
The interior of the big Nederlulea church should not be missed. The church was consecrated in the auspicious year 1492. It has groups of frescoes around the altar, it reportedly is the "northernmost church with medieval frescoes". Other notable ornaments include the baroque pulpit and a 16th century altarpiece from Antwerp. During the Reformation, this area (and this church) turned from Catholic to Protestant around 1590.
Despite Gammelstad's cuteness, it will be hard to spend more than 1.5 hours here. I walked the town twice, had a look inside the only house open for visitors, explored the visitor center and had coffee and homemade cake next door at Ullas Café. It's very much a normal town, the cottages are not taken over by souvenir shops as they would be elsewhere in the world. My final verdict would be: nice enough for a detour, but it would not be part of my Top 200 WHS.
Click
here
to see more of my photos of Gammelstad
Community Reviews
---
Ian Cade England 09-Mar-15
This is an unutterably pretty place to visit, the charming lanes of wooden houses all painted in Falu Red were complemented by a great one room museum explaining the history and importance of the settlement.
From the first time I saw a picture of this is a site I always assumed I would visit. My armchair trips always pictured it as a cold, dark and snowy place; as such my visit on a balmy hot, bright sunny summer day had already skewed my conceptions. There are several Church towns around Sweden we managed to visit three of them almost by accident on our loop of northern Sweden, however Gammelstad was by far the largest and most impressive. The higgledy-piggledy clusters and rows of red cottages all wind up hill to the central church which was another delightful surprise. I was fully expecting the usual somber plain interior however it was rather impressive with the ornate altarpiece being the highlight.
We then headed to the tourist information office and upstairs to the little museum. In only one room this place did a great job of explaining the history and importance of the settlement, this is the sort of exhibition I wish introduced every world heritage site.
We bought some ice creams and walked some more quaint rows of wooden cottages and called in to a community car boot sale (we finally discovered what all those signs for "Loppis" in Sweden were about). Feeling suitably impressed headed off to nearby Luleå for a pleasant wind down at the lovely waterfront cafes.
It was really rewarding visit to a place I hand longed to see for several years. The glorious weather, quaint layout, friendly community and excellent explanation made it well worth the trip.
[Site 6: Experience 8]
---
John booth New Zealand 03-May-10
Getting to Gammelstad from Smedjegatan in the centre of Lulea is easy on a #9 bus, which stops at Kirkbyn, outside the Gammelstad church. There was a funeral in progress at the church when I arrived, but I got to see inside it later on after visiting some of the tiny red-painted cottages that form the church-town.
---
Community Rating
Community Rating 2.93. Based on 7 votes.
Your Rating
Site Info
Full name: Church Town of Gammelstad, Lulea
Unesco ID: 762
Inscribed: 1996
Type: Cultural
Criteria: 2 4 5
Site History
2014 - Name change

From "Church Village of Gammelstad, Luleå" to "Church Town of Gammelstad, Luleå"

1996 - Inscribed
Site Links
Unesco Website
Official Website
Locations
The site has 1 locations.
Gammelstad lies 11km outside of Lulea, and close to its airport (with frequent connections to Stockholm and some other destinations).
Connections
The site has 14 connections. Show all
Visitors
71 community members have visited Gammelstad. Show all