Te Wahipounamu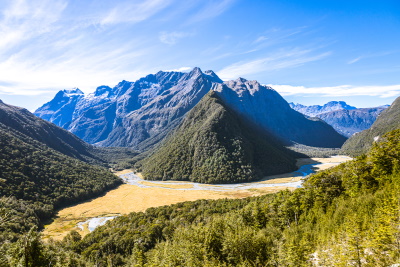 Te Wahipounamu - South West New Zealand is thought to contain some of the best modern representations of the original flora and fauna present in Gondwanaland.
They include kiwis, 'bush' moas, carnivorous Powelliphanta land snails and the endangered takahe. The area contains New Zealand's highest mountains, longest glaciers, tallest forests, wildest rivers and gorges, most ruggesd coastline and deepest fiords and lakes.
The site incorporates four National Parks, plus the intervening land:
Aoraki/Mt Cook
Fiordland
Mt Aspiring
Westland
Community Reviews
---
WHS#4
As a world traveller, I often get asked which country I loved the most. To answer that question, I usually look back on how surreal every day was in each country, how wonderful it was to just wake up and see paradise, to feel like you're in the most perfect place in the world. For me, that's New Zealand. I visited a long time ago, on a family road trip back in April 2013, but it's still one of the most memorable landscapes for me. This WHS experience was actually a good motivation and eventually, outcome of my first work in travel itineraries. My family had originally planned to go down the East Coast of the South Island through Christchurch before ending in Queenstown. I, however, had different plans. I wanted to go down the West Coast because of my interest in gemstones, and Hokitika on the West Coast is a haven for local gemstones, especially known as a jade (locally known as pounamu, the namesake of the South Island) locality. I didn't really get to hunt for jade on the beach, but I got an even more memorable adventure on this scenic route. The route down the West Coast from Picton to Queenstown brought me to Westland Tai Poutini National Park and Haast, as well as Fjordland National Park, which we visited on a day trip from Queenstown. Those few days just barely scratched the surface of this vast land. It's one of the most visually pleasing landscapes, with an extensive geological and glacial history, and some of the most unique flora and fauna on the planet. All of these different properties meet awe any visitors lucky enough to step foot on and set their eyes onto the greatness that is Te Wahipounamu.
Driving south from Hokitika, you'll enter the core zone around Franz Josef Glacier. Franz Josef and Fox Glaciers are among the most important stops and impressive sights in this huge WHS. They're unique in that they descend to such a low altitude in a subtropical climate., which makes them extremely accessible to tourists. This, of course, includes me as I walk up the glacial valley towards the glacier itself. The glaciers have definitely seen better days, and it shows in the dramatic rock formations of the valleys they carved. All the while, temperate rainforest thrives on its walls. The main difference between the 2 glaciers, at least in terms of visitor experience, is that Franz Josef's trail approaches the glacier from the front by the flat floor of the valley, while Fox's trail traverses the wall of the valley, allowing one to look down on the glacial stream and eventually, the glacier itself. Regardless, one cannot access the glacier itself without a licensed guide and equipment for walking on the ice. For me at the time, I guess seeing the great rivers of ice from the established viewpoints were enough, but I'd love to be able to walk on the glaciers, and I just hope they'll survive until I get the chance.
Close to Fox Glacier is Lake Matheson, a glacial lake with a perfectly reflective surface. Mount Cook, the highest mountain in New Zealand, can be viewed from here. It's also part of the WHS as Aoraki Mount Cook National Park, though I wasn't able to visit this part of the site. Down the coast, the highway reaches Haast before curving inland to cross the Southern Alps. There are many things to see in this frontier of civilization, but the only site I remember visiting Knight's Point. This is a lookout point on the coast where you can view birds and seals. Unfortunately, my main memory of this was the unpleasant swarm of insects here. Crossing the Alps through Haast Pass, I exited the WHS towards Wanaka. To me, the lakes here deserve recognition along with the WHS. The glacier-carved Lakes Wanaka and Wakatipu are not just of great aesthetic value, but of great geological interest, pristine condition, and interesting mythological properties of the Maori. Queenstown, of course, is one of my favorite little cities in the world, simply for its atmosphere of being one with one of the greatest landscapes of the world.
It was also from Queenstown that we visited what is probably the highlight of this WHS: Fjordland National Park. This is the wildest, most dramatic, most scenic, and arguably the most untouched corner of New Zealand. I say arguably because there is a highway all the way to Milford Sound, where one can board one of the several cruise ships that go to the mouth of the fjord and back. Otherwise, I remember the landscape being unaffected by development, as ecosystems appeared completely healthy and intact, and no infrastructure severely hindered the aesthetic impact of the land. From Queenstown, stops include the lakeside town of Te Anau, Mirror Lakes, some waterfalls in the temperate rainforest-covered cliffs, and a stream from which we were allowed to drink - yes, the water tastes amazing! Finally, we arrived at the little settlement at the inner end of the fjord, where we boarded a boat that took us to the various highlights of the fjord, such as the many waterfalls, views of the mountains and the sea, outcroppings covered in seals, and boulders of pounamu before emerging at the mouth of the fjord. From here, you can't even imagine that you had passed by the huge towering snow-capped peaks on a boat. It's as if the fjord was never there. Even though the waters are apparently not part of the WHS, they are an integral part of the ecosystem and scenery here.
Obviously, I missed a lot of the important properties of Te Wahipounamu. I was unable to visit 2 out of the 4 national parks that comprise most of the core zone, but I was also unable to observe much of the extraordinary flora and fauna in these parks. But purely from the "many of the natural features which contribute to New Zealand's international reputation for superlative landscapes," I was, even as a child, able to recognize that this is truly a top-tier natural landscape of the world.
---
The incessant rain dripped from my sunhat. My jeans were clinging clammily to my legs. My surroundings lay lost in the cloud banks that enveloped the little boat, creating an aura of mystery and suspense. Alone on the upper deck I braced myself on the rail as we cut across the mouth of Doubtful Sound, roiling and bucking with the waves.
Te Wāhipounamu World Heritage Site is comprised of four contiguous national parks running up the southern west coast of New Zealand's South Island. From south to north these are Fiordland National Park, Mt Aspiring National Park, Westland National Park and Aoraki / Mt Cook National Park. Our trip to New Zealand had been scheduled to take in the first three of these. As it was, due to being ripped off by a campervan hire company and being left stranded in Queenstown with no transport, no accommodation and no money to pay for either, our once-in-a-lifetime trip to New Zealand ended up starting and ending with a single day trip to Doubtful Sound in Fiordland before we had to fly home early (New Zealand remains the only place I've visited where I was glad to pay more to leave the country sooner than planned).
Doubtful Sound, the less visited southern sister to the more famous Milford Sound, requires a full day – though it depends on where you start from. Tours – you can search for them yourselves - leave from the town of Manapouri at 10am sharp, so if you are an early riser you potentially could leave the tourist hub of Queenstown before the crack of dawn, drive flat out and get there in time, before doing the same in reverse at the end of the day. I think organised tours by coach also permit a day trip. We didn't fancy our chances and so we booked accommodation for two nights in Manapouri. I would certainly recommend that as an option if you have time and money and your own set of wheels. But book ahead – on our tour 43 of the 45 available spaces were taken.
The journey to the sound is itself a bit of an adventure. It has three stages:
A crossing of Lake Manapouri by catamaran, gliding past steep forested islets as you head towards the soaring Southern Alps. The catamaran docks in West Arm where a hydroelectric power station perches on the bare rock like a Bond villain's lair; at this point you have entered both the national park and the world heritage site
Transfer to a 1981 vintage coach with bench seats and a temperamental heating system. This redoubtable old workhorse pulls out onto the only section of road in New Zealand not connected to the rest of the road network and shuttles you up and over the Wilmot Pass to Deep Cove. Though the word 'shuttle' implies speed, which is quite at odds with the nervy journey as the coach ground its way up to the pass, gears protesting, and the even nervier drop back down again as a heavy foot was needed on the brakes as the road wound between a steep rockface to the right and a sheer drop into a valley to the left. The journey does, however, provide a first glimpse of what makes this area so wild and valuable. This is a proper rainforest, primeval and untamed, tangled beeches larded with moss, trunks green, beards hanging from branches, clouds pressing close, drizzle falling from leaves, rushing and tumbling along the roadway.
Arrival at Deep Cove in Doubtful Sound where the cliff plunges down into water the colour of iced tea.
Doubtful Sound is meant to be a connoisseur's choice. Milford Sound offers competing tour companies, a range of adventure activities and the end of the famous Milford Track. Doubtful is far less visited. The selling points, as explained to me, were that it was larger than Milford Sound and also quieter. Without having visited Milford I don't feel equipped to make a full comparison. However, I would comment that I was in no place to judge the size of Doubtful because we spent the entire journey swaddled in cloud. Other than when we nosed up to the cliffs to wonder at the cascades of crystal-clear rain- and melt-water the surrounding landforms were only dark shapes in the mist. And I could not judge the silence either because the engines of the boat thrummed constantly underfoot to keep us from being driven into the rocks. I did have some joy at spotting wildlife though, with three New Zealand fur seals and four rare Fiordland penguins being spotted.
Would I visit Doubtful Sound again? Well, my experience of New Zealand was rather soured by the treatment we received there and I did vow in anger to never return. But the reasons I wanted to visit in the first place remain valid, I suppose, so my opinions have mellowed slightly over the intervening two years. I would still like to properly have my once-in-a-lifetime trip to New Zealand, and exploring more of 'the place of greenstone' would form a decent chunk of that. But next time I might take the easier option and opt for Milford Sound instead. Purely for comparative purposes, you understand.
World Heritage-iness: 4.5
My Experience: 2
(Visited Nov 2016)
---
I visited Te Wahipounamu in July of 2007.
Te Wahipounamu is the Maori word for what is the fjordlands area in the southwest corner of the South Island of New Zealand. This includes the famous Milford and Doubtful Sounds.
I did a tour of Milford Sound and had the pleasure of going immediately after it had rained for 24-hours. Water was flowing down the sides of the fjord in hundreds of small waterfalls, and the large waterfalls were going at full flow.
Visiting can usually be done on a day trip from Queenstown, but you can also stay in the region to do and experience more.
Read more about Te Wahipounamu on my website.
---
The hardest thing about this WHS is knowing where to start... and where to stop. It's not just enormous in terms of area, it has such an incredible amount of diversity. In some ways, it could easily be split into a few different World Heritage Sites, because each area has such unique aspects.
As a visitor, I think the best thing is to hire a car and take your time driving along the coast over a number of days, stopping for different walks and viewpoints.
One of the highlights (for me) was the glaciers - particularly Fox and Franz Josef. The sad things is that they are receding so quickly at the moment. Part of that is just the natural ebb and flow but the human-caused climate change is also having a big effect. I wonder how long they will last. Will there be a generation soon that won't be able to see this?!
Read more from Michael Turtle here.
---
Tom McSherry
As a local who has completed two full tours of the country, I have to say there is no other part which quite creates the sense of travelling into the prehistoric past the way Te Wahipounamu does.
It's so simple to find a quiet spot where you can contemplate how little the landscape has changed here over the aeons, to get some perspective on how damaging the presence of humans is - and how important it is to ensure areas like this remain free of that damage. Then there is just the sheer, raw natural beauty of the place - it's a cliche to say it leaves me speechless, but that truly is the effect.
Read more from Tom McSherry here.
---
I was enraptured when I read the reviews already on this page.
In April I made the 1000 km journey to the bottom of the South Island. This is the real New Zealand, far removed from the city life that I endure in Auckland.
Most people travel to these remote areas by car, but if you are travelling alone, or feel that is too un-green, be assured that I toured the whole area from and back to Christchurch by local bus and train services. Because of the tortuous nature of the roads there I would recommend this as it allows you watch the scenery instead of the road.
From Christchurch there are direct bus services to Te Anau, Queenstown, Mount Cook and Greymouth, as well as the scenic rail link to Greymouth that I used.
From Te Anau there are several services to Milford which connect there with boat trips up the Sound.
From Queenstown there are bus services to Te Anau (for Fiordland), to Glenorchy and Wanaka (for Mount Aspiring), to Fox and Franz Joseph Glaciers (for Westland) and onwards to Greymouth.
For the more energetic there are walks on the Milford and Routeburn tracks that lead through the Fiordland and Mount Aspiring National Parks respectively.
---
Emilia Bautista King
Ah, New Zealand! I travelled for 3 1/2 weeks on both North and South Islands. Fiordland National Park is stunning but watch out for those keas (alpine parrots) that will tear their beaks into anything in their path, including your car! I took a boat tour on Milford Sound and felt like Jacques Cousteau. The waterfalls were beautiful and what a thrill it was to see seals on the rocks! On the boat, I went fishing for the first time with a makeshift rod that the boat crew gave me. Didn't catch any fish - just fed them with my bait!
---
In a land of superlatives, Fiordland National Park earns the highest ranking possible in all around natural beauty. My jaw hurt from repetitive dropping as we made our way to scenic Milford Sound, passing through majestic glacier-topped mountains ringed with temperate rain forest. At Milford Sound, I suggest the boat tours, as the raging waterfalls, dolphin encounters and lazing seals are best seen from this vantage point. I have traveled extensively and I do not say this lightly when I call this area the most beautiful spot on earth.
---
Gatis
I am a bit surprised to see how many beautiful, world-class things Newzealanders have managed to "throw in one basket" with this monument. In fact Te Wahipounamu is quite big and extremely diverse natural area, and some other nations may be would make some five World Heritage sites out of it.
To me was a surprise to see so few people and so little development in Fiordland. Humans have managed to build here some prety good roads and some smaller cities and villages, but everything else is rugged mountains, dense coastal rainforest, incredible waterfalls, magnificent ocean - fairytale land (see "Lord of the Rings").
---
Site Info
Full Name

Te Wahipounamu - South West New Zealand

Unesco ID

Country

Inscribed

Type

Natural

Criteria

7

8

9

10

Categories

Link
Site History
1990

Extended

Encompasses the in 1986 inscribed parks Fjordland and Mount Cook
Site Links
Unesco Website
Official Website
In the News
Visitors
146 Community Members have visited.