Ennedi Massif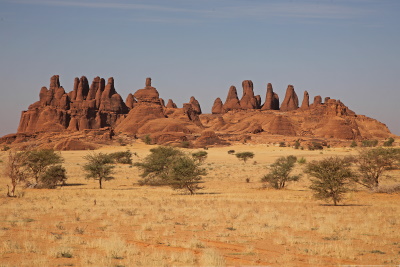 The "Ennedi Massif: Natural and Cultural Landscape" is an eroded mountain massif in the Sahara desert, containing numerous rock paintings and archaeological sites.
The sandstone plateau was sculpted by water and wind erosion, leading to scenically impressive features such as formidable rock arches.
Though lying deep in the desert, the area sees regular rain. This results in a varied flora and fauna, and notably in the surviving Nile crocodiles in the permanent pocket of water called Guelta Archei. It became a refuge also for humans, who left rock art there. Nomadic pastoralists are still visiting.
Community Reviews
---
Barbara Oehm Guyomarch
The Archei region, which is now presented under the name "Ennedi Massif: natural and cultural landscape", is also rightly known as "the Saharian Garden of Eden".
Huge sandstone cliffs, pillars, arches, labyrinths, towers, guardians, of all shades of reds, yellows, browns, golds...absolutely AMAZING!
This amazingly well preserved mountain range at the Southern border of the biggest desert in the World, is not only incredibly beautiful: it is also home to some of the most amazing rock art in the World, dating 2000 to 7000 years back, in such vast quantities and so well preserved that it is often refered to as "the open-sky Louvre", after the famous French gallery.
The place is scarcely populated, and mainly by nomads whose life hasn't changed much since their ancestors painted or engraved those rocks. Beautiful place, beautiful people, ancient culture preserved and still alive...the Ennedi is spectacular in so many different aspects.
The Ennedi Massif also hids gems of biodiversity: plants and animals have managed to survive there for more than 4000 years since the Sahara became arid again. The lucky visitor who has an early start can even spot the last Saharian crocodiles in the guelta of Archei!
bear in mind that it is not so easy to get there: one has to fly to the capital of Chad, N'Djamena, then -with an official TO- drive the whole way to the Ennedi (at least 3 full days in a 4x4). There, there is no infrastructure, so you will sleep in a tent, under the most amazing of skys, every night. It is NOT recommended to travel there alone, as the desert requires proper guides and drivers, but they are very good TO that can organise everything for you.
In brief: an amazing place, the most beautiful I have ever seen, the one that makes me cry (too much beauty to bear - too much emotion) when I go there. Truly unique!
---
Site Info
Full Name

Ennedi Massif: Natural and Cultural Landscape

Unesco ID

Country

Inscribed

Type

Mixed

Criteria

3

7

9

Categories

Link
Site History
2016

Revision

Formerly on T List as: La région d'Archei : le paysage naturel, culturel et son art rupestre
2016

Advisory Body overruled

IUCN and ICOMOS both advised Deferral, mostly because of the reduction in size of the protected area after their visit
2015

Incomplete - not examined

As "Massif de l'Ennedi : paysage naturel et culturel"
Site Links
Unesco Website
Official Website
Related
In the News
Visitors
3 Community Members have visited.