Patzcuaro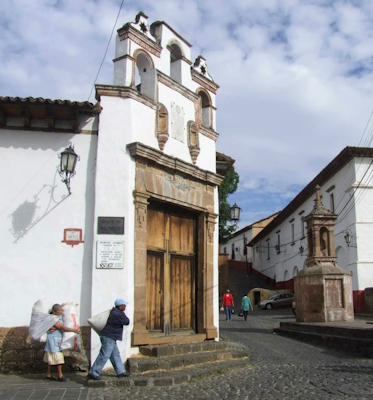 Patzcuaro, Site of Humanistic Memory and Cultural Confluence is part of the Tentative list of Mexico in order to qualify for inclusion in the World Heritage List.
Patzcuaro, Site of Humanistic Memory and Cultural Confluence, represents an important ceremonial center of the Purepecha people and an early colonial city. In 1538 it also became the episcopal seat of the province. In the Upper Town, the Basilica de la Salud, and the churches of La Compañía and El Sagrario remind of its religious and educational role.
Map of Patzcuaro
Load map
The coordinates shown for all tentative sites were produced as a community effort. They are not official and may change on inscription.
Community Reviews
---
Our visit to Patzcuaro was somewhat fortuitous. It was early in our 2008 trip driving round Central Mexico picking up as many inscribed and T List sites as we could in 17 days. It wasn't planned as a WHS-related objective and I wasn't aware that "The Lake Patzcuaro Cultural Zone" was a former T List site, let alone that it had been nominated in 1987 and deferred before being removed. We were driving from Morelia towards Guadalajara and the town and its lakeside villages seemed "interesting" as per LP's descriptions and were not much "out of the way"! In fact, we were so "taken" with the town that we stayed overnight and "paid" for that with a very early start the next day on the remaining 270 km motorway drive to Guadalajara.
After Morelia, which, IMO, doesn't really exude "Colonial town" ambience, it was the first of many we were to see which did! It was still very much a "town" rather than a city, with plenty of "indigeno" atmosphere/people, and almost totally vernacular architecture, but with no really outstanding or memorable buildings . What did stick very much in our memory was a magnificent mural from 1942 by Juan O'Gorman titled "The History of Michoacan". This is located in a building now called the "Gertrudis Bocanegra Public Library" which had been constructed as an Augustine Convent in 1576, converted to secular use in 1880 and turned into a library/cultural centre by the left wing government of Cardenas in 1936. If you are wondering about its name then look up this!!
And now, in June 2023, the town appears on Mexico's T List under the grandiose title of "Site of Humanistic Memory and Cultural Confluence". I don't remember any of that!! What is going on?
A clue is to be found in the section of the O'Gorman mural which I have used as photo for this review. You will see a beneficent cleric standing under an angel, gesturing towards a banner marked "Utopia" where a fountain feeds the "cultural roots" of industrious Purhépecha people working at fishing, spinning and building. That cleric is Don Vasco de Quiroga. The UNESCO description states that he was "instrumental in the processes described through the establishment of towns and the strengthening of the health institutions in the region under humanitarian precepts and a regime of practices with a vision of creating a harmonious life with the native peoples with a scholastic and renaissance humanistic perspective, which privileged the harmony of the reason with the faith in a mixed government based on a conviction of creating a more just society". Phew - all that in 1 sentence and it still doesn't really capture Don Vasco's role in the establishment of Spanish rule in the area whilst "protecting" the indigenous people. His Wiki article provides more background including explanation of the reference to "Utopia". He has since become a "saintly" figure in popular culture (though has, to date only reached an early stage towards "Beatification") His ideas and actions are particularly in stark contrast with those of his immediate predecessor Nuño de Guzmán whose garotting of the Purhépecha ruler is shown a couple of scenes earlier in the O'Gorman mural.
Of course, nowadays, any such narrative is going to be contested. "Tata" (= "Papa") Quiroga might have been less brutal than some of his contemporaries but he was still a colonial "conquistador" destroying the indigenous culture!! Also, his narrative has acquired a lot of baggage along the way. Here is an alternative assessment - "Today Vasco de Quiroga is remembered for the utopian communities he dreamed of establishing among the "Indians" of Michoacán, where he served as the first bishop from 1536-1565. However, the traditional image of Vasco de Quiroga as a saintly father figure who understood and was beloved by his Indian charges is best understood as an after-the-fact reconstruction rooted more in colonial discourse, creole perceptions and the formation of modern Mexican nationalism than the sixteenth-century past." (Source). And here is another - "It is impossible to deny that he was a very intelligent and very results-driven perpetrator of the strategies of the powers of his time to which he was a faithful executor. He also implemented a very effective policy of acculturation, imposing foreign models such as the utopian construction and foreign values such as the ethics of work to an alien people. As a true believer of the superiority of his culture and religion, he did not show much interest in the other culture either. This cunning politician, no matter how well-intentioned he may be, could not avoid the limits of his mental framework, time and ideology". (Source)
Whatever, the town of Patzcuaro has decided that the USP to differentiate itself from all those other already inscribed and aspiring Latin American colonial towns is that it constitutes "an architectural setting where the local values of the Purepecha culture were mixed with the humanism of the bishop, the humanism of the European Renaissance that emphasized human dignity as a high humanistic value and postulated in the works of English thinker and politician Thomas More…". Although Quiroga was, across a few short years, the initiator of this "setting", the claim is that it had deep roots and is indeed manifest even to the present in the exceptional handicrafts of the area created by skills nurtured by Quiroga's approach.
Mmmm? A difficult sell? In addition to the "associative" Criterion vi, Mexico is also going for Criteria ii and iv. This is the same combination as succeeded for Morelia, but, in that case, the city's 200 "masterpiece" buildings and novel town planning lead the nomination argument, whilst Crit vi was almost an afterthought ("birthplace of several important personalities of independent Mexico and played an important role in the country's history"). Here it is front and centre in the title itself. The UNESCO description seems to foresee the difficulty and, from the beginning, tries very hard to explain and justify the town primarily as a "Site of Memory"….a place "with architectural and/or archaeological evidence ....linked to material and Intangible values, that show the site´s extraordinary value and that are associated to the interpretation of its meaning, to the historical past of the place and its current values".
The UNESCO description seems to suggest that any inscription would be limited to that (small part of the town?) which relates to Quiroga's original "humanist" design and indeed specifically identifies just 6 buildings "within the area" - thus implying the nomination of a complete, if limited, "zone" rather than separate structures. Of these, I only have photographic evidence (and memory!) of having visited 3 - the Basilica, The College of San Nicolas (now the regional museum, see my "site photo") and Plaza Vasco de Quiroga (which presumably includes its eponymous statue - only erected in 1965 on the 400th anniversary of his death - and surrounding fine 16th C buildings even if they don't get a separate mention). The 16th C Augustine "Convent-become-library" with its "modern" O'Gorman mural isn't referred to at all - but it is only 2-3 blocks from the Basilica and Plaza, so who knows? However, it post-dates Quiroga by a few years so may lie beyond his original "Utopian" inscribable areas?
I accept that it is perhaps unfair for me to assess the site on the basis of of a visit which took place completely ignorant of these aspects. I even shamefacedly admit to having entered the Basilica de Nuestra Senora de Salud without having visited the "Mausoleo de Don Vasco" inside it!! It does appear that much has changed across the intervening 15 years to highlight and explain the Don Vasco related background. I note that the creation of a "Ruta Don Vasco" in the area and the building of a "Centro de Interpretación" for it in Patzcuaro.
Which raises the issue of why, given the emphasis on Quiroga's work on the self sufficiency and craft specialisms of the local villages, none of these (nor anywhere else on the "Ruta" beyond Patzcuaro) have been included. Before moving to Patzcuaro, he first worked from the nearby village of Tzintzuntzan where the San Francisco Convent he founded still exists and whose renovation was assisted by the WMF as recently as 2019 (We didn't visit). This report from 2014 (in Spanish) describes a failed attempt in 1983 thus "The first initiative was sought in 1983 The file was presented as a Mixed Asset, which considered the city of Pátzcuaro as a cultural asset and Lake Pátzcuaro as a natural asset; a situation that generated a strong criticism, for which the candidacy was withdrawn due to the frank opposition and criticism made by ….. IUCN by virtue of the notorious deterioration of Lake Pátzcuaro". This doesn't totally coincide with other information sources e.g UNESCO has no record of any nomination in 1983 - only 1987, and it is difficult to see how a nomination titled "Lake Patzcuaro Cultural Zone" could only have included Natural aspects beyond the town of Patzcuaro! But it seems to be generally relevant if not totally "correct". The above article's "conclusion" also states that "Pátzcuaro and its lake or the cultural sites of the Pátzcuaro lake basin, must appear on the World Heritage Tentative List as a cultural site, as they illustrate significant periods of the Purépecha culture, as well as the evolution of society and of their settlements throughout history." So its suggestion was - NO natural aspects but a nomination across multiple periods of Purépecha culture covering both the town and the lake basin. But those "wider" cultural aspects (which include pre-Colombian sites at e.g Tzintzuntzan) have been dropped in favour of total concentration on the town's "Humanistic" values created in 1 short period!
We know that WHS linked to an individual are not well received by UNESCO (Unless that individual is an architect it seems!!). so Mexico/Patzcuaro have to avoid presenting the site as a "homage" to Don Vasco whilst still claiming his memory as a reason why the tangible sites have particular importance. Various "recent" articles on the Web emphasize getting Patzcuaro inscribed as part of its Tourism Development Strategy - which has already got the town identified as on of the "Pueblos Magicos" of Mexico. This article from Nov 2019 shows when the latest attempt to gain inscription was kicked off, Sometimes a T List addition separate from a complete revamp indicates that a site is being "fast tracked", but I don't get the feeling from this press comment of Jun 2023 that Patzcuaro is such a candidate! Rather its T List addition is just a facilitating step as part of a much bigger tourism development strategy - a good few million pesos will need to be found and a new market built to hold all the artisan shops before anything can happen. Other articles from 2022 talk of 5 years.
In the mean time – if you are in the area I would recommend taking the town in on its visible merits irrespective of any WHS possibilities, whilst also trying to understand the role of Don Vasco within contemporary Mexican national self-identity.
---
Site Info
Full Name

Patzcuaro, Site of Humanistic Memory and Cultural Confluence

Country

Added

2023

Type

Cultural

Categories

Link
Site History
2023

Revision

Successor to FTWHS Patzcuaro Lake Cultural Zone (1987), although covering a smaller area excluding the lake.
2023

Added to Tentative List
Visitors
4 Community Members have visited.