Wineries and Vineyards for traditional Pisco Production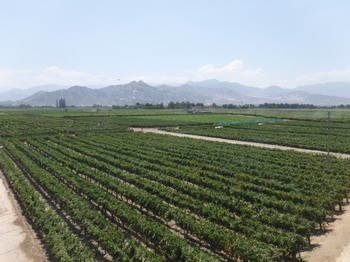 Wineries and Vineyards for traditional Pisco Production is part of the Tentative list of Peru in order to qualify for inclusion in the World Heritage List.
Wineries and Vineyards for traditional Pisco Production is a series of 14 sites for growing vines and producing wine and Pisco, a liqueur obtained by fermenting the grapes. Vine growing was introduced to Peru by the Spanish for the needs of the Church, but is now famous for the production of this regional alcohol. This ensemble is a testimony of this agricultural, industrial and social practice that has been going on for more than 400 years and has strongly influenced Peruvian identity.
Map of Wineries and Vineyards for traditional Pisco Production
Load map
The coordinates shown for all tentative sites were produced as a community effort. They are not official and may change on inscription.
Community Reviews
---
Let's make a couple of things clear first. I don't really like wine and never tried pisco before this visit. I considered pisco being of national importance without OUV. It was my first visit in a WH or TWH vineyard. Considering this lack of interest and the fact many community members often complain about "yet another vineyard", my expectations for this site were low. I thus decide to visit mainly to tick it off if it ever gets inscribed.
The nomination file lists 14 vineyards and pisco production sites located in all 5 departments where pisco can be produced. Ica Department contains the most sites and seemed to be an easy place for a visit. Vista Alegre, one of the main commercial caves, is the closest to the town of Ica and probably the easiest to visit. However, with the advices of our hostel, we chose Tacama. This is the oldest winery in all South America and appeared more authentic and interesting to me.
We reached to the winery with a taxi. It lays about 10 km north of town. Even though Lonely Planet told me the visit was free, it's not the case. Upon arrival, you need to choose between three options. They offer an historical tour as well as a more wine production oriented tour, both of them offering tasting. We chose the third option, that is a mix of both. The tasting in this option can be upgraded to a workshop with a wine steward, but we kept the basic one.
The winery is located in a large and beautiful pink hacienda. The tour included a visit of the historical buildings (courtyard, chapel...), the old production facility, the modern production facility, the mirador and a tasting of four products. They finish the tour with a video that recap everything you've seen and learn. We think this video should rather be shown as an introduction, as it would help understand the rest of the tour. I was particularly impressed by the gigantic barrels and by the vine plantations as far as your eyes can see. In the end, I was agreeably surprised, and I really enjoyed my tour. The landscape is beautiful, the history is fascinating and some products we tasted were delicious.
Tacama was the first vineyard in South America, where Spaniards tested grape varieties. It allowed what is now Argentina and Chile wine production. The political and economical contexts over colonial and Republican times in Peru had strong impacts on the production of wine and liquors in all South America. Yes it is a niché site with limited OUV, but if South America got to have an alcohol production site, I believe it should be this one. It's hard for me to tell if every component of this serial nomination is worth inscription (probably not, but that's my personal opinion about serial sites in general), but Tacama is great and the history of wine production in Spanish colonies is of global interest. So yeah, sorry guys, but I give a thumbs up to yet another vineyard.
---
Community Likes
Site Info
Full Name

Wineries and Vineyards for traditional Pisco Production

Country

Added

Type

Cultural

Categories

Link
Site History
2019

Added to Tentative List
Visitors
9 Community Members have visited.