Shwedagon Pagoda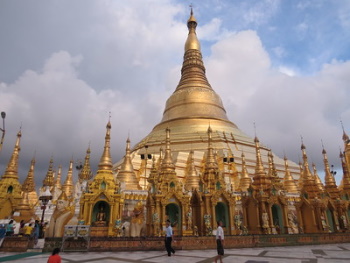 Shwedagon Pagoda on Singuttara Hill is part of the Tentative list of Myanmar in order to qualify for inclusion in the World Heritage List.
The Shwedagon Pagoda on Singuttara Hill in Yangon is an iconic Buddhist stupa from the 14th century. It is still a place of active worship. The gilded pagoda is 112m high and holds several religious relics, including of Gautama Buddha. Its distinct architecture combines local tradition with international Asian examples.
Map of Shwedagon Pagoda
Load map
The coordinates shown for all tentative sites were produced as a community effort. They are not official and may change on inscription.
Community Reviews
---
When we were compiling our List of Missing Sites in 2014, two sites from Myanmar made it into the Top 20: Bagan and the Shwedagon Pagoda. The history of Bagan is known and it will be submitted again without a doubt in the coming years, but why wasn't the Shwedagon Pagoda even on Myanmar's Tentative List until December 2018? Could it be because it is an active religious site and they want to keep it sacred? Or is it too strongly connected with political activities such as the August 1988 call for democracy by Aung San Suu Kyi addressing 500,000 people there, or the uprise from monks in September 2007?
I scheduled a visit to the Shwedagon Pagoda on my very first afternoon in Myanmar. I had arrived a bit later from Bangkok than anticipated, so I headed out there only at 4.30 p.m.. The site supposedly is on its best at dusk anyway. I entered via the western gate, after paying the 8000 kyat entrance fee for foreigners (about 5,60 EUR). This gate comes with escalator stairs, not a very usual sight in a temple complex but quite handy as the pagoda lies on a hill. You have to leave your shoes behind already downstairs so this became my first barefoot escalator experience.
I had seen Shwedagon's enormous gilded pagoda already from the air. There aren't many highrise buildings in Yangon, so this still is the city's major landmark. Up and close it's mainly the glittering golden colour that stands out. Climbing the pagoda itself is off-limits to most visitors: they have to make do with a circumambulation. During my stay the visitor audience consisted of a mix of some 90% locals and 10% tourists. It was lively but not overwhelmingly busy.
I walked the full circle around the pagoda twice. On my first loop I focused on the elements at the base of the pagoda. Here you'll find 12 planetary posts representing the days of the week. Each has a marble Buddha statue that persons born on that day lustrate while making wishes. A Burmese week has 8 days: Wednesday is split into a part before and after 6 p.m. The latter is called "Rahu", and as I was born on a Wednesday evening I felt a little special. Monday, Wednesday, Thursday and Friday have two shrines dedicated to them, so that makes 12. These small monuments are the most popular with the locals, kneeling before them, lightning a candle or pouring water over the statues. Also there are hundreds of fantastical statues called nats that represent mythical gods and spirits.
On my second loop I strayed a bit to the edges of the plateau that is fully covered with smaller and larger examples of eclectic religious architecture. Think of a mix of Luang Prabang (with its silvery tiles and mosaics), a major Wat in Bangkok and the liveliness and active pilgrimage of Jokhang or Boudhnath temple. There's even a small Hindu temple in South Indian style. The buildings further away from the main scene are mostly of interest to devout buddhists, such as bodhi trees, buddha's footprint and stone inscriptions. When dark falls, most shrines are illuminated by coloured light bulbs – this is when the spectacle turns from glitzy into gaudy.
The Shwedagon Pagoda is the most important Buddhist site in Myanmar, and with its prominent collection of Gautama Buddha relics (including 8 hairs, 3 bones, a tooth and a footprint) also one of the holiest among Buddhist sites in general. Just as in Islam, there are many contenders to the title 'holiest place'. After the obvious 'Big 4' Lumbini (birth), Bodh Gaya (enlightenment), Sarnath (first sermon) and Kushinagar (death), Shwedagon often features on lists as the prime example of the Theravada branch of Buddhism such as the "8 Wonders of the Buddhist World". As masterpiece of a Mon style pagoda and religious pilgrimage site since at least the 16th century, it should have enough OUV to warrant a future inscription on the WH List.
Read more from Els Slots here.
---
Community Likes
Site Info
Full Name

Shwedagon Pagoda on Singuttara Hill

Country

Added

Type

Cultural

Categories

Link
Site History
2018

Added to Tentative List
Visitors
40 Community Members have visited.