Primeros Ingenios Coloniales Azucareros de América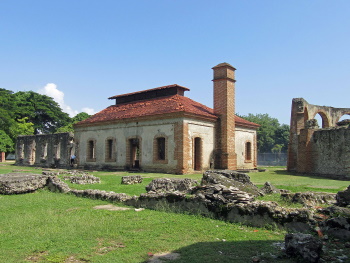 Primeros Ingenios Coloniales Azucareros de América is part of the Tentative list of Dominican Republic in order to qualify for inclusion in the World Heritage List.
The first colonial sugar mills in America comprise 4 archaeological sites of 16th century mills. They represent 2 different technologies: hydraulic and trapiche (with wooden rollers). The production of sugar was based on a slavery model, exploiting natives and Africans.
Map of Primeros Ingenios Coloniales Azucareros de América
Load map
The coordinates shown for all tentative sites were produced as a community effort. They are not official and may change on inscription.
Community Reviews
---
Chinese-Canadian - 01-Aug-19 -
This is a new listing but actually consists of old ones, or at least I think it does, or should, and might not be clearly mentioning that it does. So you see the old sites are still listed as a tentative place and should not not be listed extra if they were included (which I am not sure about).
Wait, huh? Let's start again. The Caribbean was a massive sugar production during the colonial times and there are remains all over southern Dominican. I visited two places southwest of Santo Domingo, a third I couldn't find, and with some more time I may have gone to one in the far east. However, from what I saw they are not worth checking out and any extra effort is wasting time. Perhaps with some promotion and expansion of the ruins it would be interesting.
Site 1, Ingenio Boca de Nigua, is in excellent condition and my recommendation. The main building is still 50% intact, there are a couple of surrounding buildings that are closed and even some sugar depots are visible. Was it rebuilt? It almost looks too good in some places. The back of the mill had trash and smelled like wee so maybe avoid going there. Just looking around barely takes 10 minutes.
Google map doesn't have the road but on Satellite you can see one going right to the mill with only a bit of gravel road, parking is easy plus it's all free! Makes you think even more how they preserved it without any fences.
Site 2 is just down the "road" but this is muddy and bumpy and there is very very little to see but a few low walls, it's called Ruinas del ingenio Diego Caballero. I know it feels like 'hey I'm already here" but just say I warned you. On the other hand if you were smart enough to get proper premium car insurance that doesn't let you sit in jail if someone hits your car (google it) you are probably fine to go down any road in the Dom. Republic anyway lol. Anyway you may want to look at the pictures on the map before you head down there. Any pictures with actual houses still standing are at Site 1 only.
On the whole the sugar mill thing in the Caribbean doesn't strike me as so amazing and whereas I find it important culture for the island (s) I wouldn't think it is of worldwide importance. I would, however, not be surprised if this is inscribed (it's not too difficult these days).
---
Site Info
Full Name

Primeros Ingenios Coloniales Azucareros de América

Country

Added

Type

Cultural

Categories

Link
Site History
2018

Revision

Includes former TWHS Boca De Nigua Sugar Mill [Ruta de Los Ingenios], The Ancient Big House of Palavé [Ruta de Los Ingenios], The Ancient Diego Caballero Sugar Mill [Ruta de Los Ingenios] and The Sugar Mill of Engombe [Ruta de Los Ingenios] (all 2001 or 2002 - 2018)
2018

Added to Tentative List
2005

Deferred

As The Sugar Mill of Engombe [Ruta de Los Ingenios]: Renominate the "Route of the First Colonial Sugar Mills of America" when legal protection and management plans are in place
Visitors
2 Community Members have visited.