Archaeological Site of Assos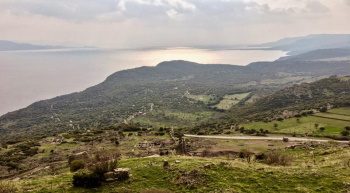 Archaeological Site of Assos is part of the Tentative list of Turkey in order to qualify for inclusion in the World Heritage List.
Assos comprises the ruins of an Ancient Greek city. Its Temple of Athena (530 BC) was built in the style of the Doric order. The city had a port, a paved road and the usual Greek public buildings such as a theatre, a gymnasium, an agora and a bouleuterion (assembly house).
Map of Archaeological Site of Assos
Load map
The coordinates shown for all tentative sites were produced as a community effort. They are not official and may change on inscription.
Community Reviews
---
I almost missed this great Greek site, because I didn't find the entrance first. I expected (as usual) a parking lot and an easy accessible main entrance. Unfortunately the entrance is inside the village. You need to park your car and walk up the hill, right through the village. Not knowing that I passed the village and drove down to the ancient harbour, along the fence of the archaeological site, looking for an entrance. I drove down to the ancient harbour with its tiny village and paid it a short visit. After asking in a hotel I went back to the village and found the entrance right before they were closing. After a short negotiation they let me in, mentioning the exit that could only be opened from the inside, and left. This resulted in me being the absolute only person inside this rather big and beautiful site.
The heart of Assos is the Temple of Athena on the top of the hill. From there you also have a fantastic view over the sea. Down the hill, there is much more to see. The town wall is a highlight, but there is also a Necropolis (road with several tombs), several rather well preserved civic buildings and a huge theatre that uses the topography to its advantage.
As with many archaeological sites I am not sure what Assos exactly adds to the list, that is not covered by other sites, but nevertheless it's a great place and it feels like it should be a WHS.
Assos is less than an hour drive from Troy WHS and a quick detour if you drive between Troy and Pergamon. I also included the TWHS of Galipoli and Ayvalik in my itinerary.
---
Community Likes
Site History
2017

Revision

Renomination of former TWHS Assos: Hellenistic city walls (1984-1996)
2017

Added to Tentative List
Visitors
9 Community Members have visited.