Central Park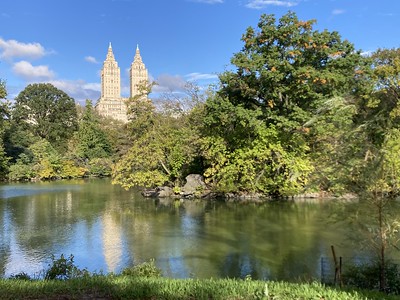 Central Park is part of the Tentative list of United States of America in order to qualify for inclusion in the World Heritage List.
Central Park is an 843 acre park in the heart of New York City that served as a preeminent example of urban planning and landscape architecture in the late 19th century, and continues to serve a model for urban parks around the world. The park was designed by American agriculturalist Frederick Law Olmsted and British-born architect Calvert Paux, and was constructed to create a pastoral landscape in harmony with the park's natural topography. Central Park's wandering pathways for pedestrians and carriages, its wide range of leisure activities, and its tree-lined perimeter, serve to create a place of physical and mental respite for city residents.
Map of Central Park
Load map
The coordinates shown for all tentative sites were produced as a community effort. They are not official and may change on inscription.
Community Reviews
---
Central Park was without a doubt my least memorable T-list experience. I visited way back in April 2011, not knowing anything about its history, and truly, nothing at all seemed special. I don't even have a single decent picture of it. It was just a park! The normal trees, rocks, lakes, pathways, whatever... 8 years later, I've realized that this was exactly why it's such a special place. It's like any other city park - because it was an influence on every other city park. Everything is normal - not because this was just another forest they put some paths in, but because the park was planned out to seem that way. It seems natural, but it's been touched and molded by man every step of the way. Today, it serves the exact same purpose it was so carefully built for, a retreat and place of relaxation for the urban population. The goal has been planned and executed perfectly, and that's why Central Park is so special.
---
Chinese-Canadian - 28-Jul-19 -
Central Park is a massive park. Pick a New York based TV show and they will show an aerial shot for sure and undoubtedly any trip to NYC should include a visit whether it is for a picnic, playing ball, the adjacent Guggenheim (WHS!), jogging in the morning, playgrounds, cycling, the "castles", overpriced corn dogs, take a carriage ride, see mounted police, and according to Law & Order you can find bodies in the bushes *chung-chung*
In short, Central Park is an icon that defines Manhattan as much the Statue of Liberty, the skyscrapers and bridges.
Compared to the few other parks in the world that are considered world heritage, Kew Gardens and the Singapore Botanical Gardens come to mind, I would always prefer Central Park. Whether it is more "unique" it is hard to say. Surely I would agree it is special and nothing is similar enough, but I can't judge it from an objective view *chung-chung*
---
It is surprisingly hard to write a review of one's home area attraction. I've been to Central Park in New York City a few hundred times, in conservative estimation, likely setting foot at least once at or near all of its major features and points of interest. On a pure intellectual level, I continue to recognize it as a monumental achievement of purposeful civic planning and the blueprint for many other parks since. But a park that I've seen only once in some remote locale probably retains a stronger impression for me than the park I've seen and used for most of my adult life.
Central Park is huge, larger than some cities enshrined on the WH list. If you are touring New York City, you should definitely budget some time for exploring the park, especially on a brilliant sunny day. Hitting all of the highlights is hard to do even if you have a full day, but you can see a few in a couple of hours of leisurely strolling, which will give you plenty of appreciation for the scale and the diversity of the place. From Gapstow Bridge to the Mall to the Bethesda Fountain, then over the Bow Bridge to the Belvedere Castle to the Great Lawn will take you through the southern half of the park, with the added advantage of proximity to the Metropolitan Museum of Art on the eastern edge or the Museum of Natural History on the western one at the end of your walk.
In addition, the park has a zoo, a number of interesting monuments and buildings, miles of running and cycling trails, several playgrounds, several performance venues, etc., etc., etc. Plus a number of other museums along its edges, especially the stretch of Fifth Avenue known as the Museum Mile. And, of course, plenty of spots for picnicking and plenty of nooks with benches offering opportunities for quiet reflection in the middle of the huge metropolis.
Read more from Ilya Burlak here.
---
California - United States of America - 24-Apr-17 -
The lungs of NYC is perhaps one of the most visited and well known public areas in the world. It felt so familiar as I strolled through the seemingly endless urban park; this is because its been a popular filming location for decades. I suppose the best time to visit is Spring or Fall, but I had to make due with late Winter, Early Spring. Luckily, the sun was out.
Central Park is 843 acres and I quickly recognized my visit was going to be a work out! I walked from the South heading North. I enjoyed the arched bridges, many from the original design. The statues, fountains, ponds, and carrousel were all pleasant sites along the way. One of the highlights is surely the lakes, ponds, and massive reservoir. The later (looking South) provides stunning views of the Manhattan skyline. The Metropolitan Museum of Art and the Solomon R. Guggenheim Museum are conveniently located to make Central Park a day well spent, albeit a full one!
Read more from Kyle Magnuson here.
---
Site Info
Full Name

Central Park

Country

Added

2017

Type

Cultural

Categories

Link
Site History
2017

Added to Tentative List
Visitors
261 Community Members have visited.