Benguela Current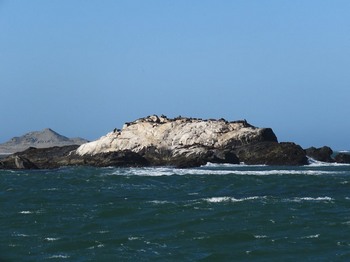 Benguela Current Marine Ecosystem Sites is part of the Tentative list of Namibia in order to qualify for inclusion in the World Heritage List.
The Benguela Marine ecosystem is one of the most productive coastal upwelling zones in the global oceans, of which an area offshore southern Namibia is known as the most concentrated and intense upwelling regime in the world. The high levels of primary productivity of this ecosystem support an important global reservoir of biodiversity and biomass of zooplankton, fish, sea birds and marine mammals. Bird guano produced by the large numbers of sea birds resulted in the globally unique guano platforms of Namibia, built at suitable localities on the coast that allows sustainable industrial harvesting of organic fertilizer.
Map of Benguela Current
Load map
The coordinates shown for all tentative sites were produced as a community effort. They are not official and may change on inscription.
Community Reviews
---
Visited February 2020.
I have visited only the northern part of the potential nominated area which is not included in Els's review, but is mentioned in the short description of the site on UNESCO website, in the Erongo Region, north of Walvis Bay and Swakopmund, southern and central coastal parts of Dorob National Park, National West Coastal Tourist Recreational Area and north-western edges of Namib-Naukluft National Park.
The most interesting areas from my point of view are Cape Cross Seal Reserve (part of the Skeleton Coast) where in January 1486 landed the first European team leaded by Diogo Cao on his way to India; he erected a padrao (stone pillar with a cross and royal coat of arms) on a hill by the coast which was to taken to Berlin in 1893; now we can see a copy of the original one; I do not know if there was a big colony of seals at that time, but today it is one of the largest colonies of brown Cape fur seals (Arctocephalus pusillus) in the world. In the past the seals were hunting in here for trade and to protect the fish stock. You can imagine the smell and the noise!
The second place that I would recommend to see is the so-called Bird Island south of Swakopmund where the wooden platforms still can be seen; they were made as a link between the coast and the island where thousands of birds leave the guano behind.
If you are in the area you can also visit the Bird Sanctuary in Walvis Bay (there's no official entrance to the sanctuary, and the ponds are easier to reach from the main road behind the shopping mall Dunes). The place is also called Bird Paradise and, indeed, when I was there I saw lots of flamingos and cormorants; if you want to see more birds, go south of Walvis Bay (towards Sandwich harbour) to the lagoon and salt pans.
Well, the site as a whole seems very interesting and promising; I have not seen any African penguins (this time) in Namibia (but I'd seen in South Africa, north and south of Cape Town)…
---
Few of you will be familiar with the Benguela Current. At least I wasn't before I started researching my Namibia trip. At the country's Tentative List I found an entry called The Benguela Current Marine Ecosystem Sites. It could surely do with a more catchy name and/or an epic subtitle if it ever were to be nominated, but in reality it is quite an interesting site. The Benguela Current is an ocean current that carries icy cold, wind-driven upwelled waters from the depths of the Atlantic Ocean. These waters are very rich in nutrients, and they support a whole food chain from phytoplankton via fish to sea birds and marine mammals.
The proposed nomination includes a marine ecosystem along the southern Namibian coast including Mercury Island, Ichaboe Island, Halifax Island and Possession Island. In the coastal town of Lüderitz there are catamaran trips on offer to one of these islands: Halifax. They leave daily (weather permitting) at 8 a.m., take 2 hours and cost 450 Namibian dollar (about 30 EUR). Halifax Island is home to the largest colony of jackass-penguins in Namibia.
Lüderitz ("home of the sand storm") is known for its windy weather, and I wondered how that would affect the boat trip. Just to be sure I had taken an anti-seasickness pill an hour before we left. Fortunately the sea wasn't rough at all – the winds mostly start from the late morning - and we did not travel so fast. It was lovely to sit outside at the tip of the catamaran, watching small dolphins jumping around and looking at the small rock islands covered in bird guano.
In fact, the guano presence has turned the site into a mixed nomination: there was a true 'guano rush' here from the 1870's til the early 20th century. Ships industrially collected the guano as fertilizer. Special wooden platforms were constructed to encourage the sea birds to breed, so the guano can be harvested annually by humans to sell as organic fertilizer. This practice still is active at this site. Penguin guano was also collected until 1949 from Halifax Island, and the sheds of the miners are still visible there.
After sailing for half an hour or so, we already arrived at Halifax Island. Ships are not allowed to land on the island itself, but they can linger just before its coast. We did so for about 30 minutes, in which we observed small groups of penguins swimming closely to our catamaran. It was the first time that I had ever seen penguins swim, with their paddling they somewhat resemble ducks! On the island's beach there were hundreds, maybe even thousands of penguins standing around as well in their classical manner. It was a wonderful experience to see them here acting in and out of the sea.
Later that day we visited a coastal viewpoint at the mainland in roughly the same area that we covered by boat earlier. It is named Diaz Point, after the navigator Bartolomeu Diaz who sailed by in 1488 and had a cross erected at a coastal rock. The rock can still be climbed, though the path upwards would not meet any health & safety regulations in most countries. The wind at the top is terrible. But it is the best viewing point for the Cape Fur Seal colony on an small island just offshore. I had seen it from the boat as well, but the sea was particularly rough around it so we could not get close. I find it funny to see that the species each have their own favourite island. From Diaz Point, many sea birds can be observed as well as flamingos.
---
Community Likes
Site Info
Full Name

Benguela Current Marine Ecosystem Sites

Country

Added

Type

Mixed

Categories

Link
Site History
2016

Added to Tentative List
Visitors
9 Community Members have visited.