Chiang Mai, Capital of Lanna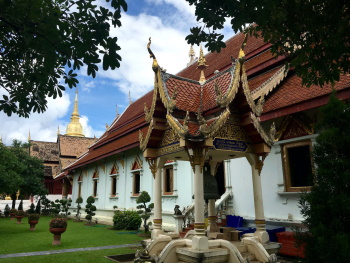 Monuments, Sites and Cultural Landscape of Chiang Mai, Capital of Lanna is part of the Tentative list of Thailand in order to qualify for inclusion in the World Heritage List.
Chiang Mai is a city in landlocked northern Thailand, established in AD 1296 by King Mangrai as the new capital of the Lanna Kingdom, "Kingdom of a million rice fields". A rectangular-shaped fortified city, it was designed to symbolize a human figure. The site consists of Chiang Mai's inner and outer walls, gates, moats and many of its temples, plus the surrounding cultural landscape.
Map of Chiang Mai, Capital of Lanna
Load map
The coordinates shown for all tentative sites were produced as a community effort. They are not official and may change on inscription.
Community Reviews
---
July 2016 - after a few day sidetrip to Cambodia we headed north by bus to Chiang Mai. Its probably the capital of cats. In every corner, at every temple they were appearing and made for some nice pictures. In the one times one km of the old city there about 40 temples if i remeber correctly. We borrowed bikes and took a whole day to visit as many as possible. some are marvelous, some are antique, some just have a nice atmosphere. Besides the temples there is also quite a lot of street art and it is a very green and quite city. Next day we drove up to Doi suthep, to see the winter palace and the most south-eastern foothills of the Himalaya. for Thailand it was our highlight, and there would be much more to discover north of the city. But we still wanted to visit some more WHS sights and headed further south again.
Chiang Mai is also a good place to visit one of the elephant camps. Although it appears as a cheap tourist attraction, spending the day with baby elephants in the nearby jungle, is quite an adventure.
---
Chiang Mai is such a rich city. I don't mean this economically, but culturally. The Lanna nation, although they speak the same language as the rest of Thailand, seems almost a world away. Despite the core similarities in food, it's the differences that stick out. Likewise, despite the core similarities in temple architecture, it's the differences that stick out. I visited Chiang Mai for 3 days back in July 2018, this time not just with my family, but with a group of my parents' college friends too. While the private car and driver in Chiang Mai were a nice change, this turned out to be quite a burden to my in-depth, fast-paced, no-nonsense way of travel, so unfortunately, all I got of the site was a visit to Wat Phra That Doi Suthep and a night at the market within the Old City Walls and Historic Centre of Chiang Mai, which did, at least give me a good idea of the site and its highlight, Doi Suthep Temple (sorry, the name is just so long, so I'm sticking with this from now on).
Doi Suthep is a mountain overlooking the city and was our first stop upon arriving in Chiang Mai. Doi Suthep Temple seems to be on the peak, which took us about 30 minutes drive from the base of the mountain due to a traffic jam, and it would really be quite a long walk if one doesn't have a vehicle to ride. At the entrance, you may pay extra for a ride up the elevator, or you can climb up the 300 or so steps, lined with naga snakes as railings, to the temple itself. Either way, you reach the outside of the complex, which by itself is full of smaller shrines and interesting details for you to notice, whether it's the long line of bells, the many elephant statues, all the golden architecture, or the hideous dragon statue labeled "Mom". Dont forget the great view of Chiang Mai, if it's not too cloudy as it was when I visited, off to the back right of the complex.
To enter the inner complex, everyone must remove their footwear and cover all the knees and shoulders as respect to the holy site. And respect it sure deserves! After climbing a few stairs, I looked in awe at the view. A huge golden chedi rises in the center of the square open area, with a strange golden umbrella standing much lower beside it, but both tower over my head. While the rain was unfortunate, my socks strangely remained relatively dry. This was a holy place. It's a sanctuary, and I wandered aimlessly around, trying to take in all the other details of art and architecture as the rest of the group took selfie after selfie. The building complexes were a lot like the temples I'd seen in Bangkok, but they were all warmly colored and ornamented with gold. The intricate patterns of the facades were decidedly Lanna, I noticed despite having never been acquainted with the culture beforehand. Buddhas of various sizes and materials, including glass, littered the place, inside and outside the halls.
Finally finished with their photoshoot, my group went out, and I promptly followed. However, while waiting to leave, a tall white American (I assume based on language), ran out of the inner complex, screaming. He started to seemingly have seizures while attacking the officials trying to subdue him, eventually ripping his pants (unfortunately with no underwear underneath) and seeming to go unconsious after being doused with water and immobilized. To this day, I still don't know what happened to him to cause that and what happened to him afterwards.
Anyway, on our last night, we had our dinner in the Sunday Walking Street, basically the night market, which truly did have everything imaginable for sale. First things first, I absolutely recommend trying the various Lanna dishes on offer at the market. But 2 important things to note: that the walking street starts at Tha Pae Gate, where I saw what seemed to be a pretty well-preserved part of the brick walls surrounding the old city; and that the group of food stalls and tables are located on the grounds of a temple, whose stupa reminded me a lot of that of Doi Suthep Temple. The temple interiors are, of course, closed during this time.
I really hope I can, one day, return to this great city to explore more of the temples and old town. But for now, I'm happy with what I've experienced, and that experience has lead me to conclude that this unique and rich center of the Lanna culture and its stunning monuments deserve to be a World Heritage Site.
---
After just one visit to Chiang Mai, I knew that it was easily one of my favorite places in the entire country. I spent a year in living in there and it truly is the "Rose of the North," as they like to say. Chiang Mai holds the heartbeat of Lanna Thai culture, which is actually quite different from the culture and food of southern Thailand.
One of the key reasons to visit is for the well-preserved culinary history present that represent all of the influences neighboring regions and countries have had on Thailand over the centuries. In the streets of Chiang Mai, it was easy to sample both traditional Northern Thai food, Issan dishes, and cuisine from neighboring Burma (Northern Thailand has a large population of Burmese refugees, and this presence is evident in the food selection and the Burmese markets taking place all of the Chiang Mai region.
The food is what attracts, but it's the fascinating range of cultural groups and ethnic minorities that keep it interesting for those keen to really explore the nuances of the Lanna Thai Kingdom. Head to a market on the outskirts of town and you are likely to find a bustling place where food, flavors, and cultures combine. One of my favorite parts of living there was undertaking a coffee journey that operated as a Thai social enterprise in the city, and strove to help tourists culturally engage and understand the unique culture.
Then there are the sheer number of temples, which really can't be overstated. Chiang Mai is dense with temples and they represent a range of time periods and themes. Monk chats at the temples in town are a great way to delve into that side of the culture, or just renting a bike and cycling to each one is a highlight too.
I loved my time in the Chiang Mai and highly recommend that all travelers head to this region as it's the best window into the Thai culture.
Read more from Shannon O'Donnell here.
---
Chiang Mai is a major tourist hub in northern thailand, especially for the backpacking crowd. Luckily, it is also very beautiful, with lots and lots of temples and ruins scattered around the town. I spent the whole day just walking from temple to temple in the core of the old city, but skipped the more out-of-town elements. The temple architecture seems to be more varied and playful than the more majestic ones in Bangkok, which was fine for me. Most temples are active places of worship and not just tourist ruins, so the place feels quite lively. With its sheer beauty and high concentration of interesting buildings, Chiang Mai seems to be a worthy candidate for a WHS, although I am not sure if each and every component of the voluminous proposal is necessary.
Visited in January 2014
Importance 4/5 Beauty 5/5 Uniqueness 4/5 Environment 3/5 Experience 5/5
---
Site Info
Full Name

Monuments, Sites and Cultural Landscape of Chiang Mai, Capital of Lanna

Country

Added

Type

Cultural

Categories

Link
Site History
2015

Added to Tentative List
Site Links
Visitors
87 Community Members have visited.