Alpine and pre-alpine meadow and marsh landscapes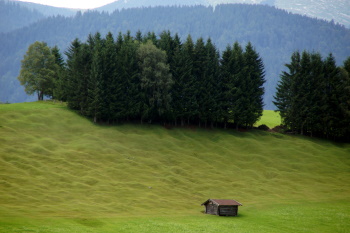 Alpine and pre-alpine meadow and marsh landscapes is part of the Tentative list of Germany in order to qualify for inclusion in the World Heritage List.
The Alpine and pre-alpine meadow and marsh landscapes are a series of cultural landscapes in which a traditional form of agriculture in the Alpine region has been preserved. The cultivation of these historic meadowlands dates back to the 15th and 16th centuries. The proposal includes historic "Wiesmahder" (poor meadows), the largest occurrence of "Buckelwiesen" (poor grassland with many humps) and the "Murnauer Moos", the largest contiguous marshland in Central Europe.
Map of Alpine and pre-alpine meadow and marsh landscapes
Load map
The coordinates shown for all tentative sites were produced as a community effort. They are not official and may change on inscription.
Community Reviews
---
The Allgäu - a region renowned for its beauty, its marvelous mountainsides, rolling hills and mountain meadows full of flowers. Nothing of this matters, though, as this WHS proposal is only about some specific spots with flat, grassy marshlands. It is one of these sites where it is difficult to point out what to see and why it does matter. I choose to visit the 'Murnauer Moos' area, as it has a rather well specified location, easy access points and a hiking trail going all through the interesting area. So what's to see ? Mainly a lot of brown grass and some puddles. The on-site signs talk a lot about biodiversity and endemic species - none of which will be easily perceivable by the common visitor. Honestly, I walked the three hour trail and found nothing that looked remarkable. Marshlands might be an oddity in the alpine region, but the northern half of Germany consist of nothing but swampy flatlands. Even the mountains surrounding the marshlands seem much more interesting than these flat brown spots. And the marshlands are not some untouched wilderness - there are clear signs of human cultivation and caretaking all over it. If you have not guessed it until now, this WHS tentative site did not impress me at all. But wait, the site is actually defined as a cultural site, not a natural site. Yes, according to the official description, mowing and haymaking twice a year is already an act of human genius. Sorry, but this is really ridiculous. To make matters even worse, the marshlands are quite close to Neuschwanstein, Linderhof, the Wies church and other spectacular sights, and yet should somehow be of similar cultural importance ? The description fails to give any real reason for the relevance or uniqueness. In all other descriptions of the area, the on-site signs, the official website, there is no mention of any special cultivation techniques. Instead, the minimal influence of humans is emphasized. It really seems as if some cultural value was made up to justify the nomination of a site that was obviously not untouched enough for a natural site.
Surprisingly, the hiking as such was not bad - I had a rather good time. It's a nice sunday walk for sure, just totally not world heritage material. In my personal scoring system, this site achieves the lowest score ever, and is the very first one that achieves only a single point for importance - which in my scoring stands for 'fake'. It would be a travesty if the site somehow sneaks to full WHS status.
Visited in February 2022.
Importance:1/5 Beauty:1/5 Uniqueness:1/5 Environment: 5/5 Experience:3/5
---
Site Info
Full Name

Alpine and pre-alpine meadow and marsh landscapes

Country

Added

2015

Type

Cultural

Categories

Link
Site History
2023

Requested by State Party to not be examined
2015

Added to Tentative List
Visitors
45 Community Members have visited.