Íznik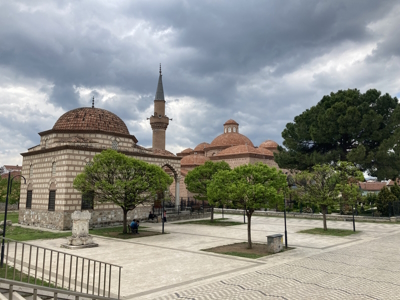 Íznik is part of the Tentative list of Turkiye in order to qualify for inclusion in the World Heritage List.
İznik is historically known as a center for ceramic production. The İznik tiles spread across the Ottoman Empire and to the museums of the world. Historically it was called Nicaea, known for the Christian landmark council of bishops: "the first Council of Nicae". It also was the Seljuk and Ottoman capital for short periods.
Map of Íznik
Load map
The coordinates shown for all tentative sites were produced as a community effort. They are not official and may change on inscription.
Community Reviews
---
Íznik is Turkey's nomination for 2024. It rose quite quickly among the 84 candidates, apparently using Bursa's experience (it lies in the same province) to create a complete nomination dossier in a short time. Or, as others say, because it has an AKP mayor (no shortage of Erdogan banners in its streets anyway in late April 2023). With 2025 looking set for Izmir, the Turks in the short term seem to prefer the easy nominations backed by city tourism money and less so the more complex (in funding, in selection) thematic serial sites that also linger on the Tentative List.
There isn't a really strong focus in Íznik's proposed OUV. Probably they are going for another 'multi-layered' approach (as did Pergamon), presenting historical continuity from prehistory til the Ottoman Empire. Nevertheless, there are 4 specific topics mentioned: the production of ceramic tiles, Byzantine-Ottoman architecture, the town's interaction with the lake, and its role in the history of Christianity.
Íznik nowadays has 22,000 inhabitants and a bustling, pedestrian-friendly town center. I started with exploring its ceramic tile history, as I recently in Kuala Lumpur's Islamic Arts Museum saw some fine examples of Iznik tiles. Look for 'Çini fırınları' on Google Maps and you will arrive at the archaeological site where they are excavating Iznik's kilns. You have to watch it from behind a fence, but the areas are labelled with signs big enough to get the idea of what you're looking at ("ceramic waste", "kiln fireplace", "water well"). The recently renamed Turkish Islamic Works Museum - a beautiful building (it was an Ottoman public soup kitchen and caravanserai) - has one exhibition room fully dedicated to the Iznik tile work and its history. You'll see the colouring and designs change over time.
Scattered around town are many buildings of the Ottoman era. The most magnificent one is the Green Mosque, with its tiled minaret and marble decorations.
There is barely anything left from Iznik's Christian history. The most prominent example is the Hagia Sophia, recently re-converted from a museum to a mosque. The interior feels soulless: it still shows damage from multiple fires since the 15th century and is mostly a large open space without decoration. The only notable detail I saw was the Byzantine mosaic ("opus sectile"?) right behind the entrance, uncovered in the 1950s after removing a floor layer.
A bit more about Iznik's role in the history of Christianity can be found in the Iznik Archaeological Museum. This museum only opened earlier this year and occupies a huge modern building. It seems to have been modelled after the one in Troy but fortunately has learned from that one's flaw that you do not have to use all the space when you do not have enough content yet. It takes you through the history of Iznik and the region surrounding the lake. There's a formidable sarcophagus from Hisardere on show, and the two Councils at Nicaea are explained. They claim that the first one (AD 325) was held actually outside of Nicaea/Iznik's town walls, and the second one (AD 787) in the Hagia Sophia in town.
Overall, Iznik looks totally prepared for receiving the ICOMOS team later this year. All sights have bilingual information panels that seem recent, the new museum has opened its doors in time, and the streets look clean and cosy. Only some restoration work is still going on at the city walls. I hope they will focus their nomination on the ceramic tile narrative and Iznik's role in the history of Christianity, to avoid leaning too much towards the Ottoman theme and coming across as the little brother of Bursa.
Read more from Els Slots here.
---
Iznik now is a small and insignificant town not very far from Istanbul but centuries ago it was an important center of Byzantine empire and then, for a a short period, the capital of Ottoman empire. First soup kitchen in the world was founded in Iznik. Later Iznik became famous of its ceramic industry. For Western culture Iznik is much better known under its latin name Nicaea. It was this place that hosted the Counsils of Nicaea and creed that was adopted after The First Council of Nicaea is until now named the Nicene Creed and is used in Christian liturgy all over the world.
Not too much if left from the Christian heritage of Nicaea but quite a lot survived from Byzantine and newer periods. These are mainly fabulous city walls, that, although crossed by more modern roads, until now surround the town. Most of the walls survived but of course they require reconstruction. So far only the most important parts, such as city walls, have already been or are being reconstructed. Most of the elements, such as arches or reliefs, survived in original and now are significant tourist attractions. After the Turkish government finishes the reconstruction, the inscription of Iznik on World Heritage List can have quite a chance. Based on what I saw, I won't be disappointed seeing Iznik as a WHS.
---
Community Likes
Site Info
Full Name

Íznik

Country

Added

2014

Nominated for

Type

Cultural

Categories

Link
Site History
2014

Added to Tentative List
Visitors
24 Community Members have visited.