The Turf House Tradition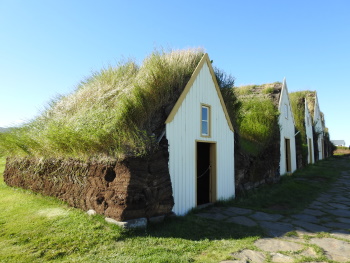 The Turf House Tradition is part of the Tentative list of Iceland in order to qualify for inclusion in the World Heritage List.
The Turf House Tradition is a vernacular architectural tradition in Iceland that dates back to the settlement in the 9th century. It has since been adapted to the local climate, varying environmental resources and the requirements of the society that developed on the Iceland. Turf is one of the main materials used for its construction, but also timber is used for the structure, turf is laid to form the thick walls and as a cover for the roof. Sometimes stones are used with or without the turf for the walls. The turf buildings of Northern Europe were mainly for the poorer classes, but what distinguishes Iceland in this respect is that the turf houses were for all classes.
Map of The Turf House Tradition
Load map
The coordinates shown for all tentative sites were produced as a community effort. They are not official and may change on inscription.
Community Reviews
---
Iceland isn't a country to visit for its rich cultural heritage. It has Thingvellir as a cultural WHS, but that's a cultural landscape with mostly intangible features. The capital Reykjavik has some modernist constructions of interest (the Hallgrímskirkja, several art museums and sculptures), but the rest of the country was quite poor and isolated until the beginning of the 20th century. A reminder of those times lies in the Turf House Tradition, a series of 14 locations on the Tentative List.
Most of those 14 properties lie close to the Ring Road. During my first attempt I was confronted with a closed gate at Keldur after driving 4 km on an unpaved road, so I decided to be more picky with the others as not all are welcoming tourists.
The first satisfying one lies 15 kilometers east of Skaftafell: the turf church Hofskirkja (pictured). It is the village church of the hamlet of Hof. This turf-roofed church, which is still in use, was built at the end of the 19th century. It is set in the middle of a contemporary cemetery, which is perhaps even more interesting than the church itself. Each grave lies beneath a small grassy mound.
My other visits are from the north of Iceland. The peat church Víðimýrarkirkja for example: its black-and-red exterior is the most beautiful of the series. It is accessible for most of the day, the caretaker seems to live next to it and he opened the church when he saw me and another couple arriving. There is an entrance fee of 1000 crowns (6 EUR), for which you also get a brochure in English. It's small and cramped inside: there are a few benches and an altar; the only decoration consists of the wooden carvings.
It was already getting late and I doubted whether to visit the turf farm Glaumbaer about 8 kilometers away. Fortunately I did, as I found it the most illuminating one on how the turf farms functioned. This site is also open to visitors and there were dozens of them present when I was there. A fee of 1,700 crowns (10 EUR) is charged. It is a large farm, consisting of 13 linked "houses" (rooms). They were made of a combination of turf, stones in a herringbone pattern and wood. Some of the houses date from the 18th century, the rest from the 19th.
If you'd want to spend time / money on only one interior, choose this one: it has one long corridor to which all rooms / houses are connected. It is very dark inside and it stays warm even in the winter. Each room had a specific function (storage space, kitchen etc) and the sleeping area could accommodate 22 people in 11 beds shared by 2 persons each.
This TWHS has a 100% thumbs up score from the 7 visitors so far and I'd wholeheartedly support that. The turf 'houses' are very fine pieces of vernacular architecture, which is a gap on the List. The site description on the UNESCO website is very elaborate, so the Icelanders must be preparing something….
Read more from Els Slots here.
---
In July 2020 we took the "Island roundtrip" visiting all Iceland's WHSs and TWHSs. The turf houses are the dominant part of the TWHSs because of its numbers, thus the turf houses were always on our minds in the trip.
The turf houses is a remnant from then viking age and where probably the building standard in northern Europe for some time. Eventually it is replaced by wooden houses, but probably is the lack of trees in Iceland made that difficult. Hence the technique has survived.
Between the 14 buildings enlisted in this TWHS there are a variable quality/standard/authenticy from house to house so each one needs a mini review:
1. Austur-Meðalholt
…is a museum with opening hours until 6 p.m, but when we arrived on a Sunday at 5:15 it was closed. We could still visit the exterior. The facades and roofs look new and not very authentic. Not the best example, but still ok. The advantage is the closeness to Reykjavik.
2. Keldur
…is also a museum but very connected to an active farm. You omit the farm to find the museum. It opens at 10 a.m. and since we arrived at 9 once again we had to enjoy the exterior only, but this looks more authentic, hence "enjoy".
3. Núpsstaður
… is not (yet ?) a museum. It is a closed gate by the main road 1, but you can park there and walk up to the house. There is a white house amongst the turf houses which seems habituated, but when you come up close there is no one living there.
The houses seem authentic, but not very well maintained. The "last" turf house is a small church looked both authentic and maintained though.
4. Hofskirkja
… is a slightly bigger building and it is only the church that is turf. We don't know if it's accessible, we were too late anyway. The church looks good, booth authentic and maintained.
5. Galtastaðir fremri
… is a bit hard to find and it's the one place we didn't feel welcome. It's most certainly privately owned. There was a big jeep with a trailer parked a couple of hundred metres from the place blocking the entrance and when walking towards the houses there were a malicious looking sheep approaching. There was a closed gate some 50 metres from the houses. Having reached the gate and taking a couple of pictures the sheep came "to close" so it was time for retraction.
6. Bustarfell
… is quite the opposite to the previous. It's a museum with nice turf houses and a small café. The staff welcomed you and they were proud of their place. You could take a good look inside in all the buildings which are connected with passageways. There were some "upgrade" in then 1960s, but that didn't spoil then overall impression. It was a good turf house visit.
7. Grenjaðarstaður
… is another good museum. You can enter the buildings and enjoy the maze (as in Bustarfell). This place was abandoned 1949 so it's a bit rougher than Bustarfell, but also very nice place.
8. Þverá (picture)
… is a bit harder to find, you don't find the name on Google map but it's some km south of Grenjaðarstaður on a dirt road. You drive up to a farm house and past it then there is an entrance for visitors. It is not a museum and it is not open for entering. The exterior is nice though.
9. Grænavatn
… is quite close to Mývatn at the south end. The turf house is in the middle of a farm and it seems like trespassing to go there. We were satisfied with pictures from aprox. 50 metres before leaving.
10. Laufás
… is a museum and probably you can enter, but we were to early so we enjoyed the exterior only, which was nice.
11. Tyrfingsstaðir
… is a bit harder to find, but not impossible – also on a dirt road. It is "connected" to a farm, but if you drive just past the farm there is an entrance for visitors. It's open for entering, but the inside is a mess, hardly anything authentic. The exterior is nice though.
12. Glaumbær
… is a proper turf house museum where you can enjoy the exterior, the interior and a cup of coffee. Looks and feels authentic, and the passageway mazes are enjoying. A lot of details inside are nice - authentic enough, but probably collected from several periods of time. Still a pleasant visit. There is a combined ticket with the next turf house.
13. Víðimýrarkirkja
… is a museum church which you can enter. It's nice, looks authentic and maintained. Nice but quick visit.
14. Árbær
… is an open air museum (as several others), but it's settings is in a larger museum with other old houses. The surrounding is not the same as the other museums. They have some actors around which makes it nice, but there is something missing at authenticity.
### Randi & Svein Elias
---
Turf houses were actually the primary (and almost solely) form of housing in iceland from the viking ages till the 19th century. Trees and timber were in very short supply in iceland. Turf houses have only a light wood framework, the roof and many walls are made out of turf blocks. Turf houses have the advantage of a good isolation, but are difficult to maintain and could only be built to a certain size - which is why even bigger turf buildings are an aggregation of relatively small huts. Turf houses only last for roughly a century, which means that all of the islandic turf houses are no older than the 19th century. Many of the buildings are mentioned in older sources, but were rebuilt again and again throughout the ages. It is not really known if the existing turf houses look like the ones in medieval times, but no fundamental difference is assumed.
So what is it like to visit these houses ? Quite a nice experience, I must say, and a nice change to all the overbearing landscape in iceland. Of the roughly a dozen buildings in the proposal, I visited four locations, all of which where quite easily reachable by car from the ring road. In fact, there were so close to the road that it is surprising that they are not featured more prominently in travel guides for iceland. Some notes on the individual houses:
Arbaer: An original turf farmstead and a relocated turf church,forming the core of an open-air museum. Quite close to Reykjavik. However, the houses seem younger (around 1900) and utilize more timber in their construction, so the turf is not so dominant. Still cute.
Nupsstadur: A multi-building farmstead and chapel. Viewable from the road, but is on private property and doesn't seem to be visitable. Probably not fully renovated yet. Note that there is a nice, visitable turf house nearby in the Skaftafell NP, called Sel, but that isn't included in the WHS proposal.
Hofskirkja: A single-building turf church with rock walls. Well maintained, and especially photogenic because of the little grave mounds surrounding it. Not sure about the official opening times, but you can stroll around and peek inside to see the wooden interior at all times (and without paying).
Vidimyrarkirkja (pictured): A little turf church in good shape. Extra turfy, as the side walls are made of turf, too. As with Hofskirkja, good to visit even if it is officially closed.
Glaumbaer: My favorite. A fully equipped, well-sized farmstead with cuddly turf walls for maximum turfiness. All are in excellent condition, and fully visitable as a museum. You get a very good impression about how it was to live in such a building, and in such a harsh and isolated environment. All hobbit-hole illusions are thoroughly smashed, though. For penny pinchers: The outside can be viewed without paying, but a full visit is really worth it.
All in all, I am quite confident in the OUV of the proposal, as the turf houses seem to be typically islandic, but are getting rare today. No similar structures are on the list yet. The constant need for renovation and rebuilding might be a hindrance, and the particular selection of the houses in the proposal is debatable. I could not see much difference between WHS and non-WHS turf houses. Still, the proposal is a strong contender for a worthy WHS in my opinion !
Visited in September 2018.
Importance 3/5 Beauty 4/5 Uniqueness 4/5 Environment 4/5 Experience 4/5
---
Community Likes
Site Info
Site History
2011

Revision

Includes 2 former TWHS Keldur and Nupsstadur (2001)
2011

Revision

Includes former TWHS Vidimyri Turf Church (2001)
2011

Added to Tentative List
Visitors
44 Community Members have visited.