Mughal Gardens in Kashmir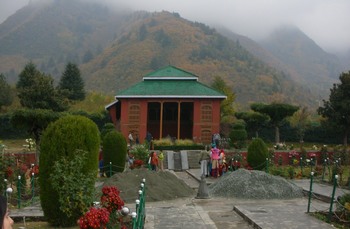 Mughal Gardens in Kashmir is part of the Tentative list of India in order to qualify for inclusion in the World Heritage List.
The Mughal Gardens in Kashmir comprise six 'later' gardens from the Mughal Period. They all were created as stand-alone gardens to be visited for pleasure. Their architects used the difficult geography in this mountainous setting by creating terraces for example. They also used the abundant water by creating lakes and ponds.
Map of Mughal Gardens in Kashmir
Load map
The coordinates shown for all tentative sites were produced as a community effort. They are not official and may change on inscription.
Community Reviews
---
This is another T List site pencilled in for 2024 which hasn't, to date, been reviewed (and has only been visited by 6 Community members). Our visit was way back in 1983 when no trip to India was "complete" without going "up" to Kashmir! Even though my memories are somewhat faded and any visit today will meet very different circumstances, it seems worthwhile providing some info on this upcoming nomination.
A few years after our visit in 1983, conditions for visiting Kashmir changed radically. A few quotes from Wiki – "in 1987, a disputed election….created a catalyst for the insurgency……In July 1988, a series of demonstrations, strikes, and attacks on the Indian government effectively marked the beginning of the insurgency in Jammu and Kashmir, which escalated into the most important internal security issue in India during the 1990s." Problems have continued on and off during the subsequent 2 decades and the region has never returned to being a "normal" tourism destination. Today the area is regarded as one of the most heavily militarized in the World with probably more than 500000 Indian troops present. India tries to claim normalcy for tourist visits and, as recent Tripadvisor reviews show, many people do still visit without problems – though I note that most of them are Indian nationals. The UK Foreign office advice remains "The tourist destinations of Pahalgam, Gulmarg and Sonamarg, the city of Srinagar and the Jammu-Srinagar national highway are within the areas where the FCDO advises against all travel."
Back in 1983 all was "sweetness and light". Well almost – the Soviet-Afghan war (79-89) and the Iranian Revolution of 1979 had effectively closed the full overland "hippy trail" but travelers all across India were still making plans for a period of R+R in Kashmir and I remember no "security" issues. Such a visit included a de rigeur stay on a houseboat on Dal Lake and a period enjoying the equable climate. I have tried to "recreate" our visit from diaries and diapositives but would characterize our traveling in those days as being done in a state of "semi ignorance" compared with what I would later aspire to! I still have my "Across Asia on a Shoe string" Lonely Planet and it is very thin on what there is to see – the "logistics" of travel were far more important to prepare for!! There was no internet of course, so planning had to be done from guidebooks. The first WHS inscriptions had only taken place in 1978 and had reached just 134 sites – none yet in India, which was to gain its first 4 at that year's Dec WHC. So there was no Inscribed list, let alone a Tentative one to inform anything we did!! I had already been to Iran and seen a couple of its Char Bagh gardens, but their history and general significance was relatively unknown to me, as was the history of the Mughals.. It was hardly surprising therefore that my diary only briefly describes a visit to Nishat Bagh without any mention of our having gone the further 3kms to Shalimar Bagh (let alone to any of the other 4 gardens now up for inscription!) preferring instead to rent bikes and go visiting among the lakeside villages. In 1983 the population of Srinagar was 650k but it seemed smaller and more rural than that (It is now 1.65 million and is, no doubt, packed with traffic!). It, and the villages around, were perfectly ok for pleasurable cycling. In all honesty our visit was driven primarily by a desire to experience the Lake and scenery and as a jumping off point for a trek up to Armanath from Pahalgam and a visit to Ladakh. "Mughal Gardens" just didn't figure as an objective!!! Thus were a number of later inscribed and current T List sites "missed" during our travels across these years!
Nevertheless, our Srinagar sightseeing did take in the gardens of Nishat Bagh and we reached them in "classic" style!. From our houseboat on the Western side of Dal Lake we were picked up by a "shikara" and dropped at the garden landing point on the eastern side. Looking at my photos, the ones of the boat trip are all superior to those of the Gardens and the journey was way more memorable than the subsequent visit!!! The lay out with its terracing down to the lake (photo) was impressive but the gardens are primarily just that rather than locations for significant structures. I do now regret not having visited nearby Shalimar Bagh. Not, from what I have seen from photos of it on the Web, because of its "magnificence" - rather because of its primacy in age and the associations of its name. Its construction by Jahangir in 1619 predated that of Nishat Bagh (built by the brother of Jahangir's wife Nur Jahan) by 14 years. It also predated its (more famous??) namesake, the WHS inscribed "Shalamar Gardens" in Lahore - built 1642 by Shah Jahan. Many years later we were to see these and it would have been interesting to have made a comparison. There are various explanations for the origin and use of the word "Shalimar" ("Shalamar" officially, but variably, for the Lahore version!) in relation to Mughal gardens (There was another, now ruined. in Delhi). Wiki states - "Shala was a Turkic word which means pleasure and the mar means the place to live in". The word "Shalimar" also holds a unique place in the minds of all Brits of a certain age (I cannot speak for the current generation) for its use in a children's nonsense rhyme "The Hippopotamus Song" even though that has nothing to do with a Mughal garden!!!
Today the land journey from Srinagar in Indian controlled Kashmir to Lahore in Pakistan is not one which is possible directly but, in the years following the capture of Kashmir by Akbar in 1586, a new "Mughal Road" was created by Jahangir. He, his wife and family developed Kashmir as a recreational area/summer capital which explains the cluster of pleasure gardens built in the area across such a relatively short period. He is known to have traversed the route from/to Lahore many times and in 1627, "was trying to restore his health by visiting Kashmir and Kabul. He went from Kabul to Kashmir but decided to return to Lahore because of a severe cold. On the journey from Kashmir to Lahore, Jahangir died" (Wiki). His embalmed body was transported to Lahore where the tomb, which is on Pakistan's T List, is situated
Which raises an issue – namely the contemporary Indian attitude towards the Mughals!! Should they be regarded as invading colonizers bringing/consolidating (and "unfortunately" leaving behind them!) an alien culture or as facilitators of economic development and cohesion across most of the subcontinent which it was previously lacking? All across India a "Hinduisation" of its historical narrative, place names etc has been taking place and the UNESCO T List text for this site seems to reflect this. Despite the top billing given to the Mughals in the site name (it could hardly be otherwise!) considerable mention is made of the pre Mughal origins of many of the gardens. I also noted this - "the Nishat Bagh is amongst the most prominent gardens that the Mughals developed in the erstwhile Hindustan"…..emphasizing that Kashmir was (and always will be?) "Indian"! The Union State of Jammu/Kashmir (with Ladakh separated out since 2019) has no WHS to date - something India will want to rectify.
So…..what are the chances for this nomination? UNESCO has already agreed that the Lahore Shalamar Gardens "laid out by Shah Jahan in 1641-2 embodies Mughal garden design at the apogee of its development" – India will need to find another angle in its comparative analysis beyond "superlatives"!. Its pitch within the T List description has its amusing aspects – The prime comparators it cites are the gardens at the Taj Mahal and Humayun's tomb. But then notes that both of these are closely linked to a major tomb structure whereas "The Mughal Gardens in Kashmir were all created as gardens of pleasure and beauty."! The Pakistani comparator is simply dismissed as follows - "Shalamar Gardens of Lahore are currently on the UNESCO's List of Heritage in Danger"…..apparently no more needs to be said as far as India is concerned!!! But they of course also lack the mountain location and ready supply of water (as the notoriously "non-working" fountains there testify!) Whatever – I am sure that India will come up with a "compelling case" and, if it overcomes its regular failure to cover management etc issues, they will gain inscription. Given the general lowish standard of newly inscribed sites, I wouldn't disagree. You wouldn't go to Kashmir simply to see them but shouldn't miss seeing one (or 2 or more!! ) whilst you are there.
---
Community Likes
Site Info
Full Name

Mughal Gardens in Kashmir

Country

Added

Nominated for

Type

Cultural

Categories

Link
Site History
2010

Added to Tentative List
Visitors
6 Community Members have visited.