Chobe Linyanti System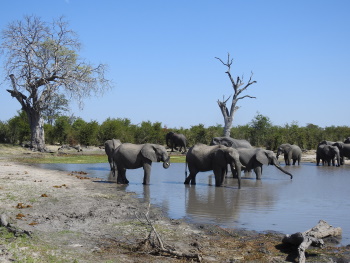 Chobe Linyanti System is part of the Tentative list of Botswana in order to qualify for inclusion in the World Heritage List.
The Chobe Linyanti System comprises the Chobe and Linyanti rivers and the adjoining floodplains and marsh areas. Its variation of habitats provides ample resources for predators and game. It is especially known for its large concentrations of elephants.
Map of Chobe Linyanti System
Load map
The coordinates shown for all tentative sites were produced as a community effort. They are not official and may change on inscription.
Community Reviews
---
The TWHS registered as Chobe Linyanti System comprises the Chobe National Park and adjacent private wildlife reserves such as Selinda and Linyanti. Chobe NP itself actually already consists of 4 different zones, of which I visited Savuti and Chobe Riverfront (aka Serondela). Both were on the itinerary of my 6 night mobile camping safari, so I stayed in private camp areas inside the parks.
Chobe NP ranked 13th in the latest poll of best African safari parks and destinations: before Kruger and Etosha, but behind Serengeti, Mana Pools and South Luangwa (and its Botswana neighbours Okavango and Moremi). It is characterized as "Boat and classic safari, Big 5 present (rhino very rare), abundant elephants".
Our first 2 nights were spent in Savuti. Savuti is named after the Savuti Marsh, a former large inland lake whose water supply is fed erratically by the Savuti Channel. It last overflowed in 2012 and in one of the artificial waterholes around the park you can see a breathing reminder of that: one hippo could not get away in time before it all dried up again, and he now spends his time alone in a little pool. A sad story, but he looks healthy.
From the 3 locations the mobile safari covered (Moremi, Savuti and Chobe Riverfront) this was the one with the most scarce wildlife. Or we were just unlucky. Our guide/driver kept on persisting, following leopard tracks (a mother and a young!) in the early morning around the so aptly named Leopard Rock. Each time we passed it we did a loop just to check. We also canvassed the massive central grassland that now has come into existence since the water has gone.
Much more spectacular is Chobe Riverfront. This is what its name says: the Chobe River and the land in front of it. On game drives you mostly drive up and down the road along the river. The river here is utterly scenic. The area is known especially for showing large herds of mammals. Our first sight was that of hundreds, maybe thousands of zebras. During the day these herds walk from the surrounding forests to the river bank – you will also encounter them half way, we once saw dozens of buffalo's resting in the shade among the bushes.
Chobe Riverfront is also the most touristy area of Botswana's northeast: here we encountered some 20 safari vehicles a day, where at Moremi for example there were only 5-10 and you would rarely find yourself at a sighting with another vehicle. These numerous vehicles made for a large number of stops because of the customary exchanging of pleasantries and information between all guides.
Another sad story came to us via this way, I had read beforehand "The park is noted for having a population of lions which prey on African elephants, mostly juveniles or subadults but occasionally adults". And indeed, on our last day there a lion had killed a baby elephant. The grieving mother stayed with the corpse and dented 2 cars of onlooking tourists. We decided not to go there.
If Chobe would ever be brought forward by Botswana to get inscribed, the focus certainly would be on its elephant population. At some 120,000, it is said to be the largest in the world. Just this however is part of a current debate: there are actually too many of them. 'Refugee' elephants from neighbouring countries such as Angola and Zambia have chosen Chobe as their new home. Botswana just last week allowed (limited) elephant hunting again and fears are that the sell of ivory is on the table as well.
Read more from Els Slots here.
---
In August 2001, I went on safari in the Okavango Delta (where I stayed at Chitabe Camp), the Savute Channel in northern Botswana (where I stayed at Savuti Camp), and Chobe National Park (where I stayed at Chobe Game Lodge). I have been on safari in most of Africa's principal national parks and I would rank the Okavango/Chobe ecosystem among the top three for wildlife viewing, just behind the Serengeti/Masa Mara (spanning Tanzania and Kenya) and just ahead of Namibia's Etosha National Park.
---
Community Likes
Site Info
Full Name

Chobe Linyanti System

Country

Added

2010

Type

Natural

Categories

Link
Site History
2010

Added to Tentative List
Visitors
22 Community Members have visited.