Mgahinga Gorilla National Park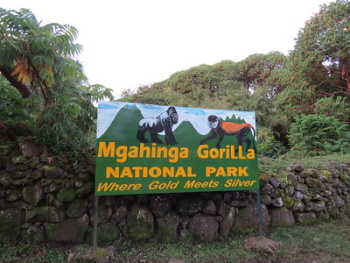 Mgahinga Gorilla National Park (MGNP) is part of the Tentative list of Uganda in order to qualify for inclusion in the World Heritage List.
Mgahinga Gorilla National Park is known for its afromontane forest, water catchment and habitat to the endangered mountain gorilla. It is part of the Virunga mountain range. It includes the Mt Muhabura, Mt Gahinga and Mt Sabyinyo volcanoes. Larger mammals found here are the mountain gorilla, buffalo, elephant and the rare golden monkey.
Map of Mgahinga Gorilla National Park
Load map
The coordinates shown for all tentative sites were produced as a community effort. They are not official and may change on inscription.
Community Reviews
---
Mgahinga Gorilla National Park is a very small park in the extreme southwest of Uganda. Covering the Ugandan part of the Virunga Mountains, it is contiguous with both Volcanoes National Park in Rwanda and Virunga National Park in Congo. The site has been on Uganda's Tentative List since 2007, in preparation for a possible transboundary nomination of these 3 parks.
Although it's named 'Gorilla National Park', Mgahinga has only one habituated gorilla family that can be visited. And that one is prone to wander across the borders to Rwanda and Congo, so it's not the safest bet for gorilla tracking (although since a few years the family has returned to Ugandan soil). Probably the only thing that sets this park apart from the nearby WHS of Virunga and Bwindi is its sizeable population of rare Golden Monkeys.
The Ugandan Wildlife Authority has a helpful office in Kisoro, and I booked my Golden Monkey Tracking there a day beforehand. It costs 50 US dollar for the activity, plus 40 US dollar entrance fee to the park. On the day itself a moto-taxi picked me up at 7 a.m. for the 15 km uphill ride to the park entrance.
Golden Monkeys are a related species to the more common Blue Monkey. They are an endangered primate, living in the bamboo forest. The monkeys have a bright orange-gold body, cheeks and tail, contrasting with its black limbs, crown and tail end. Some 3,000 – 4,000 of them are said to live in Mgahinga. They're found 85% of the time during a tracking so they have a slightly lower succes rate than gorillas.
At the park entrance I was surprised to find a 'real' visitor center, with some exhibits and souvenirs of Mgahinga. They had 4 other tourists for the day, 2 couples who would climb one of the 3 dormant volcanoes in the park. I was the only one wanting to look for Golden Monkeys. So at 8.30 a.m. I set out on foot with a guide and an armed guard – the latter would "shoot in the air" if we encountered an agressive buffalo or elephant on the trail.
The park entrance lies at an altitude of 2,364 meter, and the monkeys live between 2,200 and 2,700m. Although this may seem close, we had some serious uphill hiking to do. Just as with the gorillas, trackers had been sent out earlier in the morning to try and find the beasts. The golden monkeys I'd be visiting are a habituated group. After an hour the guide's walkie-talkie crackled: the monkeys were located. They were in their favourite habitat, the bamboo forest. Mgahinga Park still has a rather large virgin bamboo forest. That's why they like it here so much.
Some 45 minutes later the monkeys are all around us. It's a large group of 20 that mostly are fairly high up in the bamboo trees. But sometimes they climb down just enough to get a better camera shot at them. The males have the characteristic golden glow of fur, while the females are a bit more dull. These monkeys are not afraid of people and don't mind talking among the visitors. They only have their eyes set on the green bamboo leaves.
After an hour we have to leave them alone and we make our way back to the park entrance. I was staying in the Ugandan border town of Kisoro for 3 nights and if you have that amount of time I'd surely check in on Mgahinga. Beside volcano and golden monkey treks, they also do the 'Batwa trail' from here: a forest tour led by pygmy Batwa (Twa people) who were forcibly removed from Mgahinga when it was turned into a national park. It sounded too much like a 'human safari' to me (including dancing at the end of the programme), so I leave it to others to report on that.
Read more from Els Slots here.
---
Community Likes
Site Info
Full Name

Mgahinga Gorilla National Park (MGNP)

Country

Added

2007

Type

Natural

Categories

Link
Site History
2007

Added to Tentative List
Visitors
3 Community Members have visited.