Villas of the Papal Nobility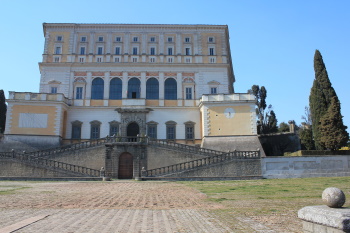 Villas of the Papal Nobility is part of the Tentative list of Italy in order to qualify for inclusion in the World Heritage List.
The Villas of the Papal Nobility is a series of 15 villas built from the second half of the 16th century onwards for the higher clergy and by members of the aristocracy connected to the papal court in Rome. The villas were built in two main areas in Lazio: in the northern area, around Viterbo, and in the south-eastern area, on the Colli Tuscolani. The vast parklands surrounding them were accorded great importance, with formal, "artificial" gardens integrated into the natural landscape.
Map of Villas of the Papal Nobility
Load map
The coordinates shown for all tentative sites were produced as a community effort. They are not official and may change on inscription.
Community Reviews
---
I have visited only two components of the series: Palazzo Farnese in Caprarola and Villa Lante in Bagnaia (PHOTO), both in Viterbo municipality, and my impression was very positive. Thus, I am planning to visit other Villas of the series in the future, especially the nearby Grove of Monsters in Bomarzo, and another cluster of Ville Pontificie in the Castelli Romani region (Frascati and Lago di Albano).
However, I have not yet visited other (already WHS) ensambles of renaissance and baroque villas in Italy around Florence and Vicenza. Therefore, to get the complex opinion if it deserves the WHS status or not, I should fill this gap and travel a bit more in Veneto, Tuscany and Lazio countryside...
I like the Lazio region in general and Viterbo in particular, because it is full of exceptional historical monuments but it is not so touristy as its northern neighbours (Tuscany&Umbria). Both Villas that I visited are located in hilly lanscape of Viterbo region in Cimino Mountains (WHC beech forests!). I admired not only the lanscape, and architecture of the Villas, but especially the gardens around them, the garden of Villa Lante is just amazing. What is also very interesting and typical for Viterbo region is the water management with a lot of fountains and basins (though not even TWHS, the Fontana Grande in Viterbo is just wonderful!).
Palazzo Farnese: there is a contrast between small chaotic village of Caprarola and huge pentagon of the Palazzo, which was started as a fortress but finished as highly representative Palace with round courtyard inside, rich decoration of interiors and fine adjacent gardens.
Villa Lante: I walked there from Viterbo via the huge pilgrim church of S Maria della Quercia. The village of Bagnaia is very small and I wouls call it as very authentic. The Villa (entrance fee of few Euros) consists of two symetrical pavilons (PHOTO), the interiors of which is only partly opend to visitors. But true highlight is the garden with fontains, sculptures and amazing water management!
In my opinion, Ville Pontificie are worth-visiting and I could feel the OUV there.
---
Community Likes
Site Info
Site History
2006

Revision

Includes former TWHS Villa Di Caprarola (Farnese) and Villa Lante in Bagnaia (1984)
2006

Revision

Includes former TWHS Papal Residence of Viterbo (1984-1996)
2006

Added to Tentative List
Visitors
24 Community Members have visited.