St. Nicholas Church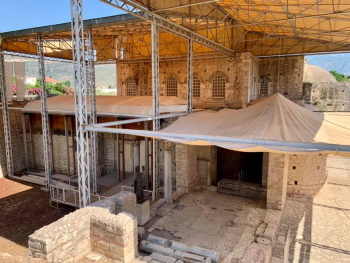 St. Nicholas Church is part of the Tentative list of Turkey in order to qualify for inclusion in the World Heritage List.
St. Nicholas Church was made above the burial place of St Nicholas, the 4th century bishop of Myra. This East Roman basilica church was built in 520. The northeast annex arcade contains St Nicholas's life cycle on ancient frescos.
Map of St. Nicholas Church
Load map
The coordinates shown for all tentative sites were produced as a community effort. They are not official and may change on inscription.
Community Reviews
---
Chinese-Canadian - 29-Mar-22 -
Can't say I'm a fan. St. Nicholas, yes THE Nicholas of Xmas fame is supposedly buried here. Overall the church does not have enough to convince me of outstanding value. The one round ceiling fresco is pretty good but many of the others are hard to make out. I paid extra for the audio guide and the explanation is the usual religion theme and motif, I have seen those many times in many churches. The guide also focuses a lot on the buried (supposedly, remember) people and their backgrounds, nothing that is of interest for the physical church present now. Lastly, the church is in bad condition due to rains and floods, you'll be required to watch out for puddles if it rained recently. While I don't mind the stopover to see something else I can't recommend adding it to your itinerary simply because it's on the tentative list.
---
I visited this tWHS in Spring 2021. It is quite close to Demre, the departure point for Kekova Island boat trips and could easily be fitted with a half day boat trip to Kekova tWHS if you have a rental car or taxi.
The exterior of this ancient East Roman basilica church is practically covered by a modern metal framework and canvas sheets so can only be admired in detail from up close. It was built in the ancient city of Myra above the burial place of St Nicholas, a 4th century Christian bishop of Myra, an important religious figure for Eastern Orthodox Christians and Roman Catholics. St Nicholas is also believed to be the historical inspiration for Santa Claus. Its use dated from its 6th century construction for the state church of the Roman Empire by Justinian the Great.
This church is of particular notice for its remarkable wall frescos, its opus sectile decorations (bottom right photo) and its architectural and religious significance. Over time the church was flooded and filled with silt. In 1862 it was restored by Russian Emperor Nicholas I, who added a tower and made other changes to its Byzantine architecture. The church continued to function until its final abandonment by the Eastern Orthodox Church in 1923, when the remaining Greeks of Demre were required to leave by the Population exchange between Greece and Turkey.
Archaeological excavations in the church started as late as 1988. The work has revealed parts of the northern section of the monastery complex, and also the small chapels around the nave, one of which notably contains vibrant frescoes detailing the life and miracles of the saint, and a desecrated sarcophagus which is thought to be the original burial place from which his remains were forcibly "translated" to Bari, Italy in 1087.
All in all it is quite a unique cultural site in Turkey especially when considering the numerous Neolithic, Classical, Armenian, and Islamic/Ottoman remains in the country so I'd give it a thumbs up. That said, I wouldn't travel to Turkey only to visit this site and its OUV could be put in doubt on a worldwide level.
---
Bruce and Jan Brooks
My wife Jan and I visited the church in 1992 while we lived in Ankara. It was a very interesting visit since it was on Christmas day. We were the only visitors at the time and were able to investigate every nook and cranny that had been cleared from the silt that had covered it for so long. We went to the inside front area and sang a couple of Christmas carols. It was a very exciting and enjoyable experience for us and we recommended it to our friends in Ankara.
We had driven there as part of our exploration of that part of coastal Turkiye. There was no entrance fee or any attendants, or explanations of any sort. Fortunately my Turkish was sufficient for the conversations we had with
local citizens. The statue in the nearby garden was of St. Nicholas, although I understand that it has unfortunately been replaced by a statue of Santa.
Were we able to repeat the trip in the future it would be very interesting to see how much progress has been done. At a minimum we are still recommending it to our friends.
---
Community Likes
Site Info
Full Name

St. Nicholas Church

Country

Added

Type

Cultural

Categories

Link
Site History
2000

Added to Tentative List
Visitors
12 Community Members have visited.