Pantanal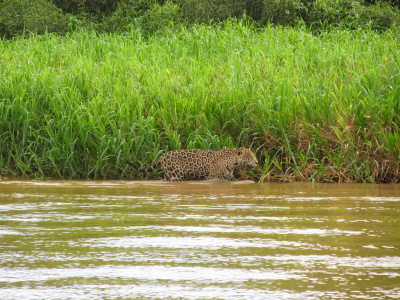 The Pantanal Conservation Area is a freshwater wetland ecosystem that contains a huge fish variety and several globally threatened animal species.
The designated area is only a small part of the region in Western Brazil called Pantanal. It consists of Pantanal Matogrossense National Park, Dorochê Private Reserve, Acurizal Private Reserve, and Penha Private Reserve. These areas can be considered representative of the Greater Pantanal.
Wildlife here includes the jaguar, alligator, marsh deer, giant anteater, capybara, and giant otter. Between 10 and 35 million alligators are believed to live in the Pantanal as a whole. It also has 650 species of birds, including the Jabiru stork, herons, ibis, ducks, and parrots.
Pantano means swamp, but the area is in fact an alluvial plain. During the rainy season (October to March), the rivers flood their banks, inundating much of the low-lying Pantanal and creating patches of dry land where the animals cluster together.
Community Reviews
---
Jeffrey Wilford
I traveled to the Pantanal in February 2004 and fell in love with the place. Animals were everywhere. I was working on an Earthwatch project and I can honestly say that things have not been the same since.
I have created a website, http://www.expeditionpantanal.org , which is dedicated to teaching people about this special place. I have plans to take six students from York High School in Maine to the Pantanal in April. We will be studying peccaries with Dr. Alexine Keuroghlian and updating the site daily with pictures, blogs and podcast. Hope you can visit the site. It might inspire you to visit!
---
4.00 The Netherlands - 15-Oct-04 -
I visited the Pantanal on a 4-day tour from Cuiabá. Not to the protected zone, but to another nice part where there are lots of animals. The tour included all the local fun, like walking, horse-riding, bird spotting and piranha fishing.
Although at the end of October, it was still very dry in this area. Fortunately, because of that, there were not many mosquitos. The wildlife was still abundant though. We saw a tapir, otters, capybara's and alligators.
I think a bird spotter will find real joy in the Pantanal. In almost every tree you can see a wonderful example of the local birds here. To the more common visitor (like I am), the Tuiuiu (a 1.40 m. high creature) is amazing to watch.
---
The Pantonal is an enormous area of flat lands in the basin of the river Paraguay in Western Brazil. Within it areas have been designated as a National Park or Strict Reserves. From Oct to Mar it is flooded and inaccessible to ordinary tourists. At other times it provides a good opportunity of seeing a number of the typically S American animals/birds in what are probably easier viewing conditions than Amazonian forest. It is also quite a relaxing place to visit with a number of Fazendas or ranches offering accommodation for a chill-out stay accompanied by non-vigorous walks or horse rides. You can easily arrange stays at these and transport in/out using local agents in nearby cities.
Since it covers such a large area and transport around/across the region is limited you really have to decide which part to aim for. If you are crossing to Brazil from Peru/Bolivia then you will probably settle for the southern section. If however you are "coming in" from the east and continuing elsewhere in Brazil then you have the choice of 2 main entry points – the cities of Campo Grande or Cuiaba. We chose Cuiaba, and I suspect that this is the more popular. Whether it is the better I cannot say. I can say however that we were satisfied with what we saw in 3 days and in the ease of arranging something quickly on arrival and in getting out (Ciuaba has very good transport connections, particularly by air). Cuiaba claims to be at the "Geodesic centre" of the S American continent (and has a plinth to prove it although apparently satellite measurements place the centre a little way off!). It is a fast growing city totally unlike the empty surrounding countryside – worth a visit for the "feel" of Brazil expanding!
The highlight for us of the visit was seeing the Tapir (photo) but we also had excellent views of Capybara, Caymen and numerous birds including Macaw. The Fazendas should provide boats for quiet evening/morning rides on lakes which remain even in the dry season as well as horses for riding and fishing rods for catching Piranha! We found 2 nights enough for our purposes. The drives in/out each take about half a day so that gives 2 full days equivalent at the ranch on top of which the drives provide good viewing opportunities.
---
Site Info
Full Name

Pantanal Conservation Area

Unesco ID

Country

Inscribed

Type

Natural

Criteria

7

9

10

Categories

Link
Site Links
Unesco Website
Official Website
Related
In the News
Visitors
72 Community Members have visited.